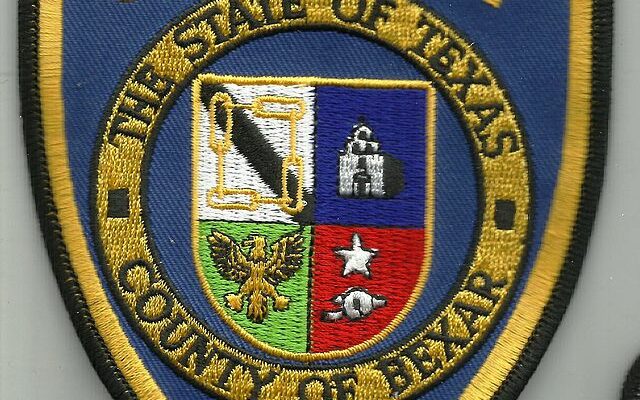 Democrats have a way of saying who they fear when it comes to Republican nominees, and now a Democratic sheriff in Bexar County, home of San Antonio, has declared it loud and wants to use his power to try and stop it. 
Sheriff Javier Salazar has announced that he will be seeking charges against Florida Governor Ron DeSantis, or at least some of his staff, because the liberals partying at Martha's Vineyard experienced a shred of everyday reality for border towns. 
Liberals always protect their own.
The Washington Post writes, "A Texas sheriff's office has recommended that a San Antonio-area district attorney file criminal charges following an investigation into the transportation in the fall of 49 asylum seekers from Texas to Martha's Vineyard in Massachusetts, allegedly on direction from Florida Gov. Ron DeSantis (R).

It is not clear whom the charges would be filed against, but the case would include both felony and misdemeanor charges of unlawful restraint, according to the sheriff's office.

'At this time, the case is being reviewed by the DA's office. Once an update is available, it will be provided to the public," said Bexar County Sheriff's Deputy Johnny Garcia, a department spokesman. 'We're not naming the suspect at this time or the amount of charges that are being filed.'

The Washington Post reported previously that Bexar Sheriff Javier Salazar signed certificates for each of the migrants involved in the Martha's Vineyard incident so they would be eligible for what is known as a 'U visa' — a category established in 2000 and available to victims of crimes to enable them to provide information to authorities about illegal activity."
In response to a few dozen illegal immigrants disrupting their wealthy, typically-gated community, the leaders of liberal-leaning Martha's Vineyard requested 125 members of the National Guard. 
Bexar County Sheriff Javier Salazar announced he is opening a criminal investigation into Florida Gov. Ron DeSantis' migrant flight to Martha's Vineyard as the stunt continues to draw criticism from Democrats and even some Republicans. https://t.co/eeOSfQIisT pic.twitter.com/1COq6WlX0J

— ABC News (@ABC) September 20, 2022
This is not the first time that Texas Democrats have used law enforcement to go after their political enemies. In 2014, Republican Governor, and 2016 presidential candidate, Rick Perry was indicted for "abuse of power" because he threatened to use his power as governor of Texas to veto a funding for a Democrat who was accused of being a drunk. 
The New York Times reported, "A grand jury indicted Gov. Rick Perry on two felony counts on Friday, charging that he abused his power last year when he tried to pressure the district attorney here, a Democrat, to step down by threatening to cut off state financing to her office.
The indictment left Mr. Perry, a Republican, the first Texas governor in nearly 100 years to face criminal charges and presented a major roadblock to his presidential ambitions at the very time that he had been showing signs of making a comeback.
Grand jurors in Travis County charged Mr. Perry with abusing his official capacity and coercing a public servant, according to Michael McCrum, the special prosecutor assigned to the case.
The long-simmering case has centered on Mr. Perry's veto power as governor. His critics asserted that he used that power as leverage to try to get an elected official — Rosemary Lehmberg, the district attorney in Travis County — to step down after her arrest on a drunken-driving charge last year.
Following Ms. Lehmberg's arrest, Mr. Perry and his aides threatened to veto $7.5 million in state funding for the public corruption unit in her office unless she resigned. The governor followed through on his threat, vetoing the money by stating that he could not support "continued state funding for an office with statewide jurisdiction at a time when the person charged with ultimate responsibility of that unit has lost the public's confidence."
The case was eventually dismissed by Texas Court of Criminal Appeals. 
Charging Ron DeSantis for violating a Texas law would mean that Democrats will have used local authority to indict both Republican frontrunners for the 2024 nomination under rather dubious charges. 
In April, Manhattan District Attorney Alvin Bragg indicted former President Donald Trump over hush money payments made to former pornographic actress Stormy Daniels. The charges were considered so obviously political that even liberals and Never Trumpers considered them "debatable at best, unnervingly flimsy at worst."
Remember: These are the people who constantly claim to be fighting fascism and protecting our democracy.
Last year, DeSantis' office defended his move to send the migrants to Martha's Vineyard: "Immigrants have been more than willing to leave Bexar County after being abandoned, homeless, and left to fend for themselves," DeSantis spokesperson Taryn Fenske said. "Florida gave them an opportunity to seek greener pastures in a sanctuary jurisdiction that offered greater resources for them, as we expected."
[Read More: Famous Lefty Announces Run For President]