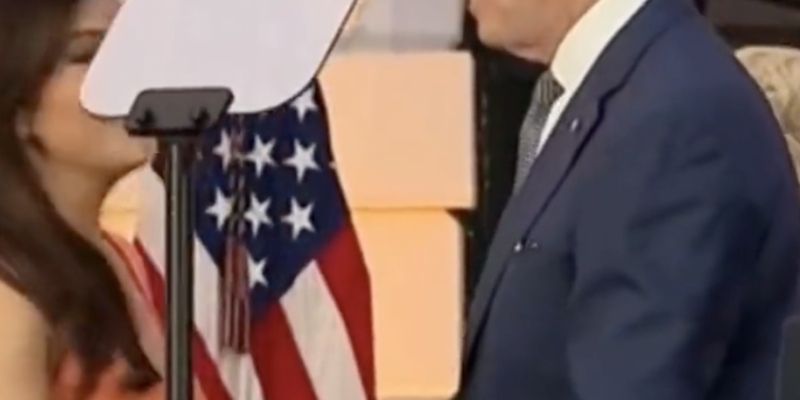 President Biden has long had a history of being a little handsy with women, and on Thursday, his habit got center stage. While attending a White House screening of her directorial debut, "Flamin' Hot," Eva Longoria appeared to get a little more than she bargained for. 
The Daily Caller wrote, "Video footage of the event shows Biden embracing Longoria at the podium, but instead of hugging and separating in the usual way, he clung to her, and she visibly pushed his hands away from her breasts."
The video of the alleged grope can be seen below. 
Did Joe Biden just grope actress Eva Longoria? 👀 pic.twitter.com/8Muoapg8VQ

— Danny De Urbina (@dannydeurbina) June 16, 2023
This is the second time that the president who promised to "restore decency to the White House" has been accused of lewd behavior. Earlier in the week, during a Pride event, the president commingled with a trans activist who was later seen going topless on the White House lawn.  
"We've known each other a long time," Biden told a crowd outside the executive mansion, according to The New York Post. 
"She was 17, I was 40," he joked, drawing some laughter.
It appears as though the president may have been trying to pass himself off as far younger than he actually was when Longoria was a teenager. 
Biden would've been 50 when Longoria was 17, and she would have been 7 when the president was 40. 
Longoria, a longtime Democratic Party ally, backed Biden in 2020 and has previously been on the campaign trail with him when he was Barack Obama's running mate. 
"Despite her long times to the Democratic Party and the Bidens she indicated she was surprised that her film was given a White House screening," noted The Daily Mail. 
"'It's a dream I didn't even know I had,' she told the crowd. 
She added that she had been working with Biden for 'many, many years.'
'And it has always been a great joy,' she added. 'We share so much. He's been a champion for working people in search of the American dream.'" 
In 2019, Lucy Flores accused Joe Biden of kissing her and groping her during a campaign stop in 2015, an event attended by Longoria, as well. 
She wrote, "I found my way to the holding room for the speakers, where everyone was chatting, taking photos, and getting ready to speak to the hundreds of voters in the audience. Just before the speeches, we were ushered to the side of the stage where we were lined up by order of introduction. As I was taking deep breaths and preparing myself to make my case to the crowd, I felt two hands on my shoulders. I froze. "Why is the vice-president of the United States touching me?"

I felt him get closer to me from behind. He leaned further in and inhaled my hair. I was mortified. I thought to myself, "I didn't wash my hair today and the vice-president of the United States is smelling it. And also, what in the actual fuck? Why is the vice-president of the United States smelling my hair?" He proceeded to plant a big slow kiss on the back of my head. My brain couldn't process what was happening. I was embarrassed. I was shocked. I was confused. There is a Spanish saying, "tragame tierra," it means, "earth, swallow me whole." I couldn't move and I couldn't say anything. I wanted nothing more than to get Biden away from me. My name was called and I was never happier to get on stage in front of an audience.

By then, as a young Latina in politics, I had gotten used to feeling like an outsider in rooms dominated by white men. But I had never experienced anything so blatantly inappropriate and unnerving before. Biden was the second-most powerful man in the country and, arguably, one of the most powerful men in the world. He was there to promote me as the right person for the lieutenant governor job. Instead, he made me feel uneasy, gross, and confused. The vice-president of the United States of America had just touched me in an intimate way reserved for close friends, family, or romantic partners — and I felt powerless to do anything about it.

Our strange interaction happened during a pivotal moment in my political career. I'd spent months raising money, talking to voters, and securing endorsements. Biden came to Nevada to speak to my leadership and my potential to be second-in-command — an important role he knew firsthand. But he stopped treating me like a peer the moment he touched me. Even if his behavior wasn't violent or sexual, it was demeaning and disrespectful. I wasn't attending the rally as his mentee or even his friend; I was there as the most qualified person for the job.

Imagine you're at work and a male colleague who you have no personal relationship with approaches you from behind, smells your hair, and kisses you on the head. Now imagine it's the CEO of the company. If Biden and I worked together in a traditional office, I would have complained to the HR department, but on the campaign trail, there's no clear path for what to do when a powerful man crosses the line. In politics, you shrug it off, smile for the cameras, and get back to the task of trying to win your race."
Democrats, of course, downplayed Biden's behavior, with Nancy Pelosi leading the way calling it "not disqualifying".
As she did with Bill Clinton during his scandals, feminist icon Gloria Steinem soft-pedaled Biden's inappropriateness, telling The Associated Press at the time, "I think women are more than smart enough to know that a) Joe Biden is who he is and hugs everybody, b) this was minor compared to most sexual harassment." 
Funny how that works. 
Longoria's movie about the creation of Flamin' Hot Cheetos hit Disney+ and Hulu on June 9.
[Read More: New Study Focuses On Common Drug Making Teenagers Depressed]