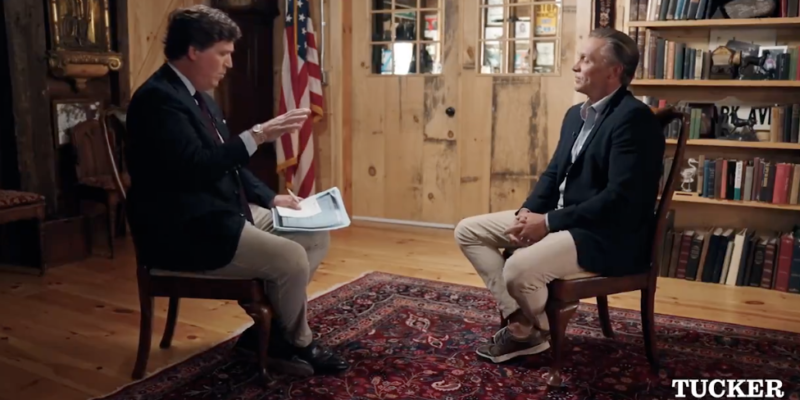 Tucker Carlson might not be on Fox News, but he's still landing big time interviews. The former top-rated cable host sat down for an interview with Hunter Biden's "nightmare witness," Devon Archer, a former close friend and business partner of the president's son.  
Despite the DOJ looking to jail him as soon as possible, Archer recently testified before the House Oversight Committee Monday, revealing Hunter's business deals, and, according to reporting by The Daily Caller, "most notably the alleged personal phone calls with his father, President Joe Biden, on speaker phone in front of foreign business executives on over twenty occasions. Archer detailed Biden's involvement with his son's business dealings in the sit-down with Carlson."
The son of the then vice president "committed an 'abuse of soft power' by putting his dad on speakerphone during business meetings – when Joe Biden knew there were associates in the room, according to Devon Archer.  
"Archer, in his first interview since giving testimony on the Biden family business dealings to the Oversight Committee, told Tucker Carlson that the 'Biden brand' was 'absolutely' a key component of Hunter's work on the Burisma board," details The Daily Mail.
"Archer confirmed he had met the now-president 'probably 20 times' and again confirmed that Joe Biden had interacted with Hunter's business partners around 20 times over the 10 years he was close with the family. 
'I don't know if it was an orchestrated call in or not. It certainly was powerful, though, because, you know, if you're sitting with a foreign businessperson and you hear the vice president's voice, that's prize enough,' Archer went on. 
'Sometimes it was the call was coming in and the speaker would go on,' Archer said, detailing the conversations. 'You understand D.C. right? So the power to have that access in that conversation – it's not in a scheduled conference call and that's a part of your family. That's like the pinnacle of power in D.C.'"
Ep. 12 Part 1. Devon Archer pic.twitter.com/ElEzAZtBcA

— Tucker Carlson (@TuckerCarlson) August 2, 2023
Archer's testimony, which he provided in response to a subpoena, noted The New York Times, "was the latest bit of evidence in an investigation by House Republicans into Hunter Biden's business dealings and conduct. Republicans have claimed repeatedly — and so far without proof — that the investigations implicate the president in corruption and crimes.
Republicans pointed to the interview as evidence that President Biden had lied when he claimed he had no involvement in his son's business dealings, and some said that was grounds for impeaching the elder Mr. Biden.
Representative James R. Comer, Republican of Kentucky and chairman of the Oversight Committee, said Mr. Archer had testified that Mr. Biden was put on the phone to sell "the brand." The phone calls were made during a range of events, including a dinner in Paris with a French energy company and another in China with the executive of an investment fund, Mr. Comer said.
'Devon Archer's testimony today confirms Joe Biden lied to the American people when he said he had no knowledge about his son's business dealings and was not involved,' Mr. Comer said in a statement."
Democrats have said that most of the conversations Joe Biden had with Hunter's foreign business partners involved things like talking about the weather and they have insisted that we should remember that the president was not shaking down foreign businesses for money, using his son as a conduit, but instead just being a good dad. 
To be fair to the Bidens, the then vice president may have been talking about the weather because the burner phones Hunter told Archer to buy didn't have the weather app. 
Collin Rugg reported that Hunter Biden "advised his business partner Devon Archer to acquire a disposable phone just three days prior to their scheduled meeting with the Vice President at the White House. The email, obtained by The Daily Mail also hinted at Hunter's possible influence over his father, whom he referred to as 'my guy.'
The email exchange between Hunter and Devon Archer is interesting due to the timing of the request. Hunter specifically suggested that they both purchase cell phones from convenience stores like 7/11 or CVS. This in all likelihood should be interpreted as implying a desire for complete and secure anonymity.
BREAKING: Hunter Biden told his then-business partner Devon Archer to purchase a burner phone just 3 days before a meeting was set up with VP Joe Biden at the White House.

Who buys a burner phone unless they are planning on doing something illegal?

Weeks later after the White… pic.twitter.com/4qkcZLFYFZ

— Collin Rugg (@CollinRugg) August 1, 2023
The email's content also shows a detailed assessment of the Ukrainian political landscape, the potential for decentralization in the East, and strategies related to the Ukrainian gas company Burisma. The timing of these communications is significant since shortly after this meeting at the White House, both Hunter Biden and Devon Archer announced their board seats at Burisma. Burisma has been accused of being involved in corrupt practices over the years.
Hunter's detailed thoughts on Ukrainian politics and business strategy also showed concern about Russian influence, the importance of supporting Ukrainian independence, and the strategic value of Burisma."
Archer was found guilty of committing a $60 million scheme following a 2018 trial. He was sentenced to one year and one day in federal prison.
[Read More: Trump Accused Of Scamming Small Donors]