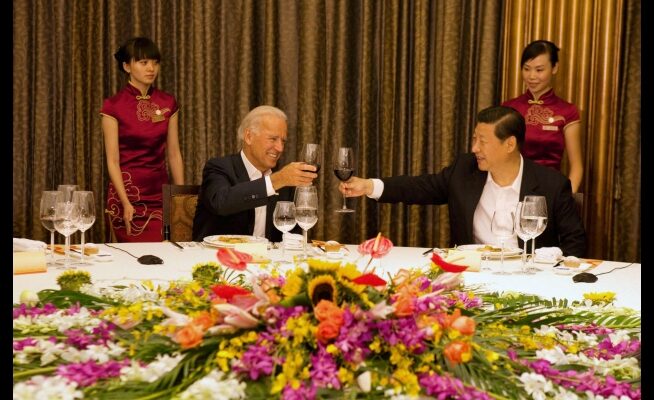 Upstart Democratic candidate for president, Robert F. Kennedy, Jr., has accused a major television network of censorship. Earlier in the week, ABC announced that it had edited Biden's challenger after a discussion of vaccines. 
"ABC News aired an interview with Democratic presidential candidate Robert F. Kennedy Jr. this week. The interview did not air in full. Rather, ABC edited the conversation to exclude Kennedy's commentary on Covid-19 vaccines," according to Outkick. 
ABC News Live anchor Linsey Davis announced the edit on air. Like the good little girl she is, she read what her bosses wrote verbatim:
'We should note that during our conversation, Kennedy made false claims about the COVID-19 vaccines. We've used our editorial judgment in not including portions of that exchange in our interview.
Data shows that the Covid-19 vaccine has prevented millions of hospitalizations and deaths from the disease. He also made misleading claims about the relationship between vaccination and autism. Research shows that vaccines and the ingredients used in the vaccines do not cause autism, including multiple studies involving more than a million children and major medical associations like the American Academy of Pediatrics and the advocacy group Autism Speaks.'"
The interview and disclaimer at the end admitting to the edits can be found below. 
In setting up the interview for viewers, journalist Linsey Davis warned those watching that Biden's opponent has often hawked misinformation and disinformation about vaccines.
She said, "RFK Jr. is one of the biggest voices pushing anti-vaccine rhetoric, regularly distributing misinformation and disinformation about vaccines, which scientific and medical experts overwhelmingly say are safe and effective based on rigorous scientific studies. But can a Kennedy break through in 2024? Will RFK Jr.'s controversial stances limit his appeal?"
During the contentious 14-minute interview, Davis grilled the candidate on not just his vaccine beliefs, but also his willingness to take on President Biden as the Democratic nominee, his criticism of government agencies, and his appearances on conservative media shows.

During the interview, Kennedy said he's been "vilified" for the past three years with "total blanket censorship" from the media.

He told ABC he was "at peace" with his choices because he was fighting very powerful voices that were trying to "silence" him.

"If you don't change my mind with facts, I'm going to stick to my guns," he said.

After Davis pressed him on his distrust of "scientific authorities" on vaccines, Kennedy argued science was always changing and that experts were divided on the issue. "No I don't trust authority. I need to see the detail. I need to see the science," he said as his comments were abruptly cut off, Fox News wrote.
RFK, Jr. has accused ABC of breaking the law. 
47 USC 315 makes it illegal for TV networks to censor Presidential candidates but Thursday, ABC showed its contempt for the law, democracy, and its audience by cutting most of the content of my interview with host Linsey Davis leaving only cherry-picked snippets and a defamatory…

— Robert F. Kennedy Jr (@RobertKennedyJr) April 28, 2023
Kennedy has made major pharmaceutical companies a large target of his campaign. During the announcement of his run for the White House, he vowed to "end the corrupt merger of state and corporate power that is threatening now to impose a new kind of corporate feudalism on our country," attacked Biden's commitment to the war Ukraine and went after Donald Trump's push for lockdowns during the COVID-19 pandemic.  
He said, "During this campaign and during my administration my objective will be to make as many Americans as possible forget that they are Republicans or Democrats and remember that they are Americans. We need to focus on the values we share instead of the issues that divide us."
Despite having no major challengers from within the party, Joe Biden is considered a very weak incumbent president. The New York Post noted that a "poll released Wednesday showed that 19% of Democratic primary voters nationwide back RFK Jr.'s challenge to President Biden, whom 62% of party voters support.
Another 9% support self-help guru Marianne Williamson, who declared her intention to seek the Democratic nomination last month.
Sitting presidents are rarely challenged from within their own party, and history indicates double-digit support for an insurgent candidacy is a sign of weakness in the incumbent. In 1992, Pat Buchanan challenged President George H.W. Bush and got 22% of the Republican primary vote.
Twelve years earlier, Sen. Ted Kennedy (D-Mass.) managed 37% of the Democratic primary vote against President Jimmy Carter. Both chief executives were defeated in their re-election bids."
Following his announcement to seek a second term, the president's approval rating hit the lowest point in his presidency. Gallup reported, "his job approval rating among the U.S. public has slipped to 37%, the lowest Gallup has measured for him to date. Biden's job approval has been in the low 40% range for most of the past 19 months, apart from the current reading and a 38% score last July."
Only Ronald Regan has had a lower approval at this point in his presidency. Despite being so unpopular, however, Biden still easily defeats his predecessor in a 2020 rematch. 
According to WPA intelligence, which examined seven national popular vote polls since the middle of February, "the 76-year-old Trump would lose to Biden by an average of 3.1 percent, while DeSantis, 44, would win the popular vote over the incumbent by an average of 1.2 percent."
There have yet to be polls showing where RFK, Jr. polls against Trump and DeSantis. The two are considered the top frontrunners for the GOP's nomination next spring. 
[Read More: Fox News Tries The Unthinkable]