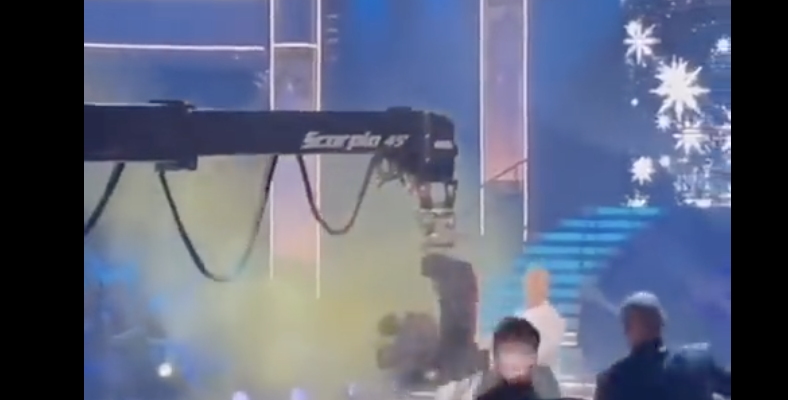 A cameraman in Europe said enough is enough when climate change activists stormed the stage to protest during his show. Climate activists disrupted Sweden's version of Dances with the Stars last week, but one of the protestors was taken out with a camera crane before they were all removed from the studio by security, according to eyewitness accounts. 
A climate activist got wiped out by a TV camera after storming Sweden's version of Dancing with the Stars pic.twitter.com/KJeL5PF4M5

— Dexerto (@Dexerto) May 29, 2023
Fox News writes that Charlotte Kalla, an Olympic skier, and her partner Tobias Karlsson were dancing their paso doble on the Swedish version of Dancing with the Stars, Let's Dance, when climate activists holding up a banner and throwing yellow powder ran onto the stage.

An activist holding a banner for the group, Återställ Våtmarker, which translates to "Restore Wetlands," was promptly hit by a camera crane that swung into action in a move that looked purposeful.

Återställ Våtmarker posted a video of the broadcast of their demonstration on Twitter in which the group can be seen running onto the stage in the background of a closeup of the dancers. The camera then switches to the wider crane view which the captures the scene, complete with the moment it hits the banner-wielding activist.

A Google translation of the organization's tweet read, "LET'S DANCE IS DISRUPTED BY RESTORE WETLANDS – I'm only 18 years old. Those in power sit completely passive and watch as my future burns up, says Otis who was one of the people on stage."
"Viewers of the show apparently missed the drama, which was captured on studio footage from multiple angles. Kalla ended up finishing in second place and reportedly received praise from judges for not being disturbed by the protesters," wrote The Daily Caller.
"The activists reportedly sat in the audience before pulling off the stunt and later filmed themselves as they were kicked out of the show. They told the Daily Mail their objective was to bring attention to the climate disaster being ignored by politicians.
'A number of people made it onto the stage. It was handled by on-site personnel and the police were quickly called to the recording, which expelled them from the venue,' TV4 communications director Charlie Forsberg said."
It should not surprise that regular people acted out against the marauding eco radicals. Over the past few years, climate change radicals have upped the way they annoy people by focusing their attacks on works of art. Last fall, protestors attacked one of the most famous paintings in the world, Vincent Van Gogh's "Sunflowers," by throwing soup at it.  
A few weeks ago, CNN noted that activists turned the blue water of the Trevi Fountain in central Rome black with diluted charcoal. 
"Around 10 activists from the climate group Ultima Generazione (Last Generation) entered the 18th-century late-Baroque fountain holding a banner that said, 'Let's not pay for fossil campaigns considering what is happening in Emilia Romagna,' referring to the deadly flooding in northern Italy, which some experts have linked to the climate crisis.
All activists were arrested and face vandalism charges, Rome police said.
Luisa Regimenti, councilor for personnel, urban security, local police and local authorities in the Lazio region, which includes Rome, condemned the act. In a written statement she said that it was the 'umpteenth demonstrative act of eco-vandals' that hit 'a symbol of Rome universally known in the world.'"
https://twitter.com/ianbremmer/status/1660669671169744896
While most will agree that climate change is something that happens on our planet, most reasonable people, including climate scientists, argue that the worst-case scenario is not the most likely one to come to pass. 
In fact, last year, a group of climate scientists asked activists, their peers, and the media to stop pretending that cataclysm is right around the corner. In a letter published by The Proceedings of the National Academy of Sciences, the scientists wrote that too many of their peers "are focusing way too much of the worst-case scenarios of climate change and environmental shifts all around the globe. While the team notes that these problems are real, constantly preaching impending doom is counter-productive and overshadows the more likely outcomes of global warming. These more-likely outcomes fall into the middle of the climate change conversation — not good, but also not extremely bad."
They continued: "Overemphasized apocalyptic futures can be used to support despotism and rashness. For example, catastrophic and ultimately inaccurate overpopulation scenarios in the 1960s and 1970s contributed to several countries adopting forced sterilization and abortion programs, including China's one-child policy, which caused up to 100 million coerced abortions, disproportionately of girls. Past and present fascist and neofascist movements frequently use fears of environmental catastrophe to promote eugenics and oppose immigration and aid. The Sri Lankan government, concerned about pollution, rashly banned synthetic fertilizers and pesticides in 2021, contributing to an agricultural and economic crisis.
Climate catastrophism may be contributing to the youth mental health crisis. In a recent international youth survey, 45% reported thoughts of climate change negatively affecting their daily lives and functioning, and 40% reported being hesitant to have children.
In summary, a wide range of climate scenarios should be explored, but, with implausible catastrophic scenarios already a major focus of scientific research, calls for a greater emphasis in this direction risk crowding out a needed focus on more plausible futures."
In short: being gripped by panic over an extremely unlikely is less helpful and more annoying. 
[Read More: McCarthy Readies To Charge FBI Director]