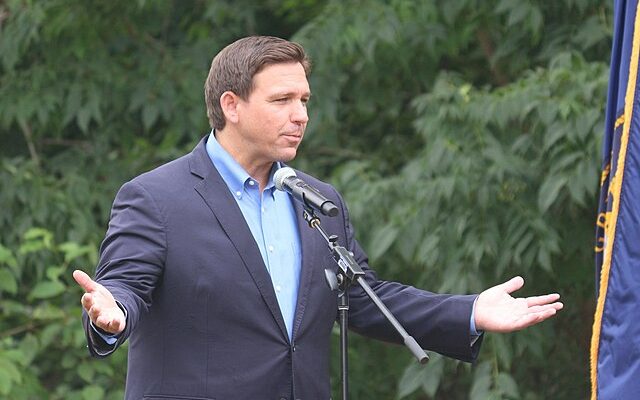 Florida Governor Ron DeSantis is not hitting the panic button, but it he's definitely opened the lid it was under. Politico reports that Ron DeSantis' presidential campaign is expanding the number of staff it's cutting to include more than a third of his payroll as the Florida governor looks to get his primary bid back on track.
The cuts, which were confirmed by advisers, will amount to a total of 38 jobs shed across an array of departments. They will include the roughly 10 event planning positions that were announced several weeks ago, in addition to the recent departures of two senior DeSantis campaign advisers, Dave Abrams and Tucker Obenshain."
Yet the latest staff shakeup isn't an anomaly within the arc of DeSantis' career. It's part of a larger pattern of a politician who has struggled to maintain a core group of trusted advisers or loyal employees, according to TIME Magazine.

During his five years in Congress, his office had one of the highest turnover rates in the House. No employed member from his victorious 2018 gubernatorial campaign team is working in a senior role on his 2024 presidential race. And things didn't change when he became governor. In his first term, he fired staffers with enough regularity that some formed an emotional support group, according to a 2021 Politico report. Now, DeSantis is shedding staff only two months into his bid to beat out former President Donald Trump for the Republican nomination.

DeSantis' long history of staffing woes has been a red flag to some of the party's veteran hands. One prominent GOP operative in touch with DeSantis, who requested anonymity to speak freely, advised him last winter that he would struggle to compete at the national level without a cohesive campaign nucleus. "I told him early on: In my lifetime, I've never watched someone win a major race—not a congressional race, but a major contested race—without being able to keep a team and trust the team," the source recounts to TIME.

It's a reason why that same Republican operative warned high-net-worth donors who were looking for an alternative to Trump against investing too heavily in DeSantis until they could see how he performed as a presidential candidate. "People who were big players were thinking about giving 50 or 100 million dollars," the source says. "I told them, 'You should stitch that in and see if he can make it more than six months with actual professionals in charge.'"
The move is likely part of a "reboot" that was discussed last week by the Florida governor's campaign, which has been said to involve a significant change in messaging, events, and media strategy.
NBC News wrote that DeSantis supporters should "expect fewer big speeches and more handshaking in diners and churches. There will be more of a national focus than constant Florida references. And the mainstream media may start to get more access." 
DeSantis campaign manager Generra Peck told NBC, "Ron DeSantis has never been the favorite or the darling of the establishment, and he has won because of it every time. No one in this race has been under fire more and won than Gov. DeSantis. He's ready to prove them wrong again. Buckle up."
The outlet also said that morale has tanked among campaign staffers. "Downright low" is how a source who was present when the staffers were fired described morale these days. "The entire campaign is on the brink," the person said. "I've never seen anything like it."
The Florida governor may have recently lost his strongest argument for his candidacy: that he is more electable than Donald Trump and the only Republican in the primary who can beat the former president in a showdown. 
A recent poll, for example, revealed that "almost half of South Carolina likely Republican primary voters choose Trump in the 2024 primary contest, with 48 percent. That number is slightly larger among people who said they would definitely vote in the February 24 primary, with 51 percent. According to the poll, the former president saw his largest support from those who identify as very conservative at 57 percent.
Lagging far behind Trump, Haley has 14 percent of the vote, DeSantis has 13 percent, and South Carolina Senator Tim Scott has 10 percent. No other candidate reaches double-digit support. The poll was conducted between July 15-19 with 808 likely participants. The poll also has a 3.5 percent margin of error."
To make matters worse, The Washington Post noted that a recent Monmouth University poll released found "that nearly 7 in 10 GOP voters say Trump is either 'definitely' (45 percent) or 'probably' (24 percent) the GOP's strongest candidate against President Biden.
When asked to compare a potential DeSantis candidacy to a potential Trump candidacy, just 22 percent say DeSantis would be stronger. More than twice as many — 47 percent — say DeSantis would be weaker. (Twenty-six percent say he would be just as strong.)"
However, poll after poll has shown that the American public desperately wants an alternative to another election featuring Trump versus Biden. 
[Read More: White House Doing Everything To Mask Biden's Health]