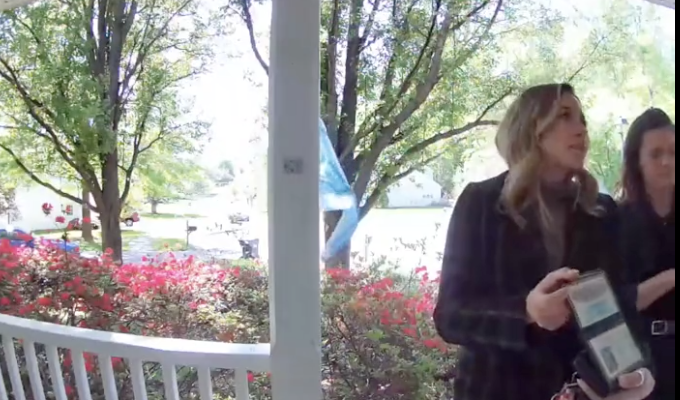 The FBI is once again trying to intimidate pro-life activists, and this time they're going after their families. Two agents, identified as Ashley Roberts and Kathleen Brown, showed up at the childhood home of Elise Ketch, an anti-abortion activist who is part of group of progressives who believe that abortion kills a human life. 
NEW: FBI agents Ashley Roberts and Kathleen Brown showed up at the childhood home of pro-life activist Elise Ketch. The agents asked to speak with Ketch, who is a member of @PAAUNOW.

Here's the Ring security camera footage, first obtained by @Dailysignal: pic.twitter.com/QoY2HL9ytA

— Mary Margaret Olohan (@MaryMargOlohan) May 17, 2023
Townhall writes, "This home visit is undoubtedly creepy, given how the Federal Bureau of Investigation has become the armed wing of the Democratic Party. Yet, this case is different, as they're not targeting a hard-core conservative. She is anti-abortion, however, and given how federal agents have been harassing pro-life activists, along with other instances of corruption stemming from the Russian collusion hoax, the FBI's intentions should be cast with deep suspicion." 
Ketch is a member of the Progressive Anti-Abortion Uprising (PAAU), a group of mostly-left leaning activists. PAAU recently gained prominence by exposing the clinic of Washington, D.C. abortionist Cesare Santangelo.
The Daily Signal reported: "Her entrance into the pro-life group came as PAAU activists Lauren Handy, Jonathan Darnel, and Herb Geraghty faced charges from the Justice Department of violating the Freedom of Access to Clinic Entrances (FACE) Act, which "prohibits threats of force, obstruction and property damage intended to interfere with reproductive health care services" (the DOJ has commonly used "obstruction" in charging pro-life activists with blocking the entrance to an abortion clinic).

The incidents that these activists were involved in all took place before they were members of PAAU, the group's founder, Terrisa Bukovinac, told The Daily Signal. Ketch does not believe that she has ever been involved in any kind of activity that would allow authorities to bring FACE Act charges against her.

On April 18, around 2:45 p.m., FBI agents went to the home of Tracy Ketch, Elise Ketch's mother. Ring camera footage provided to The Daily Signal shows two women standing on the front porch of Ketch's childhood home in Woodbridge, Virginia. The women identified themselves as Ashley Roberts and Kathleen Brown.

'We are both with the FBI,' Roberts told Ketch's mother. 'We just need to speak with her regarding some information that was sent to us.'

When Tracy Ketch informed the agents that Ketch no longer lives at that residence, Roberts asked for Ketch's residence or phone number.

'She's not in any trouble,' Roberts assured Tracy Ketch with a smile, the footage shows. 'We just have some information we need to ask her about.'
Under Joe Biden's leadership, the FBI has become more weaponized than ever before against pro-life activists and whistleblowers. FBI Agent Ashley Roberts appears to be one of the agents tasked with shutting people up as part of her "domestic terrorism" beat. 
Amazing. FBI Special Agents Ashley Roberts and Brian Costella of @FBIWFO CT-4 continue to harass my friend/FBI whistleblower AND his wife at their home and on the phone. They are assigned to "domestic terrorism" and bothering a retired and 100% disabled vet who was suspended. pic.twitter.com/DLPg1YdCrS

— Kyle Seraphin (@KyleSeraphin) November 9, 2022
The Daily Caller noted that "former Federal Bureau of Investigation (FBI) Special Agent Garret O'Boyle said his family became homeless after he reported "illegal activity" in the agency, according to a report from the House Judiciary Committee and Subcommittee on the Weaponization of the Federal Government released on Thursday.
O'Boyle disclosed possible illegal actions to his Supervisory Special Agent, and the FBI subsequently reassigned him to a different department that forced him to relocate his family across the country, according to the report. Upon arrival on his first day, the FBI placed O'Boyle on "unpaid, indefinite suspension, effectively rendering his 'family homeless'" and depriving them of personal belongings, "including his young children's including his young children's clothing," which the FBI kept in storage, according to the report.
O'Boyle and other FBI whistleblowers each detailed instances of retaliatory actions they have dealt with after making protected disclosures regarding what they sincerely believed to be misconduct, according to the report.
A common thread among their accounts is that the FBI infringed upon federal whistleblower protection statutes and exploited the security clearance evaluation process "to hamstring the brave agents who exercise their right to make protected disclosures to Congress or who dared to question agency leadership."
For her part, Elise Ketch appears to be standing up to the intimidation. 
According to Fox News, she said she has "no idea" why FBI agents went to her childhood home or what information they were given, but had "a few guesses as to what was going on." 
"'My colleague at Progressive Anti-Abortion Uprising, Lauren Handy, is indicted under the FACE [Freedom of Access Clinic Entrances] Act and is being prosecuted by the federal government. It's plausible that these FBI agents aimed to collect information from me to help build their case against her,' Ketch explained.
She added, 'While they reassured my mother that I was not in trouble, it's also possible that they see me as a threat due to my pro-life activism and intended to investigate me. Yet, to my knowledge, they never attempted to follow up with me or my attorney, so I believe the FBI's true motive behind their visit to my parents' home was to intimidate me and my team.'
While Ketch was concerned for her family's safety following the incident, she stated, 'I refuse to back down.'
'This weaponization of our government institutions protects the abortion industrial complex, and it reinforces that we must disrupt these unjust power structures,' Ketch said. 'The most prevalent domestic threat to our country is the murder of thousands of preborn people by abortion each day. It is not terrorism to nonviolently intervene and rescue these powerless children before their slaughter. I'm willing to risk my own freedom and sacrifice my rights in order to secure theirs.'"
This FBI visit to Ketch's mother comes on the heels of the Bureau intimidating the family and arresting pro-life activist Mark Houck last September. With guns drawn, Houck was carried off by 25 agents in SWAT gear in front of his wife and seven children while at home in Pennsylvania.
A jury found Houck innocent of the trumped-up charges from Merrick Garland's DOJ.   
[Read More: Biden Now Wants To Ban Chocolate Milk At Schools]