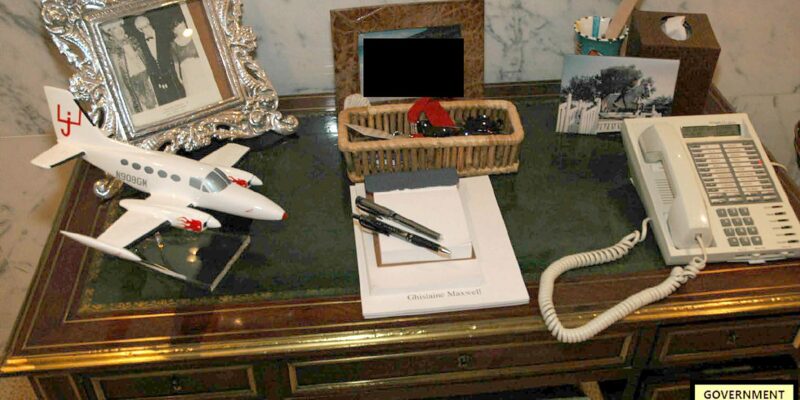 The Wall Street Journal has revealed Jeffrey Epstein's private calendar in a bombshell story. The document is filled with notable names, including the president of Bard College Leon Botstein, leftwing activist and academic Noam Chomsky, President Obama's White House counsel, and even the current CIA Director William Burns. 
The newspaper writes, "William Burns, director of the Central Intelligence Agency since 2021, had three meetings scheduled with Epstein in 2014, when he was deputy secretary of state, the documents show. They first met in Washington and then Mr. Burns visited Epstein's townhouse in Manhattan.

Kathryn Ruemmler, a White House counsel under President Barack Obama, had dozens of meetings with Epstein in the years after her White House service and before she became a top lawyer at Goldman Sachs Group Inc. in 2020. He also planned for her to join a 2015 trip to Paris and a 2017 visit to Epstein's private island in the Caribbean. 

Leon Botstein, the president of Bard College, invited Epstein, who brought a group of young female guests, to the campus. Noam Chomsky, a professor, author and political activist, was scheduled to fly with Epstein to have dinner at Epstein's Manhattan townhouse in 2015.

None of their names appear in Epstein's now-public "black book" of contacts or in the public flight logs of passengers who traveled on his private jet. The documents show that Epstein arranged multiple meetings with each of them after he had served jail time in 2008 for a sex crime involving a teenage girl and was registered as a sex offender. The documents, which include thousands of pages of emails and schedules from 2013 to 2017, haven't been previously reported. 

The documents don't reveal the purpose of most of the meetings. The Wall Street Journal couldn't verify whether every scheduled meeting took place.
None of the names The Journal reported appeared in infamous documents such as flight logs for the pedophile's plane, The Lolita Express, or his "black book" that included names like Prince Andrew or Harvard professor Alan Dershowitz. The meetings were all planned for the years following 2008, the year when Epstein served time in jail for a sex crime involving a teenage girl and after he had registered as a sex offender.
Rolling Stone noted that "the calendar showed that in 2014, while current CIA director William Burns was deputy secretary of state, Burns had three meetings scheduled with Epstein, first meeting in Washington and then at Epstein's Manhattan townhouse. Rumors and accusations have long swirled around Epstein that he was some kind of intelligence asset.
CIA spokesperson Tammy Kupperman Thorp issued a statement to the paper denying that Burns knew 'anything' about Epstein at the time beyond his expertise in finance. 'The director did not know anything about him, other than that he was introduced as an expert in the financial services sector and offered general advice on transition to the private sector,' she said. 'They had no relationship.'
Another figure listed in Epstein's calendar is Leon Botstein, the president of Bard College. According to the Journal, Epstein was invited to Bard's campus, and he brought with him a group of "young female guests." Botstein said that cultivated a relationship with Epstein in the hopes he would make a donation, and in 2012 the college president met up with Epstein to thank him for donating 66 laptops to Bard's high schools. The calendar reveals approximately two dozen meetings between Botstein and Epstein over the course of four years, with most taking place at Epstein's townhouse.
"I was an unsuccessful fundraiser and actually the object of a little bit of sadism on his part in dangling philanthropic support," Botstein told the Journal. "That was my relationship with him."
Discussing Epstein's criminal record, Botstein said, "We looked him up, and he was a convicted felon for a sex crime. We believe in rehabilitation."
The current director of the CIA not knowing who one of the most recognized pedophiles in the country was does not especially breed confidence in his ability in his current role. 
"Ruemmler had dozens of meetings with Epstein following her work for the Obama administration and before taking the reins as Goldman Sachs' top lawyer in 2020," Fox News wrote. "The documents show Epstein was planning on Ruemmler joining him for a trip to Paris in 2015 and another visit to his private island in the Caribbean in 2017.
A Goldman Sachs rep told the outlet that Ruemmler had a working relationship with Epstein when she was employed at law firm Latham & Watkins LLP, but did not travel with Epstein. The spokesperson said Epstein introduced Ruemmler to potential legal clients, such as Bill Gates.
'Many of Ms. Ruemmler's contacts related to a potential representation involving the Gates Foundation, a representation of the Edmond de Rothschild bank, and other business opportunities,' a Goldman Sachs spokesperson told Fox News Digital on Sunday."
Noam Chomsky was the most indignant about his meetings with Epstein being revealed. While everyone else mentioned regret, Chomsky did not, saying it was "none of your business."
The report showed that Chomsky and his wife planned to have dinner with creepy movie director Woody Allen and his wife, Soon-Yi Previn. Allen was accused of child molestation in 1992.
The Harvard professor said, "'If there was a flight, which I doubt, it would have been from Boston to New York, 30 minutes,' Chomsky told the Journal. 'I'm unaware of the principle that requires that I inform you about an evening spent with a great artist.' 
Chomsky said he discussed politics and academics in his meetings with Epstein. Epstein donated at least $850,000 between 2002 and 2017 to the Massachusetts Institute of Technology, where Chomsky taught for decades.
'What was known about Jeffrey Epstein was that he had been convicted of a crime and had served his sentence," Chomsky told the Journal about his meetings. "According to U.S. laws and norms, that yields a clean slate.'"
[Read More: Major Network Silence Biden Opponent]