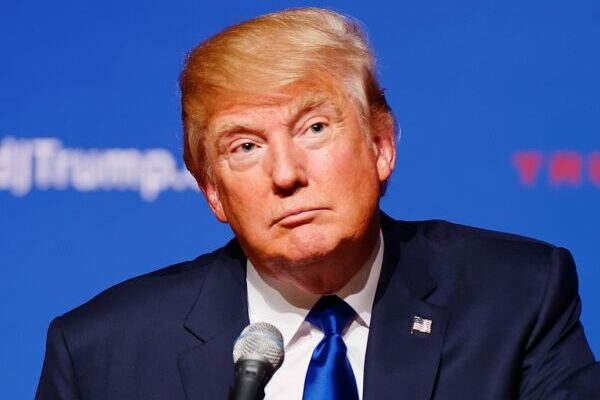 Donald Trump has never been one to show deep loyalty, but his latest attack on one of his closest advisors has even the former president's biggest supporters shaking their heads out of frustration. 
On Tuesday evening, the former president attacked Kayleigh McEnany, his champion press secretary, who went to bat for him every day against the media for years. 
The sickest part of Trump's latest unhinged meltdown is that @kayleighmcenany was not only Trump's biggest defender but also an absolute star of the administration. Going up against hostile press every day with nothing but class.

Even the diehards can't defend this… pic.twitter.com/vGL4wDhqCZ

— Dave Rubin (@RubinReport) May 31, 2023
The Hill reported that the former President Trump slammed his onetime press secretary Kayleigh McEnany on Tuesday, accusing her of providing the "wrong" poll numbers during an appearance on Fox News.

"Kayleigh 'Milktoast' McEnany just gave out the wrong poll numbers on FoxNews. I am 34 points up on DeSanctimonious, not 25 up," Trump said in a Truth Social post, using his nickname for Florida Gov. Ron DeSantis (R).

"While 25 is great, it's not 34," he added. "She knew the number was corrected upwards by the group that did the poll. The RINOS & Globalists can have her. FoxNews should only use REAL Stars!!!"

McEnany, who is now a co-host of Fox News' "Outnumbered," told host Jesse Waters on Tuesday night that polling in Iowa showed DeSantis "closing the gap" on the former president, after the Florida governor formally announced his bid for the 2024 Republican presidential nomination last week.

It was not immediately clear which poll Trump and McEnany were referencing. A recent survey from Emerson College Polling showed the former president leading DeSantis by 42 points among Iowa voters.
"Milktoast" appeared to be a misspelling of "milquetoast," a term for a timid or meek person.
"McEnany, now a Fox News host and commentator, has not commented directly on Trump's attack. In her time at the White House, she was an outspoken defender of Trump, including during his protest of the 2020 election," writes USA Today.
Originally from Tampa, Florida, McEnany has spent much of career defending former President Trump. "In mid-August 2017, The Independent noted, "during the first year of the Trump presidency, Ms. McEnany left CNN and was appointed the Republican National Committee's spokesperson. During this period she spoke on behalf of the RNC, notably defending Mr. Trump from bipartisan criticism of his comments about the white supremacist rally in Charlottesville, Virginia.
She was referred to as a 'state propagandist' by Clinton administration press secretary Joe Lockhart who said she had 'destroyed her own personal credibility and fatally injured her ability to speak for the President, and more importantly, for the United States of America.'
Since her arrival at the network, Ms McEnany has continued to defend her former boss on air and appears to have fit into the role well, even stepping in as a guest host during primetime."
Many conservatives were not pleased with the attack on his former press secretary. "Conservatives have rushed to defend former White House Press Secretary Kayleigh McEnany after she was ridiculed by her former boss, Donald Trump. "This is pathetic," said Chad Prather, a host at Blaze TV, saying that McEnany "took bullets for his man. We have a guy in the White House destroying the country and you go after her?,'" according to Forbes. 
Trump criticizes McEnany, who came out and defended him the day after Jan. 6 from the White House briefing room. https://t.co/JTLViVdpEH

— Kaitlan Collins (@kaitlancollins) May 31, 2023
OMG, now Trump is even attacking Kayleigh McEnany, his BEST press secretary ever? Is there no former hire this man will not absolutely TRASH and namecall?

He is a CHILD. pic.twitter.com/p52XY3UoXS

— Bill Mitchell (@mitchellvii) May 31, 2023
Kayleigh McEnany is a role model for conservative women

She's a devout Christian, devoted mother & wife, Harvard law grad, author, prime time news host, a staunch defender of America 1st agenda, & one of the best press secretaries we've ever seen

She's anything but "milk toast"

— Courtney Holland 🇺🇸 (@hollandcourtney) May 31, 2023
Karen Townsend at Hot Air defended the former press secretary: "I assume he meant "milquetoast", which means a feeble or meek person. Kayleigh is neither. Anyone who tuned into even one daily briefing during her time as the White House press secretary saw a strong and well-prepared woman defending the president up against an extremely hostile White House press corps. Every day. She had a briefing book at the ready and rarely cracked it open. She used it when she wanted to use a quote accurately. Then she would read from the book. Contrast that to today's incredibly inept and incompetent press secretary for the Biden administration, Karine Jean-Pierre. She is incapable of answering a question without reading White House talking points from her very large briefing book and even then she gets information wrong. She is a poor communicator.
Kayleigh was hired by Trump to replace Sarah Huckabee Sanders. I really liked Sarah in the job, too. Both women had the ability to stand firm against the daily attacks by the press corps and defend Trump. They didn't back down when the dialogue heated up, which it frequently did. Kayleigh was poised and very matter-of-fact in her answers, as a Harvard law school graduate, her training showed. She was a regular on CNN, the epicenter of Trump Derangement Syndrome, and would defend Trump as she sat for panel discussions. The panel was always Democrat-heavy because it was CNN, after all. She was a champ.
So, Kayleigh landed at Fox after her time at the White House came to an end. There is no doubt in my mind that Trump would have kept her as his press secretary if he served a second term. He praised her and her tenacity in defending her. Now that she sometimes speaks favorably of Ron DeSantis – she is a Florida resident and he is her governor – she is on Trump's disloyal list. Loyalty goes only one way for Trump."
McEnany isn't the only onetime ally that Trump has gone after. He has also "directed his ire at Fox for its coverage of DeSantis, who is widely viewed as the former president's toughest competitor in the 2024 Republican presidential primary.
Many Fox News analysts have recently predicted that Trump's lead over his Republican opponents in the 2024 presidential race would tighten once Florida Gov. DeSantis announced his own candidacy.
DeSantis, whom Trump often refers to as 'DeSanctimonious,' officially announced his bid last week, People explained.
This week will be a busy one: both Trump and DeSantis will be in Iowa to campaign. Trump will also appear with Sean Hannity this Thursday for a Fox News town hall.
[Read More: Cameraman Gives Climate Activists A Piece Of His Mind]