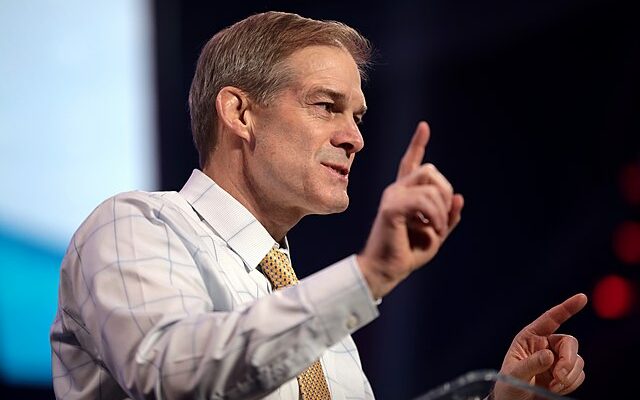 Earlier this week, we noted that there are two sets of rules. There are the rules that we believe everyone has to follow, and there are rules that liberals believe they don't have to follow. The Manhattan DA Alvin Bragg recently indicted former President Donald Trump and Republican Jim Jordan has deployed his powers conferred to him by Congress to understand why.
Bragg's indictment of the former president has been lambasted as a sham, including by prominent liberals.
The New York Times reports, "The Manhattan district attorney on Tuesday sued Representative Jim Jordan of Ohio in an extraordinary step intended to keep congressional Republicans from interfering in the office's criminal case against former President Donald J. Trump.
The 50-page suit, filed in federal court in the Southern District of New York, accuses Mr. Jordan of a "brazen and unconstitutional attack" on the prosecution of Mr. Trump and a "transparent campaign to intimidate and attack" the district attorney, Alvin L. Bragg. Mr. Bragg last week unveiled 34 felony charges against Mr. Trump that stem from the former president's attempts to cover up a potential sex scandal during and after the 2016 presidential campaign.
Lawyers for Mr. Bragg are seeking to bar Mr. Jordan and his congressional allies from enforcing a subpoena sent to Mark F. Pomerantz, who was once a leader of the district attorney's Trump investigation and who later wrote a book about that experience. Mr. Pomerantz resigned early last year after Mr. Bragg, just weeks into his first term in office, decided not to seek an indictment of Trump at that time.
Mr. Bragg's lawyers, including Theodore J. Boutrous Jr. of the law firm Gibson Dunn and Leslie B. Dubeck, the general counsel in the district attorney's office, also intend to prevent any other such subpoenas, the lawsuit says. Mr. Jordan has left open the possibility of subpoenaing Mr. Bragg."
At the heart of the matter is Mark Pomerantz, a former prosecutor who quit Bragg's office after he did not move quickly enough to indict Trump. In his book, The People vs Donald Trump, the former New York lawyer compares "Donald Trump to the late mob boss John Gotti — and blames embattled District Attorney Alvin Bragg for botching a probe of the ex-president."
Jordan's committee has subpoenaed Pomerantz, asking that he be deposed on April 20. 
Fox News wrote that "Jordan said his committee has jurisdiction in part because Bragg used federal funds in indicting Trump 'for no crime.'
The lawmaker said Bragg instead got incensed Congress began asking questions about the suit, claiming the prosecutor decided to sue because the committee wants to speak with Pomerantz.
'He takes us to court because we want to talk to someone who left the DA's office a year ago, who went out and wrote a book on this very subject, did all kinds of interviews, was pushing to go after President Trump before he got there,' Jordan said.
He noted Pomerantz went public with his book, but now it is untoward to have him appear before Congress.
"They're obstructing our constitutional duty to do oversight," Jordan added, pointing to the New York City crime wave happening in Bragg's jurisdiction and the outer boroughs."
Pomerantz wrote a letter informing Jordan's committee that he would not testify because Bragg's office has told him not to, but some legal beagles have claimed that they do not anticipate the Manhattan DA's lawsuit to "go very far."  
UPDATE: Bragg's lawsuit may not get very far. Federal courts are loath to police Congress' investigative activity and typically refuse to probe the political mentality of individual lawmakers

But it could tie up Jordan's efforts to glean info.https://t.co/8ZTjX3i1li

— Kyle Cheney (@kyledcheney) April 11, 2023
Politico stated that "courts have long been wary of policing Congress' investigative power, and even more loath to delve into the mindset of individual lawmakers who are pursuing politically explosive investigations. However, Bragg's lawsuit may tie up Congress' ability to garner testimony and information related to the Trump probe while it plays out in court."
When the shoes were on different feet, Democrats claimed broad congressional authority to force testimony and obtain records under similar powers that Jordan deployed. 
 Last November, Trump sued the select committee investigating the January 6, 2021, attack on the U.S. Capitol "in a bid to block the panel's subpoena for testimony and documents issued last month.
The 41-page complaint filed in federal court in Florida argues that the subpoena is invalid because it lacks a "valid legislative purpose," is overly broad, and "infringes on executive privilege" and Trump's First Amendment rights. The suit also argues that the committee lacks the authority to issue subpoenas — an argument that the U.S. Court of Appeals for the D.C. Circuit and several other judges have already rejected.
'Consistent with the constitutional separation of powers and learned opinion of the Department of Justice, as stated for the past fifty years and reiterated just this past September, President Trump asserted his absolute immunity from compelled testimony before Congress regarding his actions while serving as President,'" Trump's lawyers wrote at the time according to The Washington Post.
In 2019, the Democratic-led House Oversight Committee became obsessed with Trump's finances. President Donald Trump and his business filed suit against Democratic House Oversight Committee Chairman Elijah Cummings on Monday to block a subpoena sent last week seeking information about the president's finances.
In the complaint filed in Washington, D.C., federal court Monday morning, Trump's lawyers said that Democrats have 'declared all-out political war' against him.
The House Oversight and Government Reform Committee subpoenaed Mazars, an accounting firm that Trump had used to prepare several years of financial statements, according to the lawmakers' document.
The subpoena requested a slew of financial documents and related materials from Trump, his trust, the Trump Organization, the Trump Corporation, Trump's holdings company, the Trump Foundation and the Trump International Hotel in Washington. Mazars told the committee that it would not be able to comply with demands for those documents without a subpoena, according to Cummings," CNBC explained.
The suit was received by Judge Mary Kay Vyskolcil, a Trump appointee who has already rejected Bragg's request for a temporary restraining order. The case will be held on April 19, 2023. 
[Read More: One Of America's Closest Allies Is Helping Russia]