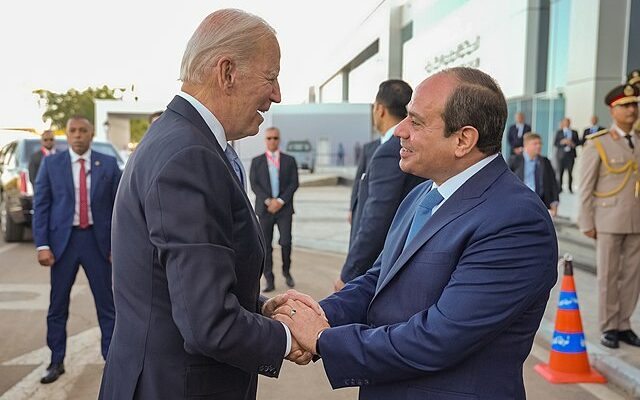 One of America's closest allies in the Middle East had plans to send military supplies to support Russia in its invasion of Ukraine, recently revealed classified documents show. 
President Abdel Fatah El-Sisi of Egypt, a major recipient of American foreign aid, recently called on subordinates to build roughly 40,000 rockets to be covertly shipped to Russia, a leaked American intelligence document shows. 
The Washington Post wrote, "A portion of a top secret document, dated Feb. 17, summarizes purported conversations between Sisi and senior Egyptian military officials and also references plans to supply Russia with artillery rounds and gunpowder. In the document, Sisi instructs the officials to keep the production and shipment of the rockets secret "to avoid problems with the West."
The Washington Post obtained the document from a trove of images of classified files posted in February and March on Discord, a chat app popular with gamers. The document has not been previously reported.
The disclosure comes as Russia is fighting a war with Ukraine, in which both sides are seeking resupply of depleted arsenals.
The Daily Caller noted, "While the Pentagon has stated that North Korea is exporting lethal equipment to Russia and China has considered following suit, for Egypt to directly support Russia would likely disrupt what has proven a valuable relationship for Cairo, experts said.
'We are not aware of any execution of that plan,' a U.S. government official told the Post on condition of anonymity. 'We have not seen that happen.'
The document further summarizes conversations between Sisi and top military aides the U.S. may have intercepted and alludes to a plan to provide Russia with gunpowder and artillery rounds, according to the Post. Factory workers were to be told the rockets were destined for Egypt's military, Sisi said, according to the document as seen by the Post.
An individual by the name of Salah al-Din — possibly a reference to Mohamed Salah al-Din, minister of State for Military Production — promised to 'order his people to work shift work if necessary because it was the least Egypt could do to repay Russia for unspecified help earlier,' the document said."
Egypt has maintained that it holds a neutral stance toward the Ukraine-Russia conflict. A spokesperson for the country's foreign ministry told The Washington Post: "Egypt's position from the beginning is based on noninvolvement in this crisis and committing to maintain equal distance with both sides, while affirming Egypt's support to the U.N. charter and international law in the U.N. General Assembly resolutions."
CBS News reported that "photos of pages of paper documents that appear to have been unfolded have appeared on social media, and some of the materials contain details from daily updates provided to senior leaders at the Pentagon about operations in Ukraine, as well as other intelligence updates, according to a Pentagon official.  
CBS News has reviewed a number of slides so far, as the U.S. government continues to try to remove them from social media. Some include graphics and maps of the state of Russia's war in Ukraine as of March. Others depict combat sustainability assessments and an analysis of Ukraine's air defenses. 
Asked by reporters Monday if the threat to national security has been contained, National Security Council spokesperson John Kirby responded, "We don't know. We truly don't know." 
The Biden administration is not yet sure how extensive the document leak is, and still doesn't know who is behind it. The Justice Department, at the request of the Defense Department, has opened a criminal investigation." 
The Pentagon would not verify the veracity of the online photos, and some have noted that at least a few of the documents appear to be doctored. 
CNN noted that the leak "provided a rare window into how the U.S. spies on allies and foes alike, deeply rattling U.S. officials, who fear the revelations could jeopardize sensitive sources and compromise important foreign relationships.
Some of the documents, which U.S. officials say are authentic, expose the extent of U.S. eavesdropping on key allies, including South Korea, Israel and Ukraine.
Others reveal the degree to which the U.S. has penetrated the Russian Ministry of Defense and the Russian mercenary organization Wagner Group, largely through intercepted communications and human sources, which could now be cut off or put in danger."
[Read More: Hunter Biden Allegedly Sent Classified Docs To 'Friend' In This Country]