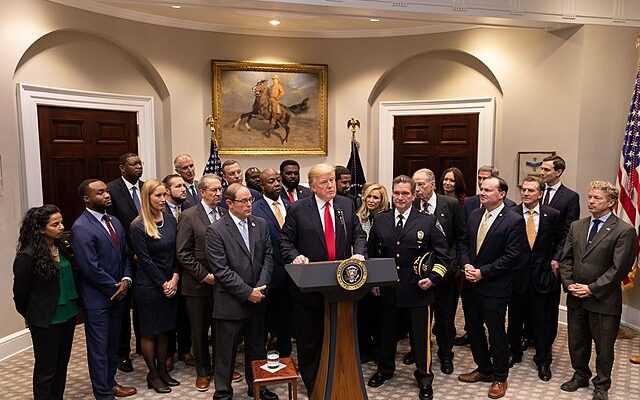 Another Republican favorite has entered the ring for the 2024 Republican nomination. Senator Tim Scott has launched an exploratory committee to run for the presidency of the United States. 
"I bear witness to what America can do for anyone, what she's done for me. But we must rise up to the challenges of our time. This is a fight we must win. And that will take faith, faith in God," Scott said in a new video.
"I will never back down in defense of the conservative values that make America exceptional. And that's why I'm announcing my exploratory committee for president of the United States," he went on.
NPR noted, "An exploratory committee allows him to raise money that could then be transferred to an official presidential campaign.
Scott, the only Black Republican currently in the U.S. Senate, launched his committee Wednesday (April 12), which he noted in a video is the day marking the beginning of the Civil War at Fort Sumter in South Carolina.
His launch comes before planned travel this week to Iowa, New Hampshire and back home to South Carolina as he continues his 'Faith in America' tour."
Senator Scott is the first Black senator elected from the Deep South since Reconstruction. He's also the first Black Republican to serve in the Senate since 1979. Throughout his time in the upper chamber, he has made a name for himself as a conservative who is willing to negotiate policies with Democrats, the best example his unsuccessful attempt to pass police reform legislation in 2020 and 2021.
The South Carolina senator has been on the attack against Democratic hypocrisy after the party filibustered his police reform bill, The JUSTICE Act, which had wide support from Republicans, including Donald Trump, following the 2020 protests sparked by the death of George Floyd at the hands of a Minneapolis police officer.
Earlier in the year, The Hill wrote, "Scott pushed back on Democratic colleagues, such as Senate Judiciary Committee Chairman Dick Durbin (Ill.) and Sen. Cory Booker (N.J.), for suggesting that Republicans were the reason Congress hasn't yet passed a major police reform bill.  
'Yesterday on ABC's 'This Week,' Sen. Durbin asked Sen. Booker and I to come back to the table and start talking about policing in America. I never left the table,' Scott declared on the Senate floor.  
Scott criticized Durbin's opposition to his Just and Unifying Solutions To Invigorate Communities Everywhere Act (JUSTICE) Act, which would have ended the use of police chokeholds and created a "duty" for officers to intervene when they see a colleague use excessive force against a suspect.
He said that lawmakers should be able to rally around a bill to provide more training to help police de-escalate dangerous situations and create a duty for officers to intervene with colleagues using excessive force, but questioned whether Democrats are really open to meeting Republicans in the middle."  
Scott's foray into the presidential field has raised some eyebrows, however. In 2019, he said he would support Donald Trump if he ran for the nomination in 2024. 
When asked if he'd support Trump running in 2024, he said, "of course" but "deflected further questions if he has a desire to run for the Oval Office," wrote The Post and Courier.
While many see Scott's chance at landing the GOP nomination to be a longshot, The Washington Post recently argued that he is in a prime position. 
David Byler explained: "Not many polls ask about Scott, so it's hard to get a detailed, up-to-date read on his popularity. But the surveys that include him tell a consistent story: Republicans who know him really like him.
Conservatives see him as an ally. During Trump's term, he supported the president on 91 percent of votes. But he doesn't drive away moderates. He has made school choice and increasing economic opportunity — two of the GOP's least culturally divisive policies — his signature issues.
But, unlike Haley, Scott is in the second-best polling zone available: well-liked, with potential to grow. The only better position is to be well-liked and well-known.
And, for the moment, Trump, Florida Gov. Ron DeSantis and Texas Gov. Greg Abbott are hogging that space."
Scott is currently joined in the race by fellow South Carolinian Nikki Haley, Asa Hutchinson, and, of course, Donald Trump. 
Many expect Florida Governor Ron DeSantis to eventually throw his hat in the ring in May following the conclusion of Florida's legislative session. 
[Read More: Trump Prosecutor Begs Congress To Stop Investigating]