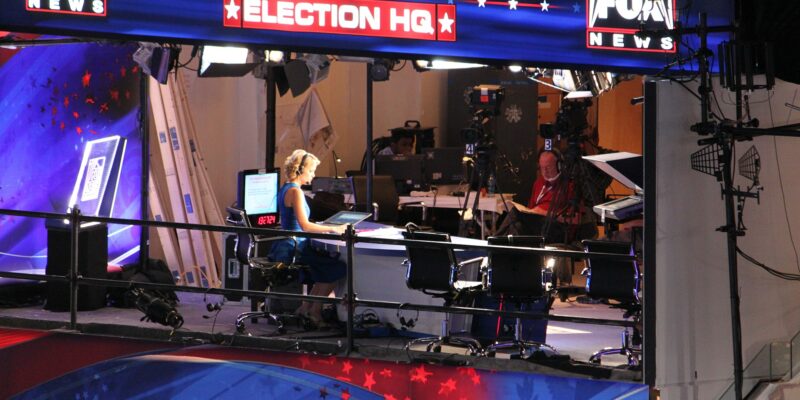 In the aftermath of the 2020 election, Fox News faced a crisis in confidence and allegedly began to blur the lines between facts and conspiracy theories, especially against the Dominion Voting Machines.  
Last fall, CBS reported, "It was just days after the 2020 presidential election that lawyers supporting then-President Donald Trump began spreading unsubstantiated claims that an American company – Dominion Voting Systems – had rigged the election. They said Dominion was backed by Venezuela, and that its machines and software switched millions of votes from Donald Trump to Joe Biden.
They never showed any evidence, but that didn't stop pro-Trump attorneys from making baseless claims, or conservative news networks from giving them plenty of airtime. Dominion has filed eight lawsuits seeking more than $10 billion in damages against Fox News and other networks, corporations and individuals. "
Earlier in the week, Fox News got some bad news in the ongoing defamation case against them. 
A judge denied granting summary judgment to Fox News in its attempt to get Dominion Voting Systems' $1.6 billion defamation lawsuit thrown out Friday, meaning the case will go to trial in mid-April, according to NBC News.

Delaware Superior Court Judge Eric Davis handed Dominion a major win, too, when he agreed that the challenged statements are false.

The ruling spares the voting machine company from having to litigate baseless conspiracy theories about its role in the 2020 election during the upcoming trial against Fox News and its parent company, Fox Corp.

"The evidence developed in this civil proceeding demonstrates that is CRYSTAL clear that none of the Statements relating to Dominion about the 2020 election are true," Davis wrote in his 81-page ruling, emphasizing the word "crystal" in his ruling.
The discovery process for the case revealed that some of the superstar hosts at Fox News would defend Trump on air while privately detailing how much they despised the former president, including a message Tucker Carlson text message declaring, "I hate him passionately." 
"Incriminating texts and emails have shown how Fox executives, hosts and producers didn't believe the claims the network was peddling about Dominion….The lawsuit is seen as one of the most consequential defamation cases in recent memory. Fox has argued that a loss will eviscerate press freedoms, and many scholars agree that the bar should remain high to prove defamation. Other analysts have said holding Fox accountable for knowingly airing lies won't pose a threat to objective journalists who would never do that in the first place.
The case has elicited a mountain of evidence exposing Fox News as a right-wing profit machine lacking the most basic journalistic ethics — and willing to promote unhinged election conspiracy theories to preserve its lucrative business.
Fox Corporation chairman Rupert Murdoch conceded in his sworn deposition that several of his top hosts endorsed election lies on the air that he knew were false. And after the 2020 election, its most prominent stars and top executives privately trashed the conspiracy theories that were being spread on-air, according to internal text messages and emails revealed in court filings," according to CNN.
This could turn into a costly problem for the top-rated cable news network. The Washington Post explained that "legal experts said the specific ruling was a blow for Fox — and an encouraging sign going into trial for Dominion Voting Systems, which argues that Fox unfairly smeared it with wild allegations about its role in the 2020 election.
'This is a disastrous decision for Fox," said Jonathan Peters, a media law professor at the University of Georgia. "The case isn't over, no, with the trial on the way and the likelihood of appeals, but going forward I'd much rather have Dominion's arguments.'
The ruling also knocks down a key pillar of Fox's defense — that it was simply reporting on newsworthy statements from public figures, in this case a sitting president and his advisers. Davis wrote that Fox undermined this line of defense by failing to also report statements from government officials and the company debunking claims of fraud.
Davis also rejected Fox's argument that claims of electoral fraud were defensible because they represented the opinion of the hosts and guests on its airwaves. 'It appears oxymoronic to call the statements 'opinions' while also asserting the statements are newsworthy allegations and/or substantially accurate reports of official proceedings,' he wrote."
To make matters worse for Fox, the judge ruled that a jury could determine the penalty if the news channel is found guilty of defamation, which means the penalty could well exceed a billion dollars. 
This is big. The judge isn't going to narrow damages at this point. This leaves open possibility that jury could indeed hit Fox News with $1 BILLION PLUS verdict. Jury instructions will be important, but Rupert Murdoch is going to have to think hard about taking this to trial. pic.twitter.com/2C8MU7emUW

— Eriq Gardner (@eriqgardner) March 31, 2023
Mediaite noted that a "key part of what remains for a jury to decide is whether or not Fox News and Fox Corp. acted with actual malice and if Dominion occurred damages (and if so, how much).
A spokesperson for Dominion provided Mediaite with the following statement: 'We are gratified by the Court's thorough ruling soundly rejecting all of Fox's arguments and defenses, and finding as a matter of law that their statements about Dominion are false. We look forward to going to trial.'
A spokesperson for Fox News provided Mediaite with the following statement: 'This case is and always has been about the First Amendment protections of the media's absolute right to cover the news. FOX will continue to fiercely advocate for the rights of free speech and a free press as we move into the next phase of these proceedings.'"
The owner of Fox News, Rupert Murdoch, has been known to settle lawsuits and some have already begun to suggest that a settlement rather than a trial may be the best way to say the right-leaning news channel from the fate of Gawker, which closed up shop after being found liable for defaming pro wrestler Hulk Hogan.
[Read More: Gavin Newsom Gearing Up For 2024, Even If He Says He's Not]