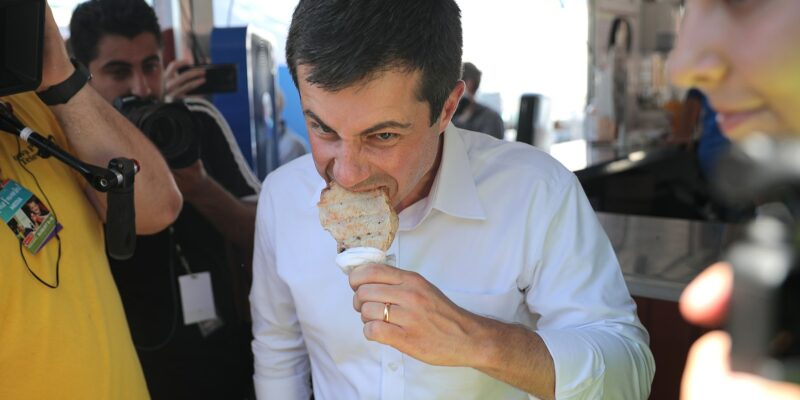 The Department of Transportation has been caught hiding information about Secretary Pete Buttigieg's penchant for traveling on private jets on the taxpayer's dime. Fox News reports that the Department has thrown up obstacles to the inspector general's investigation into 23 separate private flights used by "Mayor Pete" and his advisers. 
The news channel writes that "the DOT and the agency's Freedom of Information Act (FOIA) office both declined to detail how much each flight cost taxpayers over the course of multiple months and in recent weeks. The stonewalling comes amid an ongoing inspector general audit of Buttigieg's use of the planes, which are part of a small fleet managed by the Federal Aviation Administration (FAA).

'It's inexcusable that Secretary Buttigieg's agency is hiding the detailed costs of these taxpayer-funded flights,' Caitlin Sutherland, the executive director of watchdog group Americans for Public Trust, told Fox News Digital. 'Federal law dictates a timely release of exactly these types of records to the public.'

On Feb. 27, the DOT's inspector general announced it would investigate whether Buttigieg's office has complied with federal laws regarding executive travel on DOT aircraft for official trips. The probe was requested by Sen. Marco Rubio, R-Fla., in response to a Fox News Digital report in December that revealed Buttigieg had taken 18 trips on the FAA planes since January 2021.

Following the Dec. 12 report, Fox News Digital filed a FOIA request for detailed information and costs of all flights logged by FAA planes since early 2021. For months, the DOT FOIA office repeatedly delayed providing the requested information, citing various reasons including on one occasion a key employee being out of the office, until Feb. 27, hours after the inspector general investigation was announced."
During a sit down with CNN, Secretary Pete said that the disastrous response to the train derailment had him "rethinking" how he should do his job, which presumably means that he would start doing his job to start with. 
"Buttigieg acknowledged mistakes. He said he should have gone to East Palestine, Ohio, earlier. He said he failed to anticipate the political fallout from the toxic train derailment, despite months of transportation problems like mass flight cancellations and an air traffic control system shutdown that left many Americans frustrated," CNN writes.
"Buttigieg came into the Cabinet knowing this would be an odd transition – he's the only winner of the Iowa caucuses and one-time Jimmy Kimmel guest host to take a lower-level Cabinet job. He didn't realize just how much focus there would be on a Cabinet role that was once seen as mostly apolitical in past administrations.
Now, to the left, the former mayor of South Bend, Indiana, is the corporatist compromiser without the vision or guts to go as big as he should. To the right, he is the embodiment of elitist abandonment of real Americans, hopped up on his own grandiosity, who thinks more about social engineering than transportation.
Republicans like Sen. Marco Rubio are calling for his resignation over 'intentional ignorance' for not moving sooner on the East Palestine derailment – one of the more civil statements that have been coming from the GOP. Donald Trump Jr., for example, insisted he only got the job because he was "that gay guy." Even some Democrats are publicly raising doubts – West Virginia Sen. Joe Manchin, a Democrat, told CNN, 'People have to have a confidence – and they have more confidence when they see leaders.' Manchin added that Buttigieg 'has to make that decision if he feels he's being effective.'"
The Transportation Secretary took on Fox News, those investigating his private flights, and former President Donald Trump directly. He told CNN, "It's really rich to see some of these folks — the former president [Donald Trump], these Fox hosts — who are literally lifelong card-carrying members of the East Coast elite, whose top economic policy priority has always been tax cuts for the wealthy, and who wouldn't know their way around a T.J. Maxx if their life depended on it, to be presenting themselves as if they genuinely care about the forgotten middle of the country."
He also more or less called the people of East Palestine rubes for demanding that the person in charge of the nation's transportation system show up and talk to them. Buttigieg conceded that he should have gone to the crash sooner, saying, "Sometimes people need policy work, and sometimes people need performative work. And to get to this level, you've got to be ready to serve up both."
Those silly Midwesterners demanding that the guy in charge actually come and see the disaster he tried to ignore. How dare they make him do "performative work." 
[Read More: Media Appears To Have Covered Up Lab Leak To Protect Fauci]