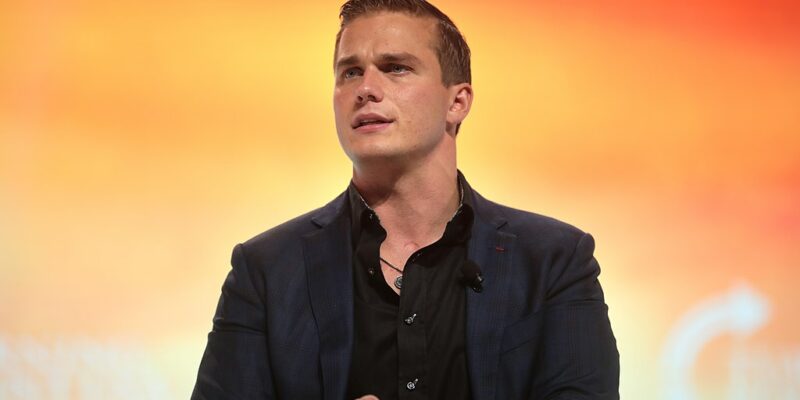 Update: Rep. Madison Cawthorn has found himself in more hot water. On Tuesday the North Carolina member of the U.S. House of Representatives "was cited for traveling with a gun at a security checkpoint at Charlotte Douglas International Airport," according to Axios.
This is not the first time that Cawthorn has been found carrying a gun at an airport. The Congressman "was stopped in February 2021 for trying to go through security with a gun" at an airport in Asheville, North Carolina, the Charlotte Observer reports. Only time will tell what the future holds for the troubled freshman in the House.
It's not every day that the actions of a member of the House of Representatives can cause both the Left and Right media to go bonkers, but Madison Cawthorn has somehow managed to do it. Politico recently released photos of the North Carolina congressman wearing women's lingerie while partying on a cruise ship. 
"Photographs obtained by POLITICO appear to show Madison Cawthorn, the embattled Republican congressman from North Carolina who recently accused his GOP colleagues of inviting him to orgies, wearing lingerie in what appears to be a party setting.

Cawthorn, 26, was raised in a conservative Baptist community in Henderson County, North Carolina, and has staked his political persona on arch-traditional Christian principles and the insistence of the importance of a kind of hypermasculinity. His comments about 'the sexual perversion' in Washington made on a podcast, which he later admitted were exaggerated, drew the public disapproval and disavowal of Minority Leader Kevin McCarthy as well as other Republican leaders including those in his North Carolina congressional caucus.

The revelation of the two photos is the latest in a series of unflattering headlines for the freshman member of Congress in the run-up to the primary in his first re-election bid. The primary in North Carolina is May 17. Cawthorn has seven Republican opponents who see him as vulnerable.

Cawthorn, who was paralyzed from the waist down as a passenger in a car accident in Florida in 2014, in recent months has called Ukrainian president Volodymyr Zelenskyy a 'thug,' suggested teetotaling Speaker of the House Nancy Pelosi has a drinking problem, and racked up a collection of traffic transgressions including speeding, driving with expired tags and driving with a revoked license. He has court dates in May and June."
Cawthorn released a tweet saying that "I guess the left thinks goofy vacation photos during a game on a cruise (taken waaay before I ran for Congress) is going to somehow hurt me? They're running out of things to throw at me…"
The young congressman caused controversy last month when he insisted that members of Congress had invited him to "orgies and had consumed cocaine in front of him." The North Carolinian, during a private meeting with Kevin McCarthy, the GOP leader in the House, "admitted suggestions that his colleagues have done cocaine and invited him to orgies were "exaggerated," according to Axios.
Leftwing pundits took glee at Cawthorn's embarrassment for wearing women's clothing, but soon began to fear that their joy was "transphobic." They really wanted to make it clear: the pictures were bad for Cawthorn, but also, there's nothing wrong with men wearing women's clothes. It became quite the needle to thread. 
Far-left commentator Matthew Courtland wrote, "We're going to need to be exceptionally clear: the story is the hypocrisy. There's nothing wrong with wearing lingerie, there's something very wrong with promoting the persecution of trans and gender non-conforming Americans."  
Kylie Cheung, a staff writer at Jezebel, a far-left website geared towards women wrote, "To state the obvious, there's nothing wrong with cis men wearing attire traditionally gendered for women—this may actually be the only cool or vaguely acceptable thing Cawthorn has ever done, in my opinion." 
The Wall Street Journal recently reported that Cawthorn is facing a tough primary challenge in his home district. "The youngest member of Congress, now 26 years old, shocked the party when he won the GOP primary runoff in 2020. Mr. Cawthorn, who uses a wheelchair and ran on a personal story of resilience, got a prime speaking slot at the party's national convention that year and has been a staunch ally of former President Donald Trump. But support in his home district has been shaken by a series of gaffes—including off-the-cuff allegations about fellow lawmakers' drug habits—that have left him vulnerable in the GOP primary." Some in his district are "tiring" of him, allegedly. 
Cawthorn raised eyebrows in North Carolina when he announced that he would be switching congressional districts to run for a congressional seat outside of the current one he represents before switching back after receiving heavy backlash." The freshman member of the House will face the voters in the primary on May 17. 
[Read More: Pilot Causes Former Surgeon General To Cry Online]