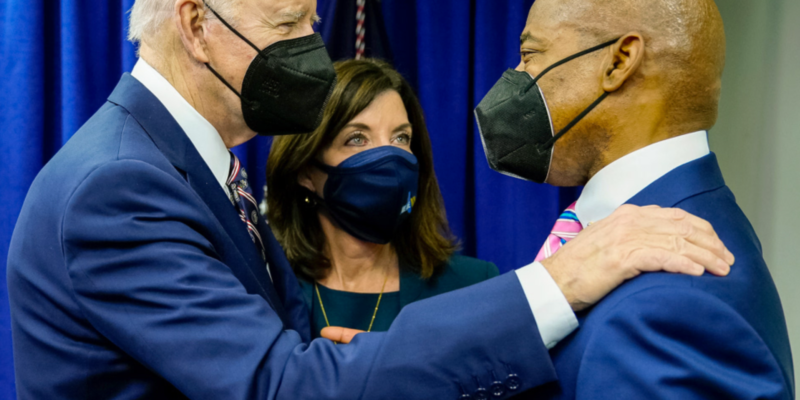 The Mayor of New York, Eric Adams, has begun to beg store owners to ask patrons to remove their facemasks upon entry in an effort to prevent the rising thefts occurring throughout the Big Apple. 
The Gothamist has reported, "Robberies spiked in New York City last year, with 17,411 reported last year, compared to 13,831 in 2021, according to NYPD data. Before that, the number of reported robberies hadn't exceeded 17,000 since 2013."
The rising rate has left Adams, a former police officer, to back away from what he said a few weeks ago when he praised mask mandates and suggested they may return soon if cases in the flu or COVID increase again.
The New York Times writes, "Not long ago, New Yorkers were required to wear a face mask if they wanted to enter a store. But Mayor Eric Adams has now said the city's shopkeepers should adopt the opposite approach: People who refuse to pull down their mask when they first come into a store should be barred, in case they plan to rob the place.
"We are putting out a clear call to all of our shops, do not allow people to enter the store without taking off their face mask," the mayor said in a radio interview on 1010 WINS on Monday. "And then once they're inside, they can continue to wear it if they so desire to do so."
Despite crime overall going down, the newspaper explains, "theft has been a harder problem to address, and concerns over robberies and shoplifting persist. The problem was underscored over the weekend by the shooting death of a 67-year-old deli employee in Manhattan, who was killed on Friday night by a robber wearing a dark face mask and a white, full-body Tyvek suit."
Adams referenced the killing and robbery earlier in the week.
"Let's be clear, some of these characters going into stores that are wearing their mask, they're not doing it because they're afraid of the pandemic," Adams told PIX11 Morning News on Monday. "They're doing it because they're afraid of the police. We need to stop allowing them to exploit the safety of the pandemic by wearing masks."
After three years, the State of New York finally dropped its mask mandate, making them one of the last in the country to do so. The local NBC affiliate wrote, "State health officials announced on Friday the end of mandated masks and face coverings inside health care facilities as of Feb. 12. The updated guidance, they said, is in line with recommendations from the Centers for Disease Control and Prevention.
"The pandemic is not over, yet we are moving to a transition. As we do, and with safe and effective vaccines, treatments, and more, we are able to lift the State's masking requirement in health care settings as operators now develop and implement their own facility-specific plans, in accordance with federal CDC guidance and the level of transmission in their areas," Acting State Health Commissioner Dr. James McDonald said in a statement.
Facilities such as nursing homes, hospitals, home health care and hospice agencies, and diagnostic and treatment centers had been required to enforce mask wearing."
The dropping of the mask mandate in one of America's largest states comes as new evidence shows that making did little to stop the spread of COVID-19 in the first place. The New York Post writes, "Now, a new scientific review — led by 12 researchers from esteemed universities around the world — suggests that widespread masking may have done little to nothing to curb the transmission of COVID-19.
Published by Cochrane Library, the review dug into the findings of 78 randomized controlled trials to determine whether 'physical interventions' — including face masks and hand-washing — lessened the spread of respiratory viruses. 
When comparing the use of medical/surgical masks to wearing no masks, the review found that 'wearing a mask may make little to no difference in how many people caught a flu-like illness/COVID-like illness (nine studies; 276,917 people); and probably makes little or no difference in how many people have flu/COVID confirmed by a laboratory test (six studies; 13,919 people).'"
According to Eric Adams, they do spread one other kind of disease, however: theft. 
Who could have guessed that was the case? Besides anyone who's ever watched a movie with bandits in it, anyway.
[Read More: Pete Buttigieg Finds Himself In All Kinds of Trouble]