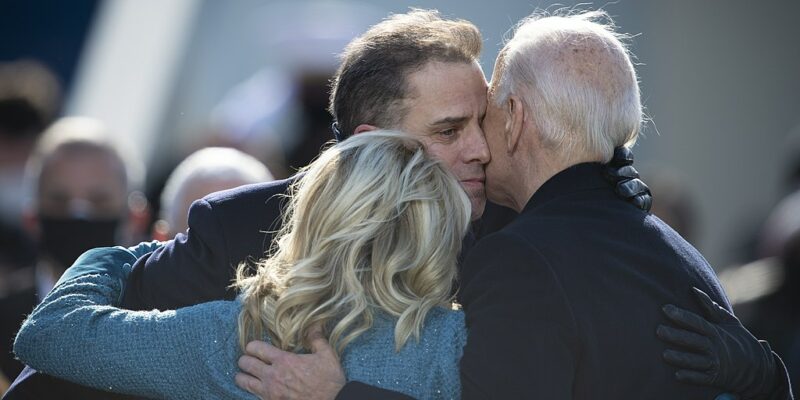 Hunter Biden did not merely receive income from several foreign interests, new reports reveal. The president's son also received massive "loans" from China and Burisma that were structured in ways to help him avoid paying income taxes on his influence-peddling scheme. 
Former Hunter Biden associate and business partner Rob Walker told the FBI that the then-vice president's son was receiving "thank you" loans he never had to pay back from foreign companies as a way to hide his true income. 
"The $3 million amount was more of a "thank you" from CEFC. They talked of putting together a larger group and discussed acquiring office space," Walker is quoted as telling agents in the report, according to Just The News.

Walker's account to the FBI adds to a mountain of evidence that Hunter Biden was often given loans that he never repaid or gifts from foreign interests (even a Democrat donor) simply because of his last name when his father was vice president and while contemplating a run for the presidency.

The list includes a 3-carat diamond from CEFC's founder, $142,300 from a Kazakhstan businessman to buy a luxury Porsche, the $3 million Chinese payment and more than $2 million in payments later converted to loans that came from a Democratic-donating lawyer from Hollywood who helped Hunter Biden pay off many of his delinquent IRS tax debts.

Even salary payments from Burisma Holdings in Ukraine were structured to look like loans for Hunter Biden, which IRS agents believed were designed to evade tax payments.

"[Hunter Biden] directed to have a portion of his Burisma income paid back to himself personally as 'loans', even though Devon Archer had deducted these payments on the Rosemont Seneca Bohai tax return," former IRS Agent-turned-whistleblower Ziegler wrote in his first affidavit to House Ways and Means. "[Hunter] had essentially loaned himself his own income from Burisma, failing to report this income from Burisma on his 2014 tax returns and failing to pay the taxes on this income."
During an interview with authorities, Walker claimed that Hunter Biden was not giving much in exchange for loans and payments from his business partners. Hunter's business partner told investigating agents that the Biden crown prince was paid a "finder's fee" for helping to connect CEFC with potential projects around the world.
Last month, despite not having lived there for years, the House Oversight Committee revealed that Hunter Biden listed his father's address on a $250,000 wire from Chinese associates. 
In an exclusive report, Fox News reported that "Hunter Biden received wires that originated in Beijing for more than $250,000 from Chinese business partners during the summer of 2019 — wires that listed the Delaware home of Joe Biden as the beneficiary address for the funds, Fox News Digital has learned from a congressional committee."
That money was an installment on a more extensive investment in the Bidens, allegedly. Other members of the family received hundreds of thousands as well. 
A Washington Times report showed that "Biden family members received more than $1 million in payments over a three-month period after the Chinese wire transfer cleared, according to a memo detailing the payments issued by the House Oversight and Accountability Committee.
Several payments were also sent to companies associated with Mr. Biden's brother James Biden and son Hunter Biden in addition to Hallie Biden. An unknown account identified only as "Biden" also received transfers from the company owned by Hunter Biden associate Rob Walker in the months after the $3 million wire cleared in 2017.
'From the bank records, it appears that the Biden family received approximately one-third of the money obtained from the China wire,' said the memo from committee members investigating the Biden families' business deals around the world.
Bank records obtained by the committee show that Hallie Biden received two payments in 2017 totaling $35,000 from Mr. Walker's company after he received the multimillion-dollar payment from State Energy HK Ltd., a Chinese company, on March 1 of that year, months after Mr. Biden ended his term as vice president."
Walker's testimony about Hunter getting a big payday for "a finder's fee" only bolsters testimony from another Hunter associate, Devon Archer. A former best friend of Hunter, he claimed that then–vice president Joe Biden joined in at least 20 phone calls and/or in-person meetings with Hunter's foreign business associates. 
Archer has said that access to the vice president served as the selling point of the Biden "brand." At the time, Burisma's founder and CEO Mykola Zlochevsky was being investigated by Ukrainian prosecutor Viktor Shokin, whom the elder Biden later bragged about having fired.
[Read More: Blinken Laughed At Across The Middle East]