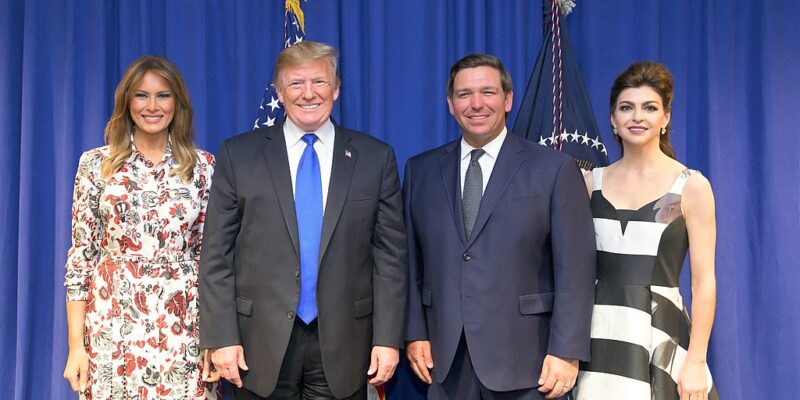 According to the Daily Caller, former president Donald Trump is preparing to ramp up attacks on Florida Governor Ron DeSantis. DeSantis, who has yet to declare his intention to run for the White House, is seen by most to be the strongest challenger to Trump. 
As we've noted, Trump has been throwing everything he has against the Florida governor, but he seems to have lost his fastball. His zinger against "Ron DeSanctimonious" was met with cringes. His speech at CPAC over the weekend saw a sparse crowd, especially when compared to the crowd that saw DeSantis speak over the same time at the Reagan Library.
Trump's CPAC attendance had very Trump inauguration vibes. pic.twitter.com/g8jNxTGlZp

— Benjamin Ryan (@benryanwriter) March 5, 2023
Source in room for DeSantis Reagan Library speech sends this shot, 1300+ attending pic.twitter.com/2vYaKWarW6

— Tom LoBianco (@tomlobianco) March 5, 2023
While he's struggled to go after DeSantis, it looks like Trump now plans to run the 2016 Primary playbook once again, pretending he was never president and had no opportunity to impact the current state of the Republican establishment.
Trump can run on and possibly be successful at "See what I did in my first term and how good was that" but he's not doing that. He's trying to be 2015 Trump again.

— Stephen L. Miller (@redsteeze) March 7, 2023
Former President Donald Trump will attack Republican Florida Gov. Ron DeSantis for being the "embodiment of the political establishment" and a war hawk on Ukraine, Trump insiders told the Daily Caller.

DeSantis has yet to announce a 2024 run, but Trump has already issued an onslaught of criticisms on why the Florida governor would not be the right choice for president, calling him "Ron DeSanctimonious" and saying DeSantis running for president would be a "mistake."

Leading up to 2024, Trump's rhetoric against DeSantis will continue to point out that the governor is a part of the "establishment" because he does not differentiate himself from other Republicans in the field and takes on issues that don't require "courage," a source close to the Trump campaign said.

"It does not take bold leadership to oppose critical race theory in 2023. Donald Trump himself issued an executive order banning critical race theory in the federal government … It doesn't show that you're anti establishment at all to take an issue that every Republican agrees on," the source said.

TrumpWorld's desperation about DeSantis seems to have caused them to implement a dirty tricks campaign already. Earlier in the week, reports came out that Donald Trump's campaign, or at least some supporters, are using fake accounts, called "bots," to inflate support for the former president while attacking his rivals. 
The Associated Press writes, "Over the past 11 months, someone created thousands of fake, automated Twitter accounts — perhaps hundreds of thousands of them — to offer a stream of praise for Donald Trump.
Besides posting adoring words about the former president, the fake accounts ridiculed Trump's critics from both parties and attacked Nikki Haley, the former South Carolina governor and U.N. ambassador who is challenging her onetime boss for the 2024 Republican presidential nomination. 
As Republican voters size up their candidates for 2024, whoever created the bot network is seeking to put a thumb on the scale, using online manipulation techniques pioneered by the Kremlin to sway Twitter's conversation about candidates while exploiting the digital platform's algorithms to maximize their reach.
The sprawling bot network was uncovered by researchers at Cyabra, an Israeli tech firm that shared its findings with the Associated Press. While the identity of those behind the network of fake accounts is unknown, Cyabra's analysts determined that it was likely created within the U.S."
Knowing that attacking DeSantis directly is unpopular, the accounts have been deployed to push the notion that the Florida governor should "sit out" or "wait his turn" or choose to be vice president for Trump. 
The last push, however, violates the Constitution's 12th Amendment, which says, in part, that "the Electors shall meet in their respective states and vote by ballot for President and Vice-President, one of whom, at least, shall not be an inhabitant of the same state with themselves…."
A presidential ticket has to be from different states and in 2020, the famous New Yorker changed "his primary residence from Manhattan to Palm Beach, Fla., according to documents filed with the Palm Beach County Circuit Court. Melania Trump, the first lady, also changed her residence to Palm Beach in an identical document.
Each of the Trumps filed a "declaration of domicile" saying that the Mar-a-Lago Club, Mr. Trump's resort in Palm Beach, will be their permanent residence."
1600 Pennsylvania Avenue, the White House, is the place I have come to love and will stay for, hopefully, another 5 years as we MAKE AMERICA GREAT AGAIN, but my family and I will be making Palm Beach, Florida, our Permanent Residence. I cherish New York, and the people of…..

— Donald J. Trump (@realDonaldTrump) November 1, 2019
For his part, Trump has little interest in teaming up with DeSantis, according to insiders. Axios has noted that "former President Trump is strongly considering picking a female running mate — and sees Kari Lake as a model for his vice-presidential pick, according to people who discussed the topic with him.
But Trump friends say Lake carries a big downside: He wants no risk that his running mate could outshine him. Lake would be assumed to be angling for president from the day she entered the White House. She made a political trip to Iowa last month."
There has been a stark divide in polling among primary voters in the GOP. DeSantis regularly leads state polling, whereas the former president leads national polls. 
One theory for this stark difference revolves around the way polling is done. Polls done at the state level are more likely to be picking up on those who are likely paying attention to politics in 21 months before a presidential election and nearly a year before primary voting starts. 
It seems that Trump's team is following this idea as well: 
Trump is treating DeSantis like the frontrunner.

Because he is.

And Trump's internal polling shows it.

State level polls are the ones that are hitting likely primary voters.

And every single one shows DeSantis with a healthy lead over Trump. https://t.co/Cd5BlOFS0g

— Clint Brendon (@BrendonClint) March 6, 2023
The Florida governor does seem to be moving towards a major announcement and recently received a boost from one of Trump's most loyal advisers, Kellyanne Conway, who told Martha MacCallum, "He's the only candidate out there who can have his own lane. I think everybody else is competing for that non-Trump lane and it's going to bottleneck and be crowded very quickly. His best path is to have the Ron DeSantis Lane."
"I think this is all about competence but he needs to show he's not Joe Biden more than he's not Trump. I think he's got Trump in his head. Nobody wants to go to the Reagan library and hear you talk about leaking and drama and palace intrigue. That's the most insider baseball stuff you can talk about," Conway continued.  
"Asked on 'Fox & Friends' when he might decide on a White House bid, DeSantis mapped out the coming months, saying that he would embark on a tour to promote his new book, 'The Courage to be Free,' and work through the Florida legislature's regular session, which begins in early March," wrote The Hill.
"'We're going to sell some books, we're going to spread the message of Florida. And then on March 8, I have our Legislative Session that's kicking off,' DeSantis said.
'You ain't seen nothing yet,' he added. 'This is going to be the most productive Legislative Session we have had across the board and I think people are going to be really excited … So those are what we're going to be doing over these next few months as we get beyond that, then we can decide from there.'
Republican sources have long predicted that DeSantis would wait until after the state legislative session to announce a presidential bid, saying that it would give him a chance to rack up new policy victories so that he hits the campaign trail with fresh momentum."
[Read More: New York Mayor Begs Shoppers To Take Off Masks As Crime Theft Soars]