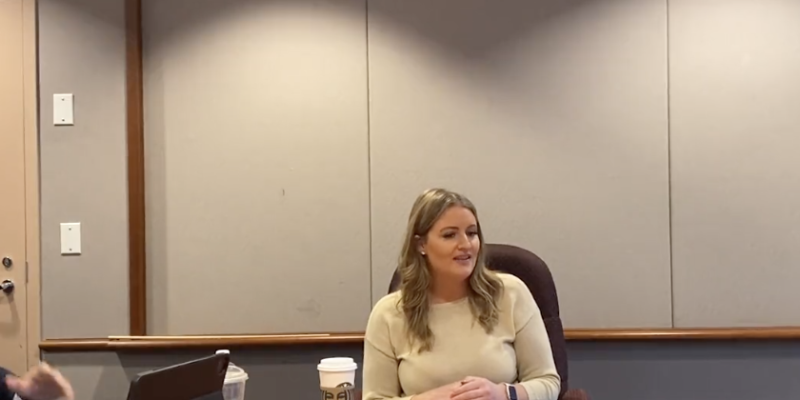 Last month, three key players in Donald Trump's trial involving his efforts to overthrow the 2020 election results flipped and agreed to testify against the former president in exchange for lesser charges. Now Jenna Ellis, Kenneth Chesebro, and Sidney Powell have spilled their guts on camera, telling prosecutors and the world what happened during those fateful weeks in November and December of 2020.
ABC News reports that "as part of a plea deal, one of former President Donald Trump's attorneys has told prosecutors in Georgia that she was informed in the wake of the 2020 election that Donald Trump was "not going to leave" the White House — despite the fact that he had already lost the election and most of his subsequent challenges.
The revelation, along with others, came during a confidential interview the attorney, Jenna Ellis, had with Fulton County investigators. ABC News has obtained portions of videos of the proffer sessions of both Ellis and Sidney Powell, two attorneys who aided Trump's efforts to overturn the election. The videos for the first time reveal details of what they have told law enforcement since agreeing to cooperate last month in the district attorney's election interference case.
Ellis, in her proffer session, informed prosecutors that senior Trump White House official Dan Scavino told her "the boss" would refuse to leave the White House despite losing the election, and alluded to two other instances she said were "relevant" to prosecutors — but appeared to be prevented from disclosing those in the video portions obtained by ABC News due to attorney-client privilege, which hindered portions of her proffer."
EXCLUSIVE: ABC News has obtained video from Georgia prosecutors' interview with ex-Trump attorney Jenna Ellis, in which Ellis tells them she was personally informed by a top Trump adviser that Trump was "not going to leave" the White House — despite losing the 2020 election.… pic.twitter.com/J9c4bm9cbZ

— ABC News (@ABC) November 13, 2023
The Washington Post noted that the testimonies revealed that Trump was directly involved in the effort to overthrow the election in Georgia, something the Atlanta prosecutor is hoping to prove. The newspaper said that "prosecutors repeatedly pressed Powell on why Trump was leaning on her for legal advice, ignoring the counsel of White House attorneys and others who told him that he had lost the election.
Asked why she thought Trump did that, Powell replied, 'Because we were the only ones willing to support his effort to sustain the White House. I mean, everybody else was telling him to pack up and go.'
The audible portions of the Fulton recordings reviewed by The Post do not appear to directly implicate Trump. At one point in Powell's interview, she said Trump really believed he had won — a statement that could help his defense. But Powell also said that Giuliani spoke of a plan to gain access to voting equipment at a Dec. 18, 2020, meeting with Trump and others in the Oval Office. And Hall appeared to implicate another defendant, lawyer Robert Cheeley, describing Cheeley as the person who called the shots in the Coffee County scheme. A Giuliani spokesman did not immediately respond to a request for comment, and a lawyer for Cheeley declined to comment.
Both revelations suggested that prosecutors are following a playbook that Willis has become known for — a sweeping indictment using Georgia's expansive anti-racketeering statute with multiple defendants and then a series of plea deals that lead to incriminating evidence that can be used against other defendants. In past RICO cases, Willis has indicted dozens of defendants, only to accept round after round of plea deals that have bolstered her case against the remaining defendants."
BREAKING: Exclusive recording of Sidney Powell spilling the beans in a proffer session with prosecutors, telling them she'd been in the room numerous times as Trump was informed by aides that he lost the election.pic.twitter.com/80VZmaBLnM

— Really American 🇺🇸 (@ReallyAmerican1) November 13, 2023
Conservatives took to social media not to defend Trump from the damning and embarrassing testimonies but to express concern about 2024. 
MORE bombshells! This will leak out every week now.

In addition to Bill Stepien, Jason Miller, Chris Stirewalt, Hope Hicks – witnesses that TOLD Trump or witnessed a HOST of people tell Trump he lost, now add:

Sidney Powell,
Pat Cipollone,
Eric Herschmann,
Derek Lyons pic.twitter.com/ZLVocb1jJG

— Justin Hart (@justin_hart) November 14, 2023
Can't wait to relitigate this over and over for the next year. It's going to work out great for Republicans. https://t.co/2OZ6oREW4f

— Bonchie (@bonchieredstate) November 14, 2023
This account by Jenna Ellis is a snapshot of the problems with Trumpism.

After losing to Biden, Team Trump kept losing election challenges, and there was never a plan beyond Dan Scavino saying Trump is "just going to stay in power." They were raising hundreds of millions of… https://t.co/7rUtjKqnbS pic.twitter.com/YBEx1vCnih

— Pedro L. Gonzalez (@emeriticus) November 13, 2023
Donald Trump has long held a lead in the GOP primary.
Team Trump, however, stated that none of the testimonies prove anything. After all, the former president did leave the White House on January 20, 2021. Steve Sadow, Mr. Trump's lead counsel in the Georgia case, stated that "any purported private conversation" should be considered "absolutely meaningless" in the case.
"The only salient fact to this nonsense line of inquiry is that President Trump left the White House on Jan. 20, 2021, and returned to Mar-a-Lago in Palm Beach, Fla.," he said.
The district attorney's office declined to comment on the ABC News report.
[Read More: Biden Granddaughter Gets Assaulted]