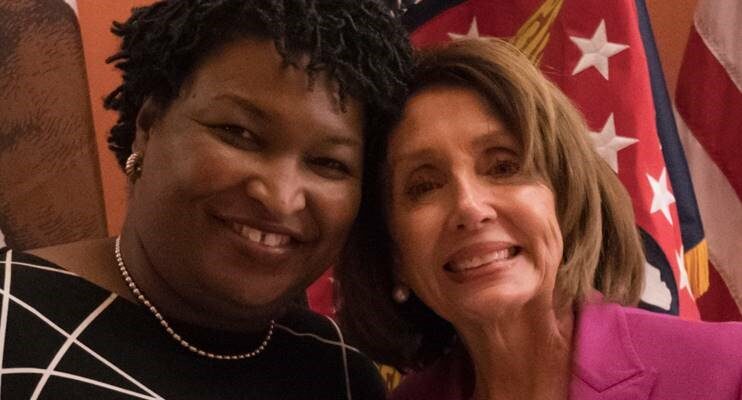 The State of Georgia's Office of the Secretary of State has been busy over the past few months. Last week we learned that a special grand jury investigating election interference "by former President Donald J. Trump and his allies in Georgia recommended indictments for multiple people on a range of charges in its final report, most of which remains sealed," The New York Times wrote.
The newspaper explained, "A focal point of the Atlanta inquiry is a call that Mr. Trump made on Jan. 2, 2021, to Brad Raffensperger, the Georgia secretary of state, in which he pressed Mr. Raffensperger, a fellow Republican, to recalculate the results and "find" 11,780 votes, or enough to overturn his loss in the state."
Now it looks like the office has turned its eyes on Democrat Stacey Abram. The Washington Free Beacon reports that the office has begun to investigate "financial irregularities" into the two-time loser for governor's New Georgia Project, an organization she founded as a "voting rights charity." Abram's group allegedly said it paid no payroll taxes in 2020, which would be a crime. 
The paper revealed that "the investigation comes after several Free Beacon reports on the alleged financial mismanagement by former New Georgia Project executives. Accounting and legal experts have raised questions about the legality of the New Georgia Project's latest tax filings. As investigations get underway, authorities will issue subpoenas to parties affiliated with the New Georgia Project, a source with knowledge of the state's actions said.

Founded by Abrams in 2013, the New Georgia Project quickly rose to become one of the nation's leading voter registration groups. Together the New Georgia Project and its affiliated New Georgia Project Action Fund raised a combined $54.7 million since 2020.

The Free Beacon found myriad discrepancies in the New Georgia Project's financial disclosures. Among those discrepancies include a mysterious half-million-dollar consulting payment to a charity run in part by the brother of former New Georgia Project CEO Nsé Ufot, who was later fired for undisclosed reasons.

Georgia's secretary of state opened its investigation into the charity amid a separate long-running case by the Georgia Government Transparency and Campaign Finance Commission alleging that the voter registration group illegally worked to elect Abrams during her failed 2018 gubernatorial bid."
This is not the first time that an Abrams voting rights group has been linked to a financial scandal. Last year NCP reported that the political organ founded by Stacey Abrams to fight for voting rights, Fair Fight, operated much like a "scam PAC." The group focused much of its effort to fight a losing battle in court against Georgia's election laws, but it appeared that it did so in order to funnel a significant portion of its fundraising dollars to a "boutique law firm" owned by the campaign chairwoman for Abrams' campaign for governor. 
Politico noted that "Allegra Lawrence-Hardy, Abrams' close friend who chaired her gubernatorial campaign both in 2018 and her current bid to unseat Georgia Gov. Brian Kemp, is one of two named partners in Lawrence & Bundy, a small firm of fewer than two dozen attorneys.
The firm received $9.4 million from Abrams' group, Fair Fight Action, in 2019 and 2020, the last years for which federal tax filings are available. Lawrence-Hardy declined to comment on how much her firm has collected from Fair Fight Action in 2021 and 2022 — years in which Fair Fight Action v. Raffensperger, for which Lawrence-Hardy was lead counsel, had most of its courtroom activity." 
Pretty shocking.

-Stacey Abrams' voting rights org spent $25m in last 2 yrs

-Largely on one legal case

-To a small firm run by her close friend and campaign manager

-They lost

-The fees were way above typical

Very good investigation: https://t.co/2ovWpiEMfd

— Jesse Eisinger (@eisingerj) October 24, 2022
Currently, Abrams is out of the country. She has been observing the presidential elections in Nigeria for some reason where that country's "main opposition parties are calling for fresh elections, describing results currently being announced by electoral body as 'heavily doctored and manipulated,' in a joint press conference in the capital, Abuja," per CNN.
Is this a situation in which it takes an election denier to know an election denier? Otherwise Stacey Abrams is an odd choice to monitor elections. She has famously refused to admit that she lost her 2018 race for Georgia governor. 
Here's the video of Stacey Abrams stating she won the 2018 governor's race in GA.

(She lost by about 54,000 votes) pic.twitter.com/yE36E5cDat

— Julio Rosas (@Julio_Rosas11) April 3, 2019
In 2022, after losing by an even larger margin to Brian Kemp, Abrams did concede, saying, "I know the results aren't what we hoped for tonight. We may not have made it to the finish line, but … we know that running is what matters."
[Read More: DeSantis Readies For Launch]