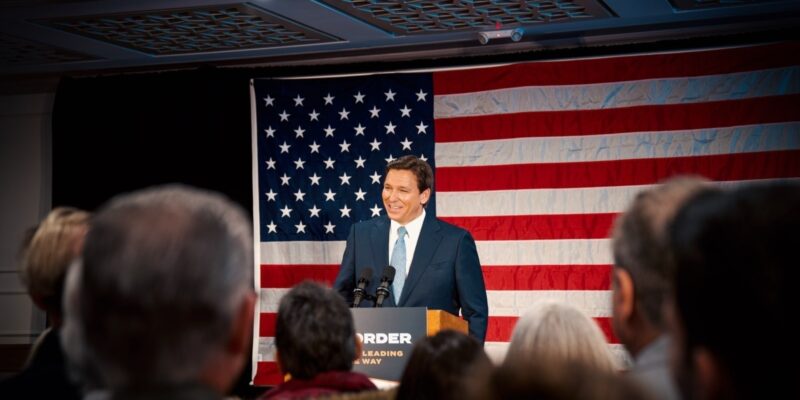 Ron DeSantis looks like he's ready to launch a presidential campaign. Recently releasing a book, The Courage To Be Free, the Florida governor has hit the media circuit to discuss what he's been doing in the Sunshine State and how it might be applied nationally. 
DeSantis recently appeared on "The Brian Kilmeade Show" to discuss the one-sided clash that has happened between him and former President Trump. Fox News noted "the duo has been largely seen as the GOP's primary front-runners for taking back the White House."
"'It's silly season,' DeSantis told Kilmeade. 'You know how some of this stuff goes, and obviously he does his thing and that's kind of who he is. But, what I wanted to do was give an honest appraisal of how we got to this point, the failures of the DC Republican establishment and how Donald Trump was speaking to things that some of the old guard refused to address. That's just a fact, and he can say what he wants about me.'
DeSantis claimed he has not spoken to the former president recently, but his media appearances appear to be outmaneuvering the 2024 Trump Campaign. 
Florida's governor has been on a news-making binge since the year began, an almost-daily barrage of policy roll-outs, public appearances and political jabs, according to McClatchy Reports.

The approach, rooted in a far-reaching agenda that has targeted everything from suing media outlets to promoting gas stoves, has drawn widespread attention from national conservative media and right-wing podcasters. At the same time, his team has earned a reputation for routinely and strategically avoiding interviews with other mainstream outlets that may not prove as friendly to his platform.

To Republicans and even some critics looking ahead to the GOP primary, the governor's effort to flood the zone looks like a dry run for a presidential campaign, showcasing his dedication to make news at a dizzying pace. It's a strategic choice necessary to take on a famous attention-hog like Trump, they argued, even if he still has a ways to go to match the former president.

"It's a smart strategy for him right now," said Jim Merrill, a longtime New Hampshire-based GOP strategist. "Given where he is, he has the ability to wait before jumping into a primary. His policy pronouncements and other avenues to communicate a message, I think it's an effective way for him to stay front of mind for voters before he's even campaigning."
DeSantis recently released a video the presages his presumed presidential campaign. 
Gov. @RonDeSantisFL just dropped this EPIC video contrasting DC's insanity with his success making Florida thrive.

Proud to be a Floridian — born and raised! 🌴🐊 pic.twitter.com/pCx3dFA4Ae

— Giancarlo Sopo (@GiancarloSopo) February 26, 2023
The rise of DeSantis has really begun to get under the skin of former President Donald Trump, another candidate for the GOP 2024 nomination. Rolling Stone noted, "While he has yet to declare his candidacy, the hype around DeSantis has had Trump on edge for months. Prominent Republican donors have been eying DeSantis as their horse in the race to unseat President Joe Biden, and some of Trump's former opponents, including Jeb Bush, have already endorsed DeSantis. Trump has responded by leveling all forms of attack against the Florida governor, including name calling, accusations of pedophilia, and petty gossip.
Trump has also accused evangelical groups and Jewish leaders — in addition to Fox News — of being disloyal to him in the months following the party's disappointing performance in the midterm elections, for which many have blamed Trump and his obsession with the 2020 election.
Sources told the magazine that Trump is now worried worried the Florida governor is "stealing' his bit" by taking on corporations like Disney and enacting policies regulating the teaching of CRT and gender theory to those under the age of eight.  
DeSantis recently made headlines by visiting Chicago where he spoke about the issue of rising crime rates in some of America's most Democratic cities. 
"DeSantis told the crowded banquet hall about how Florida supports their police officers, and offered incentives for CPD members to become Florida officers.
'We have this recruitment program in place," DeSantis said. "If you come and you're qualified from another a state and join any of our agencies – city, county, state sworn law enforcement – you get a $5,000 signing bonus immediately right off the top.'
DeSantis also touted his record on public safety and the importance of supporting the law enforcement community.
'You're not going to have a good economy if the streets aren't safe. You're not going to have a good education if people don't feel safe," DeSantis said. "None of it works unless you have a foundation of public safety,'" according to CBS Chicago.
DeSantis recently made some new waves in Florida by signing a law taking away Disney's extra-governmental authority over a huge swath of Florida. Saying "there's a new sheriff in town" and that "the corporate kingdom has come to an end," the governor signed a law "to take control of municipal services and development for the special zone encompassing Walt Disney World. The move deals a major blow to the company's ability to operate with autonomy.
DeSantis says that the special district surrounding Disney World has enabled the park to unfairly skirt local rules and building codes.
The newly appointed board will have the ability to raise revenue to fund services and pay off Disney's debts. DeSantis' previous pledge to strip Disney of its special tax status sparked fears that local taxpayers would be left on the hook, which would, in turn, spark a significant spike in local tax rates.
DeSantis stressed on Monday that under the new structure, Disney would still be responsible for its municipal debts and local governments would not raise taxes."
Over the past few years, the megacorp has become wokified to the point where it now bans employees from using the terms "boys" and "girls" at its child-oriented theme parks. Last year, Disney executives were caught explicitly saying that they added a "not-so-secret-gay-agenda" to much of the company's programming and received criticism for one of its shows touting the critical race theory idea that slavery entirely defines both the contemporary and historical United States. 
[Read More: Greta Thunberg Comes Out Against Green Energy]