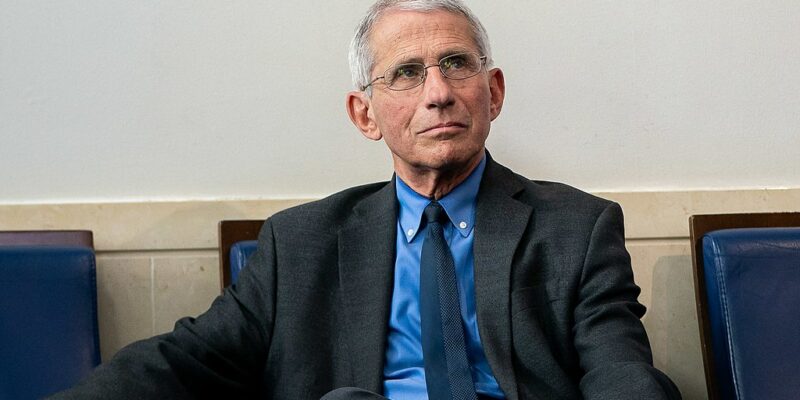 Anthony Fauci got a little taste of reality from a normal person earlier last year. He and Washington D.C. Mayor Muriel Bowser "were subject to intense scrutiny from man who refused to get the COVID-19 vaccine while Bowser and Fauci went door-to-door in a Washington, D.C., neighborhood promoting the vaccine in 2021.
The exchange was documented by PBS for an upcoming program on Fauci as part of their 'American Masters' series, which aims to help viewers 'discover insightful profiles of important figures in America's artistic and cultural life.'
In a clip from the program titled "Dr. Fauci visits D.C. to battle vaccine hesitancy," Fauci and Bowser are pictured in June 2021 walking the streets of Ward 8 of Anacostia in Southeast, D.C. – a historic African American neighborhood, that Fauci labeled as 'disenfranchised' with low vaccination levels, Fox News noted.
The video, shot in a neighborhood that voted almost entirely for Joe Biden and Hillary Clinton, shows that vaccine hesitation and skepticism was not a "red state" as the doctor once proclaimed. 
Oh my gosh this video. Fauci and Mayor Bowser go to Anacostia to track down the unvaccinated pic.twitter.com/tkELp97xqL

— Mary Margaret Olohan (@MaryMargOlohan) March 20, 2023
The Daily Caller reported that Fauci and Bowser visited Anacostia residents to combat vaccine hesitancy when they knocked on the door of one resident who was having none of their vaccine talk.

"The people in America are not settled with the information that's been given to us right now. So I'm not going to be lining up taking a shot for a vaccination for something that wasn't clear in the first place and then you all create a shot in miraculous time. It takes years to create a vaccination-" the man said before Bowser and Fauci cut in and began talking over one another.

"Well it used to take years but do you know how many years were invested in this approach? About 20 years of science to get this-" Fauci said before the man once again jumped in.

"The only reason we're talking to you right now as close as we are is because I've been vaccinated," Bowser said. "But if thousands of people like you don't get vaccinated, you're going to let this virus continue to percolate in this country and in this world."

"Something like the common flu then," the man said before Fauci and Bowser both said it wasn't the same.
Director Mark Mannucci spoke with The Associated Press about his new documentary, which takes an "intimate look" at the man President Donald Trump listened to when he promoted lockdowns. 
"The story illuminates — and he'd be the first to say it — some very dark stuff about this country and how a person who has devoted his life to helping individuals got so twisted in this current climate," said Mannucci.
"Michael Kantor, the executive producer for the American Masters series, told The AP that Fauci is a figure who has been central to American life for decades and deserves an examination, even if some virulently oppose him.
'Dr. Fauci is a very controversial figure, and there are going to be people who are going to voice — just as in the film — great displeasure about what he's done and about his approach to things. But isn't that the whole point of public media? It is intended to make that conversation happen in the best possible way.'
COVID-19 may have introduced Fauci to millions of Americans, but his long career at the National Institute of Allergy and Infectious Diseases was marked by numerous previous health scares, among them HIV, SARS, MERS, Ebola and even the nation's 2001 anthrax attacks."
Earlier in the month, news broke that Fauci was desperate to prevent the idea of a lab leak causing the COVID-19 panic taking root.
The New York Post noted that "mainstream news organizations including CNN, the New York Times, MSNBC and others have been pilloried in recent days following a recent government report that concluded that an accidental leak from a Chinese laboratory is the most likely explanation for the COVID outbreak.
In the initial weeks and months of the pandemic, prominent media personalities, public health officials, and elected officials from the Democratic Party dismissed the 'lab leak' theory as 'debunked' — with some suggesting it was racist to even discuss the topic."
Fauci has been accused of lying before Congress in connection with American funding for the Wuhan, China lab that seemed to be the epicenter of the virus. Republicans in the House of Representatives have argued that the origins of the pandemic should be public knowledge.
A couple of weeks ago, Congress unanimously voted to declassify all documents related to the pandemic.
[Read More: Democrat Turns Back On Biden For Attacking These People]