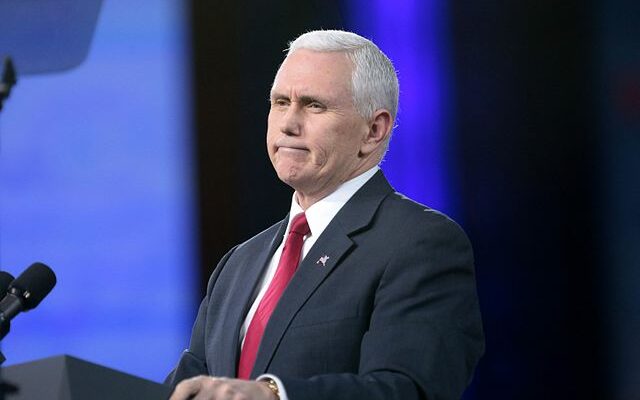 The long-awaited turning of Mike Pence against Donald Trump has finally happened. There have been signs of strain between the former president and his vice president. For example, Pence bucked Trump's pick in Arizona, Kari Lake. In July last year, the two held dueling rallies as the VP held an event for her Republican primary opponent, Karrin Taylor Robson.
Earlier in the month, when asked by CBS if he would support Trump for the White House in the next presidential election, Pence said, "I'm very confident we'll have better choices come 2024. And I'm confident our standard-bearer will win the day in November of that year."
But, now Pence has really let Trump have it. Tying him to the Capitol mobbing that occurred on January 6, and even going as far as calling Trump a threat. 
The Washington Post writes that during a speech at the Gridiron Club, Pence offered the most vigorous denunciation of Donald Trump to date by a Republican. 'President Trump was wrong,' Pence said. 'I had no right to overturn the election. And his reckless words endangered my family and everyone at the Capitol that day. And I know that history will hold Donald Trump accountable.'

Pence was speaking at the Gridiron dinner, a white-tie event thrown by journalists in Washington that this year included speeches by Secretary of State Antony Blinken and New Jersey Gov. Phil Murphy (D) in addition to Pence. The annual event tends to be a lighthearted affair, with skits and parody songs performed by members of the Washington press corps.

The night also features comedy routines from politicians, who are often more willing to cut loose than usual, perhaps because the Gridiron does not allow television cameras. Pence's performance included his own attempt at a comedy routine, replete with knocks on his former running mate.

'I once invited President Trump to Bible study,' Pence said early in his speech. "He really liked the passages about the smiting and perishing of thine enemies. As he put it, 'Ya know, Mike, there's some really good stuff in here.'
During the speech, Pence laid it all on the table. The former vice president chastised those who have tried to downplay those who entered the Capitol on January 6 as merely tourists taking a stroll in the nation's hallowed halls. 
"Tourists don't injure 140 police officers by sightseeing," Pence said, according to CNN. "Tourists don't break down doors to get to the Speaker of the House or voice threats against public officials. Make no mistake about it, what happened that day was a disgrace, and it mocks decency to portray it in any other way," Pence said at the dinner.
Pence also said people "have a right to know what took place" during the insurrection, days after he asked a judge to block a subpoena for his testimony to the special counsel investigating the insurrection.
"The American people have a right to know what took place at the Capitol on January 6, and I expect members of the fourth estate to continue to do their job," Pence said at the dinner.
"The comments come after attorneys for Pence filed a motion last week asking a judge to block a federal grand jury subpoena for his testimony related to January 6. Pence had publicly signaled that he planned to resist the subpoena, arguing it was 'unconstitutional and unprecedented.'"
In February, Pence said that he would decide whether or not to run for president "by the spring" and, unlike Trump, stated he would pledge to support the eventual GOP nominee if that's a condition of participating in primary debates.
"If I'm a candidate, I'm sure I'll meet whatever the requirement is for debates," Pence told NBC News in an exclusive interview.
He continued, "We're listening, we're reflecting, we're talking to firms," Pence said, adding that "by the spring, our family expects to have a very clear sense of our calling."
NBC noted that "his timing could be complicated by special counsel Jack Smith's investigation into former President Donald Trump. Smith is asking a federal judge to compel Pence to testify before a grand jury about Trump's Jan. 6, 2021, effort to overturn the results of the 2020 election."
"I'll let the process play out, and we'll work with our counsel to make sure that we do as we've always done, and that is adhere to the Constitution," said the former vice president. 
CNN reported in February that Pence's stance on January 6 may not hurt him the way many expect it to. "Normally, taking a position against the former President would be the death knell in Republican politics, but data shows that this looks to be the rare case where Pence is unlikely to face much wrath from the base.
Take a look at a recent poll from CBS News/YouGov. The question it asked was simple: After states certify their election results, should Congress have the ability to overturn those results or must they accept them? The vast majority of Americans, 75%, believe that Congress should have to accept those results. Just 25% disagreed.
When we examine the results by party, it becomes clear that Pence is probably standing on firm ground with all sectors of the electorate. Democrats (81%), Republicans (70%), voters who supported President Joe Biden (86%) and, yes, voters who went for Trump (73%) all agree that Congress should have to accept the results that were certified by the states."
Most state polling of the Republican electorate shows a two-person race between former President Donald Trump and Florida Governor Ron DeSantis. Mike Pence, along with already-announced Nikki Haley, typically finish third behind the two frontrunners.
[Read More: Congress Demands Biden Share Docs About COVID Origins]