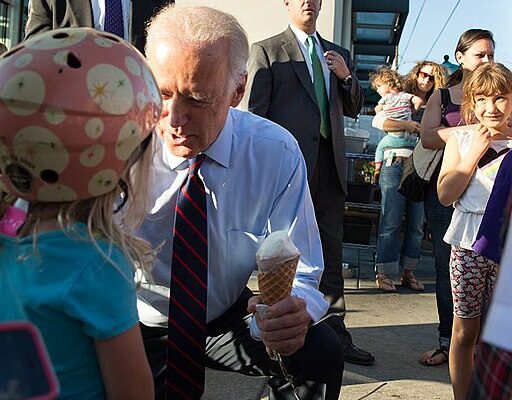 Joe Biden is unable to hide who he likes and who he doesn't. The president can't help it. When a train derailment poisoned a town in Ohio, he decided to fly to Ukraine and pay for that government's pension system. 
That sent the perfect message over what his priorities are and who he cares about. Over the weekend, he doubled down against "the little guy." 
The Treasury announced that it would "bail out" the wealthy of Silicon Valley, even if they didn't qualify for FDIC protection. Depositors such as Mark Cuban. The billionaire announced he had "an exposure between $8 million and $10 million to the California bank, which was closed on March 10 by regulators, after a run on the bank." 
You might think Cuban is the exception, but in fact he's the rule when it comes to those who benefitted from Silicon Valley Bank's lax practices. Over 93 percent of the $161 billion deposited at Silicon Valley Bank, according to The Hill.
The consequences regular taxpayers are going to be left holding the bag, if not directly from the bill, in the form of inflation, as more and more money gets printed and handed to SVB depositors.
National Review explains: "For most people, the idea of having more than $250,000 in their bank accounts is a distant dream. But businesses have bank accounts, too, and a lot of businesses and venture-capital firms in Silicon Valley kept their money in the aptly named Silicon Valley Bank. SVB boasted that it provided "banking services to nearly half of all venture-backed technology and life-science companies in the United States, according to its website. Silicon Valley Bank was also a bank to more than 2,500 venture capital firms, including Lightspeed, Bain Capital and Insight Partners. It managed the personal wealth of many tech executives and was a stalwart sponsor of Silicon Valley tech conferences, parties, dinners and media outlets."

President Biden is going to speak about the banking crisis today, and he will insist to high heaven that this is not a bailout of these banks. But it is: The government set up clear rules that the FDIC would only protect the first $250,000 in a deposit. Every depositor, every business, every Silicon Valley venture-capital investor knew the risks, or should have known them. (You could even have $500,000 in a bank and still be protected; the FDIC covers savings accounts and checking accounts separately.) If you have more than $250,000 in an account, you are accepting a small but real risk and might want to think about opening another account in another bank.

And then, once the management of Silicon Valley Bank and Signature screwed up badly enough, the federal government decided, "Never mind. We're going to protect every amount for every bank customer." The Biden administration may not like people calling that a bailout, but that is indeed a bailout.

Taxpayers may not officially be picking up the tab, but everyone else who uses a bank will pay for this down the road in the form of higher fees with their bank. This remains a system that has concentrated the benefits among a well-connected few and spread out the costs and risks among the rest of us. The executives running Silicon Valley Bank did just fine over the past few years, and surprise, surprise, the CEO sold a bunch of his stock for millions of dollars right before the bad news hit.

As our Phil Klein writes, "In practice, it has created a huge moral hazard by signaling that the $250,000 FDIC limit on deposit insurance does not exist in practice. The clear signal it sends is that when financial institutions make poor decisions, the government will swoop in to clean up the mess."
Biden helped cause this mess, now he might be making things worse. 
The Wall Street Journal writes, "This is a de facto bailout of the banking system, even as regulators and Biden officials have been telling us that the economy is great and there was nothing to worry about. The unpleasant truth—which Washington will never admit—is that SVB's failure is the bill coming due for years of monetary and regulatory mistakes.
There is political risk from a bailout too. If the Administration acts to guarantee deposits without Congressional approval, it will face legitimate legal questions. The White House may choose to jam House Speaker Kevin McCarthy if markets aren't mollified. But Mr. McCarthy has a restive GOP caucus as it is, and a bailout for rich depositors will feed populist anger against Washington.
The critics have a point. For the second time in 15 years (excluding the brief Covid-caused panic), regulators will have encouraged a credit mania, and then failed to foresee the financial panic when the easy money stopped. Democrats and the press corps may try to pin the problem on bankers or the Trump Administration, but these are political diversions.
You can't run the most reckless monetary and fiscal experiment in history without the bill eventually coming due. The first invoice arrived as inflation. The second has come as a financial panic, with economic damage that may not end with Silicon Valley Bank."
It's not difficult to understand why Biden is focusing on protecting Silicon Valley. They are his base and they will fund his likely re-election campaign. 
Open Secrets reported, "Employees at big tech giants, including Alphabet, Amazon, Facebook, Apple and Microsoft, donated millions to various Democrats' campaigns in the 2020 election cycle. Employees at the five companies shelled out a combined $12.3 million to Biden's campaign and millions more to Democrats in high-profile Senate contests, such as recently-elected Jon Ossoff (D-Ga.) and Raphael Warnock (D-Ga.). Employees of big tech firms ranked among the top donors to each of those Democrats.
With most donations coming from company employees, Alphabet contributed around $21 million to Democrats in the 2020 election cycle, with Amazon contributing around $9.4 million. Facebook, Microsoft and Apple contributed about $6 million, $12.7 million and $6.6 million to Democrats, respectively. The majority of each of the big tech firm's contributions went to Democratic candidates, and excluding Microsoft, the Biden campaign was the top recipient with Ossoff and Warnock ranking in the top 10. Microsoft's top recipient for contributions was the Senate Majority PAC, the super PAC affiliated with Democratic Senate leader Chuck Schumer. The Democratic National Committee ranked in the top three recipients for all of the companies.
Erik Gordon, a professor at the University of Michigan's Ross School of Business, said that while the Biden administration and new Congress won't be completely "lax" with big tech firms, they will likely drag their heels over instituting big tech regulation so as to not alienate their biggest donors."
In Ohio, there are ordinary people who don't give donations to Democrats who are looking at their glass of water, wondering if it's safe to drink, but don't worry, Mark Cuban and his ilk won't lose a dime for putting their money (and reaping the rewards) in Silicon Valley Bank. 
[Read More: Pence Goes After Trump, 'History Will Judge']