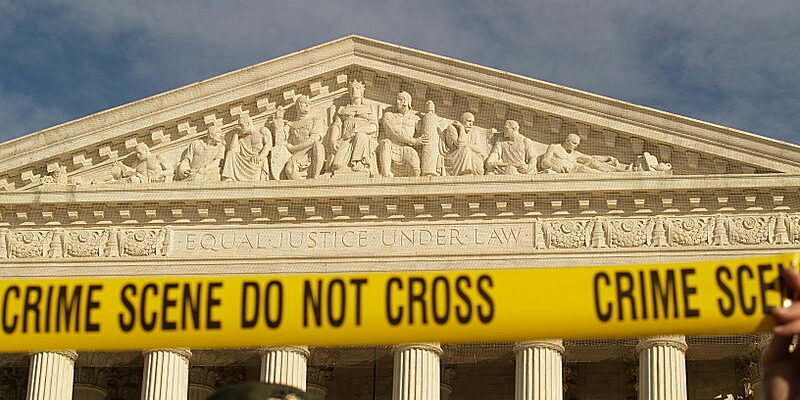 If there was ever a place that showed what it would be like to live under the total, unchecked power of the Democrats, our nation's capital would be it. Since 1984, no Democratic nominee for president has gotten less than 80 percent of the vote. In the mayoral races there, no Republican has cracked 45 percent of the vote in nearly five decades. 
That's why the American public should pay attention to what's happening in Washington, D.C., and it's not going well. 
In July, Muriel Bowser, the mayor of Washington DC Mayor, declared an emergency and requested help from the National Guard when Texas and Arizona sent a couple busloads of migrants who crossed the border to so-called "sanctuary cities" in the East Coast, including the nation's capital. 
The mayor claimed that a few hundred illegal immigrants coming to her city had caused the city to reach a "tipping point." 
In February, as crime has continued to escalate in the city, an unidentified man sharing an elevator with Representative Angie Craig, a Democrat from Minnesota, attacked her in her apartment building.
In March, President Biden shocked progressives by announcing that he did not support the DC Council's move to lessen the punishment for carjackings in the city.
While those radical plans were stopped by Congress, what federal leaders can't seem to do is force DC's liberal prosecutors to actually try to put alleged violent criminals on trial. 
The Daily Caller writes that "federal prosecutors in the Washington, D.C., U.S. attorney's office declined to prosecute 67% of those arrested by the police in cases that would have been tried in the D.C. Superior Court in 2022, according to The Washington Post.

Matthew Graves, the District's Biden-appointed U.S. attorney, said the office is prosecuting most violent felonies and that the cases most frequently dropped are gun possession, drug possession and burglaries, according to the Post. The local police chief has said officers aren't to blame, and that every person they arrest needs to be taken off the city's streets.

'Of course we are concerned," Robert J. Contee III, the Washington, D.C. police chief, told the Post. "We believe every person we arrest should be off the streets.'

'I can promise you, it's not MPD holding the bag on this," he said. "That's B.S.'"
The Washington Post reported, "But even compared to a local prosecutor's office, a 67 percent declination rate is high. For example, in Wayne County, Mich., which includes Detroit, the prosecutor's office reported declining 33 percent of its cases last year. Prosecutors in Philadelphia declined 4 percent and prosecutors in Cook County, Ill., which includes Chicago, declined 14 percent, according to data from those offices.
Graves said the declinations are mostly coming after arrests in cases such as gun possession, drug possession and burglaries — not in violent crimes. He said his office last year prosecuted 87.9 percent of arrests made in homicides, armed carjackings, assaults with intent to kill and first-degree sexual assault cases. According to figures provided to The Washington Post, that percentage is higher than the 85.7 prosecuted cases in 2021, but down from 95.6 percent of prosecuted cases in 2018.
Because D.C.'s Department of Forensic Sciences lost its accreditation in 2021, prosecutors have to pay to have evidence for DNA, firearm and fingerprint analysis sent to outside laboratories, Graves said. Prosecutors, he said, prioritize doing so for violent offenses.
'We are now entering year three of DFS being shut down without any clear plan of coming back online,' Graves said. 'We have to prioritize violent felonies and make sure we are doing the forensic testing for those cases. Our office is often bearing the cost for this analysis.'"
D.C.'s forensics lab was shut down, WaPo wrote in 2021, "after an independent panel of forensic experts concluded the lab made an error testing ballistics evidence in two 2015 murder cases and then refused to acknowledge the mistake. The auditors also determined the lab then "misrepresented" the mistakes when the accreditation board investigated the allegations.
The ANSI National Accreditation Board alerted the D.C. Department of Forensic Sciences (DFS) on Friday that it had suspended its accreditation for all forensic evidence investigations, including DNA analysis, firearms and rape kits. 
DFS, an independent city agency, operates out of a $220 million facility in Southwest Washington that opened in 2012 and was hailed as the city's first independent lab, not associated with the city's prosecutors."
In January, the local NBC affiliate in Washington wrote that "compared to this time in 2022, thefts from cars are up 30%, while thefts of cars are up 113%, numbers from D.C. police show. Robberies have increased by 57%, and overall property crime — which includes offenses such as burglary, theft and arson — are up 42% over this time in 2022."
Police Chief Contee appears to be fed up with D.C's dysfunction. He has "expressed frustration with the lack of consequences for crimes in the city for weeks. Earlier this month, he offered a simple solution for what the nation's capital can do differently to get homicides down: "Keep violent people in jail."
'What we got to do, if we really want to see homicides go down, is keep bad guys with guns in jail. Because when they're in jail, they can't be in communities shooting people. So when people talk about what we gonna do different, or what we should do different, what we need to do different, that's the thing that we need to do different,' Contee told Fox News. 
D.C. is not the only Democratic-dominated place that has seen crime rise while liberal officeholders lessen punishments. Illinois recently moved to eliminate bail for suspected murderers.
In Chicago, Mayor Lori Lightfoot became the first mayor to lose re-election in decades. Political prognosticators blamed the loss on the dramatically rising crime rate found in the city. 
[Read More: IRS Apparently Trying To Intimidate Congressional Witnesses Now]