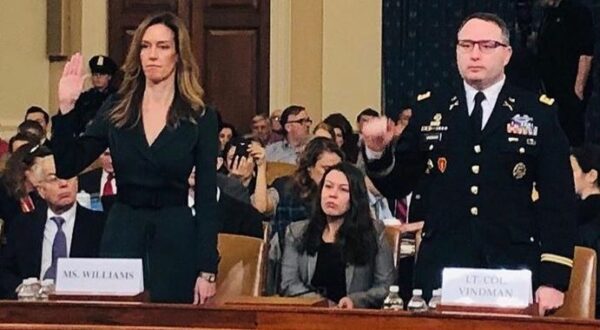 In 2019, the media could not get enough of Alexander Vindman, who served as a chief witness during the first impeachment proceedings of President Donald Trump. 
NewsBusters wrote at the time, "As if he was the hero they needed to vanquish their nemesis, the liberal media fell in love with the public impeachment testimony of White House Ukraine adviser Lieutenant Colonel Alexander Vindman. All three of the major broadcast networks kicked off their evening newscasts with gushy reports touting his role in the day-long marathon of impeachment hearings. Surprisingly, NBC Nightly News was the one network to include some of the questions about Vindman's testimony and the phone call narrative.
The segment introduction from failing CBS Evening News anchor Norah O'Donnell was arguably the gooiest. 'The most damaging testimony during a day of impeachment hearings came from a decorated combat veteran wearing a chest full of service medals and a purple heart,' she gushed.
O'Donnell added: 'Army Lieutenant Colonel Alexander Vindman told Congress he was alarmed by the President's July phone call with the leader of Ukraine, saying it was improper and inappropriate that Mr. Trump would ask a foreign leader to investigate a political opponent and that it could undermine U.S. national security.'
All three of the networks were enamored with Vindman's family history, alluding to it adding some kind of weight to his testimony. Just as ABC senior congressional correspondent Mary Bruce did on World News Tonight: 'Lieutenant Colonel Alexander Vindman, a decorated war veteran and top Ukraine expert on the National Security Council. He came to the U.S. when he was just 3 years old. His family fleeing from the Soviet Union. He began his testimony with a message to his father.'"
Now it looks like the star witness of the Trump impeachment could be facing a trial of his own, in court or otherwise. He's been accused of profiteering from the war in Ukraine. 
Fox News writes, "Sen. Marsha Blackburn, R-Tenn., who was one of the sharpest critics of Vindman throughout the impeachment investigation, blasted him as an "opportunist," and accused him of undertaking continuous efforts to try and personally profit from his attacks against the Trump administration to his reported dealings in Ukraine.
The first impeachment of Trump centered around a July 2019 call in which Trump pressed Ukrainian President Zelenskyy to launch investigations into the Biden family's actions and business dealings in Ukraine—specifically Hunter Biden's ventures with Ukrainian natural gas firm Burisma Holdings. The president's request came after millions in U.S. military aid to Ukraine had been frozen, which Democrats and some witnesses, including Vindman, cited as a quid pro quo arrangement.
'Vindman has spent the last three years on MSNBC and CNN attacking Republicans. Now, new revelations suggest Vindman could be profiting off the war in Ukraine, just as he did by speaking out against the Trump administration,' Blackburn added.
Blackburn was referencing the recent revelation made by Human Events that offers evidence that Vindman has been looking to make some money from the conflict in Ukraine. 
The magazine reported, "Documents recently obtained by Human Events show that Alexander Vindman has been pitching the government of Ukraine to obtain lucrative defense contracts. In August 2022, Vindman, operating as CEO of Trident Support, pitched a deck on a Ukraine Weapons Systems Sustainment Center to address problems with Ukraine's weapons management, namely readiness, repair, and maintenance.

Vindman proposed that for $12 million in initial funding, his company Trident Support would bring support closer to the front lines by providing a logistical midpoint from which equipment could be distributed.

The idea behind the proposal is that Trident Support would be a middle-man between NATO weapons and Ukrainian forces, teaching the latter how to operate and repair the equipment, while taking an exorbitant fee from Ukraine to do it.

Personnel who would be employed under the plan would be those who are "highly experienced former soldiers or contractors in Iraq and/or Afghanistan." The facilities to undertake this mission would be located in Poland, Slovakia, or Romania were it not possible to make that base in Ukraine."

Human Events noted that the outline of the plan was recently shown in court documents in showing a "dispute over payments." 
Vindman's group was supposed to "send Western mechanics close to the Ukrainian frontlines, where they will repair battle-damaged donated weapons and vehicles that have been flooding into the country.
Vindman's group has secured enough private funding to launch a pilot project in March, and has some backing from at least one company, which declined to be named but confirmed to Politico their interest in getting parts and material to Ukraine for more rapid repairs."
The outlet did not say how much money Vindman would make from the deal, but playing war hero while raking in some money explicitly goes against the White House's wishes. 
Politico continued: "The Biden administration has long tried to dissuade Americans from going to Ukraine, but private efforts like this are still possible with the blessing of the Ukrainian government. There is also a pool of thousands of non-American mechanics qualified to work on U.S. and NATO equipment who could be recruited.
The presence of U.S. citizens on the ground providing military logistics support would likely be a new irritant to the Kremlin, and any injuries, deaths, or capture of Americans by Russian forces would be a black eye for the White House as it works to keep congressional support for arming Ukraine. Yet the amount of foreign equipment pouring into the country — with more expected — means taking some risks in order to keep that machinery humming."
Vindman responded to the report by doing what often happens in these situations. He called her an idiot and then said something about "disinformation." 
The former "whistleblower" has long been a hawk when it comes to helping Ukraine, the country where he was born. Early on in the conflict, Vindman said that Russian leaders "can never escape accountability, no matter how long it takes" while acting as a talking head on MSNBC.
[Read More: Biden Finally Does Something Good And The Left Goes Nuts]