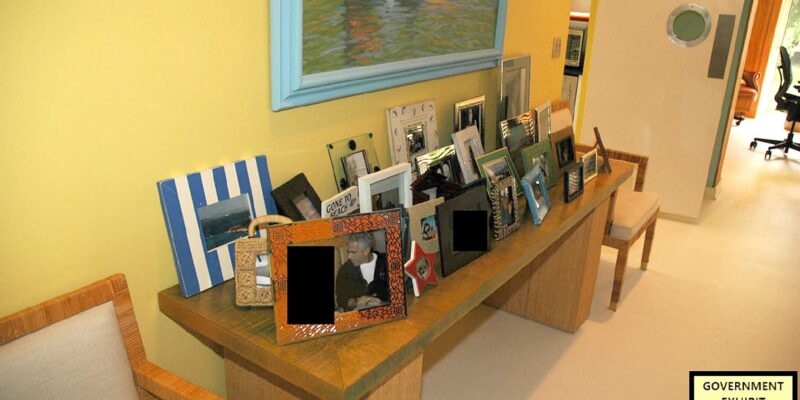 In news that is expected to shake the world's elite to the core, including former presidents Trump and Clinton, court documents related to Jeffrey Epstein's "Little Black Book" are expected to be released soon. Radar Online says the papers will include "the names of associates, victims, and employees associated with Jeffrey Epstein are to be unsealed in the near future."
"The final batch of court documents containing 'salacious' allegations related to 167 of Jeffrey Epstein's associates, victims, and employees, will finally be unsealed – nearly four years after the disgraced financier's death. 
The material will be made public in the coming months and, DailyMail.com can reveal, is expected to include information pertaining to at least one 'public figure,' according to The Daily Mail. 
The documents refer to 'alleged perpetrators' or individuals accused of 'serious wrongdoing', as well as law enforcement officers and prosecutors, according to a declaration filed on Wednesday. 
The documents represent the last of the sealed material to be made public as part of a years-long process that has been rumbling through federal court in New York since before Epstein apparently killed himself in 2019 while awaiting trial for sex trafficking charges."
The documents were originally filed as part of a defamation case brought by one of Epstein's victims, Virginia Roberts, in 2015 suit Ghislaine Maxwell, Epstein's partner who is currently serving 20 years in prison for sex trafficking and recruiting minors to the "Lolita Express."
Fox News Host Tucker Carlson recently spoke about the lack of transparency in the case.
#Thread Tucker Carlson's Monologue Demanding Answers About The Death Of Jeffrey Epstein And Calling Out AG Barr's "Investigation"

"3 & a half years after Jeffrey Epstein died, no one has gotten to the bottom of what happened that day & there has been no accountability for it." pic.twitter.com/ePOFWvbhAG

— The Columbia Bugle 🇺🇸 (@ColumbiaBugle) January 26, 2023
The Daily Caller wrote that "Epstein kept a detailed list of his contacts in a little black book and was photographed with many powerful figures, including former President Bill Clinton, Microsoft founder Bill Gates, Prince Andrew of the United Kingdom, former President Donald Trump and more.

Epstein's longtime pilot, Larry Visoski, testified during the criminal trial of Epstein's partner, Ghislaine Maxwell, that he saw Clinton, Trump and disgraced actor Kevin Spacey among Epstein's famous clients. He did not make specific allegations in his testimony. One Maxwell accuser, who testified under pseudonym, said in her testimony that Maxwell bragged about her connections to powerful figures.

Benjamin Bull, chief legal counsel at the National Center on Sexual Exploitation (NCOSE), said prosecutors should be "salivating" over the chance to pursue justice for Epstein's victims. "Any serious prosecutor worth his salt would be all over this little black book," Bull told the Daily Caller.

"It's a roadmap leading to the people guilty of trafficking children among Epstein's friends and benefactors, such as Bill Clinton, Prince Andrew, Duke of York, and other prominent but culpable perpetrators," he continued. "The scandal waiting to explode is why law enforcement has ignored this ever-growing sex trafficking ring. We need an explanation for why people are not being charged and prosecuted. Is this an instance of classic influence peddling corruption in law enforcement? Why no action? The silence is now deafening."
The New York Post noted that "one of those men allegedly includes disgraced Prince Andrew, who was stripped of his military titles and royal patronages by Queen Elizabeth after Giuffre accused him of sexually assaulting her after Epstein facilitated the introduction.
Harvard law professor Alan Dershowitz — already publicly accused of sexual abuse by Giuffre — is also said to be mentioned in the papers."
Maxwell's lawyers have allegedly claimed that there is no reason to publish the names of people in the documents because there is no evidence other than these people knew Epstein and Maxwell. They allude that these powerful people weren't flying to Epstein's child sex operation to use his services. They were just pals with a sex trafficker and flew on his airplane a lot. 
Or something.
The Post continued, "One such individual — described as a "public figure" by her lawyers — was included in the documents because they were included in Epstein's "Black Book," which contained phone numbers of more than 1,000 celebrities, politicians and titans of business.
Another person is an assistant state attorney that was involved in a 2007 case brought against Epstein for soliciting a minor for prostitution. Epstein only served 15 months as part of a sweetheart deal with state prosecutors in Florida."
The documents could be thorny for Donald Trump, who is running to win the 2024 Republican nomination. He recently attacked rival Ron DeSantis because as a 23-year-old high school teacher, the now Florida governor attended a post-graduation party of one of his students who was 19. 
DeSantis taught at Darlington High School in the 2001-02 school year after graduating from Yale University and just before attending Harvard Law School.
Yahoo News reported that a "poll released Monday by the conservative Club for Growth showed that DeSantis leads Trump by 9 percentage points in a hypothetical head-to-head primary match-up. Trump fares better when the field is expanded to include multiple candidates. When the Club for Growth poll added to the mix former Vice President Mike Pence, former South Carolina Gov. Nikki Haley, South Carolina Sen. Tim Scott, former Secretary of State Mike Pompeo and Virginia Gov. Glenn Youngkin, Trump came in first, with 37%, and DeSantis came in second with 33%."
[Read More: Another Republican Looks At 2024 Bid]