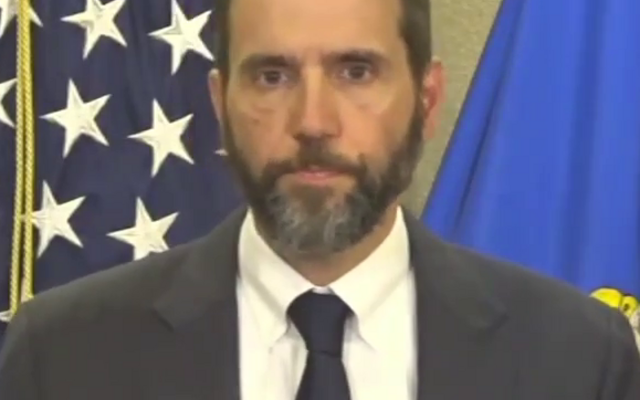 While it seems clear that Donald Trump has misbehaved, perhaps criminally, in the way he handled his defeat in 2020 and in leaving the White House, liberals both in elected office and among the federal agencies have not been able to hide their partisanship as they have lodged indictment after indictment at the former president. 
Trump has been a great boon to Democrats, who have used the former president's actions to mask their own corruption and are constantly using Trump as a foil to cling to power themselves and defeat Republicans. New Conservative Post reported last week that "every time there has been a break in the Biden (Crime?) Family influence-peddling investigation, magically Joe Biden's Department of Justice has indicted former President Donald Trump the next day to clear it from the news."
This timeline is actually incredible. I mean come on.

3/17 – Hunter admits laptop
3/18 – Trump indictment news

6/8 – FBI doc alleges Biden bribe
6/9 – Trump indicted

7/26 – Hunter plea deal collapses
7/27 – Trump indicted

7/31 – Devon Archer testifies
8/1 – Trump indicted pic.twitter.com/9wxuSSYkCG

— Andrew Clark (@AndrewHClark) August 2, 2023
It seems impossible for those in charge to play anything related to Trump by the book, and the latest revelation about the team assembled by Jack Smith, the DOJ prosecutor going after him, throws just another piece of evidence that the entire prosecution is a partisan sham. 
Even if he did violate the law, is it even possible for liberals to give Donald Trump a fair shake?
The Washington Examiner writes, "An ex-top New York City prosecutor working with Justice Department special counsel Jack Smith on investigations related to former President Donald Trump has given large donations to campaigns for top Democrats, including President Joe Biden, records show.

David Rody is one of several veteran attorneys helping to advise Smith, who has overseen two indictments against Trump related to the former president's alleged efforts to challenge the 2020 election and his involvement in the Jan. 6 Capitol riot in 2021, as well as his mishandling of classified documents. Rody, who in 2022 left his role as a partner at the major law firm Sidley Austin to join the DOJ as a senior counsel in the criminal division, gave $5,600 to Biden's 2020 campaign and almost $7,000 to other Democratic causes from 2018 to 2022, according to campaign finance disclosures.

The contributions, which have not been reported on until now, are likely to result in Republicans raising further concerns over the alleged partisan nature of inquiries related to the former president. Sens. Ted Cruz (R-TX) and Rick Scott (R-FL) notably took to X, formerly known as Twitter, earlier this week to demand answers after a Washington Examiner report revealed United States District Judge Tanya Chutkan, who was assigned to the Trump election-related case, contributed roughly $4,300 to Barack Obama's presidential campaign and victory fund combined between 2008 and 2012.

Rody, who previously led investigations related to bribery, fraud, obstruction of justice, and other federal crimes, used to be head of the Violent Crimes unit in the U.S. Attorney's Office for the Southern District of New York. In June, he also steered $1,000 to the campaign for Rep. Dan Goldman (D-NY), who was lead counsel in the first impeachment inquiry against Trump, disclosures show.

He also gave $500 in 2019 to the failed-presidential campaign for now-Vice President Kamala Harris and $2,250 combined to Sen. Cory Booker's (D-NJ) presidential and Senate reelection campaigns, according to disclosures.
Smith is no dummy. This kind of ignoring of an obvious conflict of interest seems purposeful.
The response to the news by Trump's Make America Great Again Inc. PAC epitomizes the way both Trump and liberals feed off of each other's shadiness. Their spokeswoman said, "Jack Smith and his gang of henchmen are dishonest, partisan hacks acting as enforcers for Joe Biden and the Democrat Party." Trump benefits from liberal hackery by portraying everything he's been accused of, legitimate and illegitimate, as, in his parlance, "a witch hunt" while Democrats drive down his popularity among the general public. 
The game has made both Trump and Biden deeply unpopular in general while keeping them afloat with their various party bases. A recent poll, for example, revealed that nearly 60 percent of the public view former President Donald Trump unfavorably whereas curernt President Joe Biden is disliked by roughly the same amount.  
Trump is likely to receive a fourth indictment in the coming few weeks. "It is speculated that Trump could be charged by the grand jury in regard to alleged interference in the 2020 election in the state. Then-President Donald Trump urged Secretary of State Brad Raffensperger to "find" the election results in Fulton County, which was, as Trump claimed, "the motherlode,'" according to The Gazette. 
Trump has already said he expects yet another indictment to help in the Republican primary, which is explicitly what the White House is hoping for. We can already guess it'll come on the heels of whatever shoe drops next with Hunter Biden.
 [Read More: Secret Letters Of Barack Show His Deep 'Fantasies']