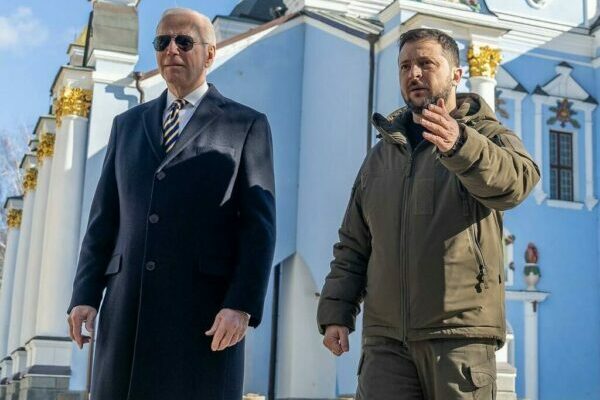 Actions are louder than words, and President Biden's latest traveling and spending shows where the White House's priorities reside. The Associated Press writes, "President Joe Biden paid an unannounced visit to Ukraine on Monday to meet with President Volodymyr Zelenskyy in a defiant display of Western solidarity with a country still fighting what he called "a brutal and unjust war" days before the one-year anniversary of Russia's invasion.
'One year later, Kyiv stands,' Biden declared after meeting Zelenskyy at Mariinsky Palace. Jamming his finger for emphasis on his podium, against a backdrop of three flags from each country, he continued: 'And Ukraine stands. Democracy stands. The Americans stand with you, and the world stands with you.'
Biden spent more than five hours in the Ukrainian capital, consulting with Zelenskyy on next steps, honoring the country's fallen soldiers and seeing U.S. embassy staff in the besieged country.
In Kyiv, Biden announced an additional half-billion dollars in U.S. assistance — on top of the more than $50 billion already provided — for shells for howitzers, anti-tank missiles, air surveillance radars and other aid but no new advanced weaponry."
The visit to Ukraine follows President Biden's announcement that American taxpayer dollars will be used to pay for Ukrainian pensions. In announcing the latest round of aid, Biden said, "This will deliver much needed humanitarian assistance as well as food, water, medicine, shelter and other aid to Ukrainians displaced by Russia's war. And provide aid for those seeking refuge in other countries from Ukraine. It's also going to help schools and hospitals open. It's going to allow pensions and social support to be paid to the Ukrainian people so they have something in their pocket." 
Biden proudly announces that your tax dollars will go to fund Ukrainian pensions so they "have something in their pocket"

This comes one day after denying aid to East Palestine pic.twitter.com/SggIwlBEAm

— Clayton Keirns (@CKeirns) February 18, 2023
While Biden traveled 5000 miles to Kyiv, he's refused to go a few hundred miles to East Palestine, Ohio, where a train derailment has caused an environmental disaster that is potentially poisoning thousands across the Midwest. 
As Biden smiles and excitedly explains that the United States is paying for Ukrainian retirees, Ohioans are being forced to pay for private testing of air quality. The New York Times recently told the story of Maggie Guglielmo, a store owner who's shop is only a few blocks away from ground zero. Like many of her neighbors, she can see and feel the effects of the hazardous gases lingering over her town and pervading her water. 
 "'The air monitoring team left within 10 minutes due to the unpleasant/overwhelming odor,' the team of government and private environmental experts wrote in its report, describing a 'super glue/pool/fruity-like odor.' But there was no detection of significant amounts of vinyl chloride, a colorless gas carried by the train, or other toxic chemicals.
Ms. Guglielmo, 67, was not satisfied. Instead, she paid $900 for an independent contractor to analyze the air in the store, Wristbands America, and was planning to pay to test her inventory of silicone bands. The sickly, plastic smell still lingers inside and clings to the creek, Sulphur Run, a few feet from her door.
'I'm not going to take that chance' of doing nothing, Ms. Guglielmo said, though she acknowledged the extra analysis could be a luxury for others. "Not everybody has money sitting around to do these kinds of tests.'
State and federal officials have said repeatedly that they have yet to detect dangerous levels of chemicals in the air or municipal water, citing preliminary data from hundreds of homes in the town of roughly 4,700 people. Teams of experts from top environmental and health agencies have been fanning out across the region to test whether chemicals carried by the Norfolk Southern train or burned off days after the derailment have contaminated the air or water.
But Ms. Guglielmo and others, particularly on the outskirts of East Palestine near where the train collided, continue to report a lingering stench of chemicals in some parts of town and have found little comfort in the assurances in light of the rashes and headaches they have experienced."  
Last week the Biden administration rejected pleas for disaster assistance from Ohio Governor Mike DeWine. Fox News noted, "The Federal Emergency Management Agency (FEMA) told Ohio's state government that it was not eligible for disaster assistance to help the community recover from the toxic spill, Dan Tierney, a spokesperson for DeWine, told Fox News Digital on Thursday. Tierney explained that FEMA believed the incident didn't qualify as a traditional disaster, such as a tornado or hurricane, for which it usually provides assistance.
"The DeWine Administration has been in daily contact with FEMA to discuss the need for federal support, however FEMA continues to tell Governor DeWine that Ohio is not eligible for assistance at this time," DeWine's office said in a statement earlier in the day. "Governor DeWine will continue working with FEMA to determine what assistance can be provided." 
So far, Biden's EPA has said "nothing to see here" and labeled any criticism as a conspiracy theory.
FOX 19's Tricia Macke Shows the Chemical Slick Lingering in East Palestine Waters

— Chief Nerd (@TheChiefNerd) February 17, 2023
Unsurprisingly, "the testing that Ohio authorities relied on to declare the municipal water in East Palestine safe to drink after a disastrous train derailment was funded by the railroad operator itself and did not initially comply with federal standards," HuffPost reported.
"Although the drinking water in East Palestine may indeed be safe, as officials have repeatedly stressed in recent days, independent experts argue the initial batch of samples that a consulting firm hired by the rail company collected and submitted to the lab should not have been used to make such a determination. The lab report on the railroad-funded sampling indicates the samples were not handled in accordance with federal Environmental Protection Agency standards.
Sam Bickley, an aquatic ecologist at Virginia Scientist-Community Interface, an advocacy-focused coalition of scientists and engineers, alerted HuffPost to the sampling errors and called the report 'extremely concerning.'
'Their results that claim there were no contaminants is not a reliable finding,' he said via email. "I find this extremely concerning because these results would NOT be used in most scientific applications because the samples were not preserved properly, and this is the same data they are now relying on to say that the drinking water is not contaminated.'"
Contrasting Biden's eagerness to visit Ukraine and provide for their every need while ignoring what's happening Ohio really says it all, but those Midwesterners shouldn't feel completely ignored. Sure, the federal government may be giving billions of dollars to fight Putin and pay for Ukraine's version of Social Security, but Norfolk Southern, the train operator doing faulty testing after spilling the dangerous chemicals in the first place, recently announced plans to create a $1 million charitable fund to support the East Palestine community.
[Read More: Fox News Facing BIG Trouble In Dominion Defamation Case]