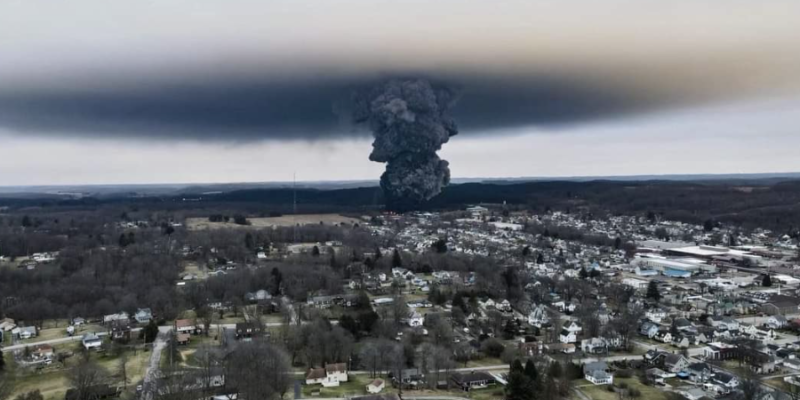 Liberals are constantly talking about how much they care about the environment while accusing everyone else of being against clean air or clean water. That is unless they're the ones who have caused an environmental disaster. Then, they pretend it never happened. 
That's what is happening currently in East Palestine, Ohio following a train derailment last week. The connection between the disaster and Biden's siding against rail workers last year when they threatened to strike look particularly bad for the White House. 
The pictures are horrifying.
This is an image from Norfolk Southern, $NSC, burning of vinyl chloride in East Palestine, Ohio.

The train derailment happened ten days ago despite near zero media coverage, and now there are traces of vinyl chloride found miles away. pic.twitter.com/Os7BKOkn5h

— unusual_whales (@unusual_whales) February 13, 2023
Unbeknownst at the time, I snapped this photo with a dark plume in a sea of stratus clouds from my flight yesterday. Only to learn this morning that the black smoke was caused by a controlled burn from a #trainderailment in #EastPalestine pic.twitter.com/4DCxCZsLG2

— Jared (@Jared_Mc) February 7, 2023
Fast Company writes, "Last Friday, a train belonging to Norfolk Southern, one of America's leading rail operators, derailed near the Pennsylvania border, leaving what the Associated Press called "a mangled and charred mass of boxcars and flames" just outside the village of East Palestine, home to about 5,000 people. The crash created a 50-car pileup—half the train's length. According to Norfolk Southern, a fifth of the cars were carrying hazardous materials.

The wreckage proceeded to burn ominously all weekend. By Sunday evening, residents near the train tracks were told to "immediately evacuate" in a sudden alert from the office of Governor Mike DeWine. He went on to warn: "There is now the potential of catastrophic tanker failure which could cause an explosion with the potential of deadly shrapnel traveling up to a mile."

Apparently a particular cause for concern were 14 giant tankers that were "exposed to fire" while full of hundreds of thousands of gallons of vinyl chloride. A chemical used in PVC, vinyl chloride is flammable, toxic, and a declared brain, lung, blood, and liver carcinogen. The federal government banned it from household spray cans in 1974. Breathing it "can make you dizzy or sleepy, or have a headache," a fact sheet released two days ago by the Ohio Department of Health alerts readers. "You can die from breathing extremely high levels of vinyl chloride."

It also boils at just 8 degrees Fahrenheit—meaning moving it into containers that cleanup crews could cart away probably wasn't a safe option.

Instead, what authorities decided to do on Monday was a controlled burn of the chemical. That required evacuating more of East Palestine, since burning vinyl chloride was going to send massive plumes of hydrochloric acid and the toxic gas phosgene into the sky."
Best video I've found explaining the chemical aspect of the Ohio train disaster

Extremely toxic liquid vinyl chloride was leaking so authorities planned a "controlled burn" but that created hydrogen chloride acid that clings to water

Basically acid rainpic.twitter.com/gIsaKqm114

— DC_Draino (@DC_Draino) February 13, 2023
While authorities are saying that everything is fine, reports have begun cropping up that animals within miles of the crash are dying. NBC wrote, "For days, authorities have been telling residents of the area around East Palestine, Ohio, that it is safe to return home after a 150-car train carrying hazardous chemicals derailed Feb. 3.
The Ohio Department of Natural Resources said the chemical spill resulting from the derailment had killed an estimated 3,500 small fish across 7½ miles of streams as of Wednesday.
And one resident of North Lima, more than 10 miles from East Palestine, told WKBN-TV of Youngstown that her five hens and rooster died suddenly Tuesday. The day before, rail operator Norfolk Southern had burned train cars carrying vinyl chloride — a flammable gas — to prevent an explosion.
For some people who live near the derailment site, the reports continue to spur fear that they and their animals might be exposed to chemicals through the air, water and soil."
In the nearby state of West Virginia, the fumes and toxicity floating eastward has caused one of the water companies to take extra precautions. "West Virginia American Water said Sunday that it's also going to install a secondary intake on the Guyandotte River in case there's a need to switch to an alternate water source. The utility noted that there hasn't been any change in raw water at its Ohio River intake, noted The Associated Press.
"'The health and safety of our customers is a priority, and there are currently no drinking water advisories in place for customers,' the company said in a statement.
About 50 cars, including 10 carrying hazardous materials, derailed in a fiery crash Feb. 3 in East Palestine, Ohio. Vinyl chloride was later released into the air from five of those cars before crews ignited it to get rid of the highly flammable, toxic chemicals in a controlled environment, creating a dark plume of smoke."
The environmental catastrophe happening in Ohio should be front-page news across the country, but instead, our national media is covering "UFOs." The reason seems obvious: When Joe Biden rammed through a bill blocking rail workers from striking last fall, he ignored their pleas about unsafe working conditions. "Working-class Joe" sided with management, and the people of Ohio are paying the price. 
What should be considered Joe Biden's version of The Flint Water Crisis is being swept under the rug because it would hurt Democrats to give it the coverage it deserves. 
The New Republic caught up with some of union workers and they all agreed–this didn't have to happen. "The fiery train derailment that led to thousands being forced to evacuate their homes in East Palestine, Ohio, didn't have to happen. This is what the workers of Railroad Workers United, or RWU, inter-union caucus argue. And, they warn, if action is not taken against corrosive industry trends, the Ohio disaster will be one of more to come.
The RWU argues that antiquated regulation and corporate malpractice led to the potentially generationally damaging incident, a primary culprit being Precision Scheduled Railroading, or PSR. The practice, dubbed by some workers as "positive shareholder reaction," manages freight movement by the individual car level, as opposed to the whole train—ensuring train cars are constantly on the move. In practice, this has cut jobs, consolidated dispatch centers, and made trains less safe, as fewer workers have less time to conduct checks on more train cars.
Based on its analysis, the RWU says "the immediate cause of the wreck appears to have been a nineteenth-century style mechanical failure of the axle on one of the cars—an overheated bearing—leading to derailment and then jackknifing tumbling cars.
The workers' warnings here follow a continual campaign for better working conditions and safer rail outcomes. After the government in December imposed a contract on workers that did not include much-needed paid sick leave, workers continued rallying for such benefits as well as the guarantee of at least two-person crews and the elimination of PSR."
Secretary of Transportation Pete Buttigieg, fresh off his debacle with airline cancelations, has decided to ignore the burning chemicals following a train derailment in Ohio.
Buttigieg made no mention of the Ohio train derailment while speaking at a conference this morning but did find the time to say that there are too many white people who work construction. pic.twitter.com/q4WNcq10h9

— Greg Price (@greg_price11) February 13, 2023
Pete's always got his eye on the ball. 
[Read More: AOC Calls Super Bowl Ad About Jesus 'Fascist']