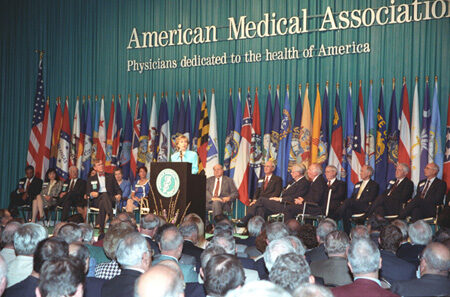 School leaders at Randolph Union High School in Vermont recently barred the girls volleyball team from using the women's locker after some players objected to a biological male changing with them. Now the latter gets the locker room alone. 
One of the female students, Blake Allen, told a local news outlet, "My mom wants me to do this interview to try to make a change," female volleyball player Blake Allen told the outlet. "I feel like for stating my opinion — that I don't want a biological man changing with me — that I should not have harassment charges or bullying charges. They should all be dropped."
WCAX has more of the story. Allen says that the dispute started when the trans student made an inappropriate comment while members of the volleyball team were getting changed. She says her issue is not with having the trans student on the team or at school, but specifically in the locker room. "There are biological boys that go into the girl's bathroom but never a locker room," Allen said.

She says that fellow team members and parents have also raised similar concerns and have approached the school with them. They were told that under state law, the transgender student could use whatever locker room they identified with.

In an email to families, school officials wrote that the school has "plenty of space where students who feel uncomfortable with the laws may change in privacy."

"They want all the girls who feel uncomfortable — so pretty much 10 girls — to get changed in a single stall bathroom, which would take over 30 minutes. Where if one person got changed separately, it would take a minute, like no extra time," Allen said.
The New York Post reported, "Some team members want the transgender player relocated, but Vermont's state law means that students can play sports and use the locker which corresponds to the gender with which they identify."
The players have said that they do not object to having a biological male on the team, nor do they have concerns about biological males using the girls bathroom, which they note currently happens regularly. Their only objection comes from having to change in front of them. 
The Post continued: "Lisa Randolph, Randolph High School co-president, said that when policies are violated, disciplinary action that aligns with the school's rules will be applied, adding that students' safety is the "district's top priority."
State policy holds that a transgender student should not be required to use a locker room or restroom that conflicts with the student's gender identity."
The story follows the news that several medical associations have adopted a radical stance on speech about the gender reassignment of minors. 
In a recent letter, the American Academy of Pediatrics, the American Medical Association, and the Children's Hospital Association, "collectively representing 270,000 physicians and more than 220 children's hospitals across the country," have "urged" Attorney General Merrick Garland and social media platforms to shut down critics of gender reassignment surgeries and hormonal therapy for children. 
The letter states, "These coordinated attacks threaten federally protected rights to health care for patients and their families. The attacks are rooted in an intentional campaign of disinformation, where a few high-profile users on social media share false and misleading information targeting individual physicians and hospitals, resulting in rapid escalation of threats, harassment, and disruption of care across multiple jurisdictions. Our organizations have called on technology companies to do more to prevent this practice on digital platforms, and we now urge your office to take swift action to investigate and prosecute all organizations, individuals, and entities responsible. [emphasis NCP]"
If this move sounds similar, it's the same one that the National School Boards Association used to label parents protesting school boards as "domestic terrorists." 
In October 2021, Garland announced a "disturbing spike in harassment, intimidation, and threats of violence against school administrators, board members, teachers, and staff." The AG directed the FBI to coordinate with U.S. attorneys and leaders "in each federal judicial district" to discuss a strategy to address threats.
 "Attorney General Merrick Garland called on the FBI to "use its authority" against parents who threaten or use violence against public school officials in a Monday memorandum," the Daily Signal reminds.
Garland's statement follows a letter from the National School Boards Association that asked the federal government to get involved in the 'immediate threat' of violence from parents faced by American public schools and its education officials. The National School Boards Association said the incidents could be 'the equivalent to a form of domestic terrorism and hate crimes.'"
Garland has shown a proclivity for jailing conservative critics of liberal policies and the FBI recently attacked a whistleblower for pointing it out. Garland was famously blocked from the Supreme Court by Mitch McConnell in 2016.
Gender reassignment surgery for minors has come to the forefront of the culture wars. While defenders of the surgeries on adults claimed that these surgeries were not being performed on children, the New York Times recently wrote an article defending the practice on minors, writing, "Genital surgeries in adolescents are exceedingly rare, surgeons said, but top surgeries are becoming more common. And while major medical groups have condemned the bans on gender-related care for adolescents, the surgeries have presented challenges for them.
Much research has shown that as adults, transgender men generally benefit from top surgery: It relieves body-related distress, increases sexual satisfaction and improves overall quality of life. A few small studies of transgender adolescents suggest similar benefits in the short term."
Critics have called these surgeries hormonal therapies on children dangerous. For example, in response the the AMA et al's letter, gay rights pioneer Andrew Sullivan tweeted.
"Evidence-based gender-affirming care" = "experimental off-label sex-change drugs not FDA approved for children with natural puberty."

— Andrew Sullivan (@sullydish) October 3, 2022
The Heritage Foundation agreed with Sullivan. The conservative think tank noted, "The drugs commonly used to delay normally timed puberty in children who identify as transgender have not been approved by the Food and Drug Administration for that purpose, and there is no long-term studies to support their safety or effectiveness in treating gender dysphoria.
There is evidence, however, demonstrating that these drugs have long-lasting negative side effects, such as reduced bone density and delayed brain development.
Administering estrogen to boys or testosterone to girls eventually results in permanent sterility—a consequence that children are in no way equipped to consent to or even fully grasp the implications of. The evidence further suggests that medical transition does not carry the promised benefits for the health of gender dysphoric children.
The authors of the largest study to date on the mental health outcomes of individuals who have undergone sex-reassignment surgery or hormonal transition were forced to admit that the data showed no decrease in mood or anxiety disorders for those who transitioned medically."
The hospital associations may have a different reason to defend these surgeries and treatments than what they lead on. It was recently revealed that Vanderbilt University Hospital performs the procedures because they are huge "money makers" for the hospital. 
Several states, including Florida, Idaho, and Texas, have moved to ban the practice. Vermont currently has some of the most liberal transgender rights legislation in the nation. 
[Read More: Fearing DeSantis in 2024, Media Roots Against Florida In Aftermath of Hurricane Ian]