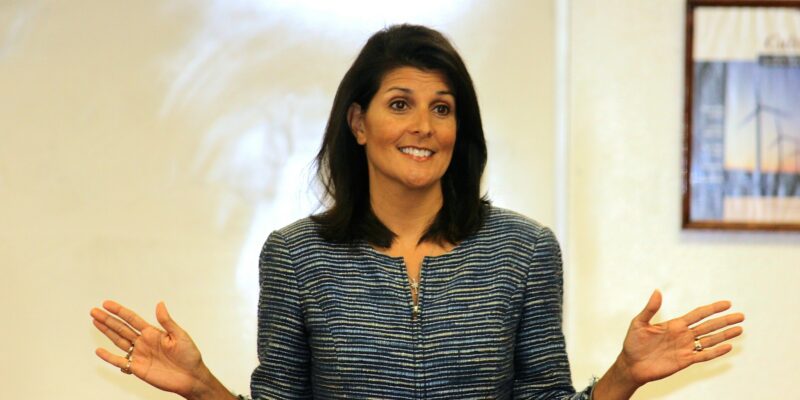 Nikki Haley has only been running for president for a week or so, but that hasn't stopped liberal outlets from going immediately to sexist and racist attacks against her. 
Haley, the former UN Ambassador and first non-white woman to become a governor, announced an attempt at claiming the White House by saying "The Washington establishment has failed us over and over and over again. It's time for a new generation of leadership to rediscover fiscal responsibility, secure our border and strengthen our country, our pride and our purpose."
The idea of a non-white woman running as a Republican has caused hosts both at CNN and MSNBC to make outlandish statements against her person rather than her policies. Last week, troubled CNN host Don Lemon made the argument that Haley was "past her prime." 
As his two female cohosts sat there, jaws agape, Lemon said, "'It depends, just like prime, if you look it up. If you Google it, when is a woman in her prime, it'll say 20s, 30s and 40s,' Lemon continued. 'I'm not saying I agree with that. I think she has to be careful about saying that, you know, politicians are in their prime.'" 
CNN's desperate chief, Chris Licht, has since ordered Lemon to "participate in formal training following sexist comments."
Not to be outdone, however, MSNBC went even crazier. 
The New York Post writes, "A guest on MSNBC launched a racially charged attack against ​former Ambassador to the United Nations ​Nikki Haley on Sunday night, accusing the Republican presidential candidate of using her "brown skin to launder white supremacist talking points."

'​I see her​ ​and I feel sad because she uses her brown skin as a weapon against poor black folks and poor brown folks, and she uses her brown skin to launder white supremacist talking points​,' Daily Beast columnist Wajahat Ali said on 'The Mehdi Hasan Show.'

Ali, a Pakistani American and author of the book "Go Back To Where You Came From: And Other Helpful Recommendations on How to Become American" argued that Haley's parents benefited from the Immigration and Nationality Act of 1965, which was strongly supported by civil rights activists. 

'Her father came here because he was a professor, he taught at a historically black college in South Carolina. That's how she became the proud American that she is​,' said Ali, also a contributing op-ed writer to the New York Times.

'Yet, what does she do, like all these model minorities — which by the way, is the strategy of white supremacy, to use Asians in particular as a cudgel against black folks? Instead of pulling us up from the bootstraps, we're told to take our boot and put it on the neck of poor immigrants, refugees, and black folks​,' he said.'​
.@WajahatAli joins the leftist media in spreading racist attacks against Nikki Haley.

Ali falsely smears Haley, an Indian woman, as a "Manchurian candidate" for white supremacists, and an "alpha Karen in brown skin." pic.twitter.com/ntdyQdVAwK

— Media Research Center (@theMRC) February 20, 2023
The Daily Mail noted that "Ali followed up his suggestion that Haley uses her skin color as a 'weapon' by branding her an 'alpha Karen with brown skin'. 
The commentator was seemingly referencing Haley's age with the comment, with a 'Karen' being a popular online insult for middle-aged women. 
He continued by branding the candidate 'the Dinesh D'Souza of Candace Owens,' seemingly lumping Haley in with Indian American filmmaker D'Souza and conservative talk show host Owens. 
'For White supremacists and racists, she's the perfect Manchurian candidate,' he added." 
Of Indian ethnicity, liberals have also come up with a conspiracy theory that Haley "changed her name" because she goes by her middle name, Nikki, rather than her first name, Nimarata. The absurdity caused even some liberals to feel guilt over the racism of their fellow travelers. 
liberals got me out here defending NIKKI HALEY?? me for @msnbc pic.twitter.com/PqeATSXp38

— manny (@mannyfidel) February 16, 2023
Nikki Haley may be the only "white supremacist" to have forced the Confederate flag to be taken down. She signed a 2015 law to remove the Confederate battle flag from the South Carolina state Capitol, "the culmination of a years-long movement that was reignited by the murders of nine members of a historically black church in Charleston.
Before adding her signature to the legislation, Haley spoke of the black victims, who were killed by a white man after they welcomed him into a June 17 prayer meeting at Emanuel African Methodist Church."
At the time, President Barack Obama praised Haley's actions, saying, "It's true, a flag did not cause these murders. But as people from all walks of life, Republicans and Democrats, now acknowledge — including Governor Haley, whose recent eloquence on the subject is worthy of praise — as we all have to acknowledge, the flag has always represented more than just ancestral pride."
This is not the first case of liberals using racist language against non-white conservatives. Clarence Thomas, per usual, was called "Uncle Tom" by Democrats earlier in the month when Georgia Republicans debated a bill to honor the state's native son. 
Senator Tim Scott is rumored to be exploring a run for the White House, as well. One can only imagine the vile attacks that will come out of liberals when he does. 
Tim Scott is going to announce and MSNBC is going to end up firing it's entire prime time line up.

— Stephen L. Miller (@redsteeze) February 21, 2023
[Read More: Tucker Carlson Receives All The January 6 Footage Pelosi Hid]