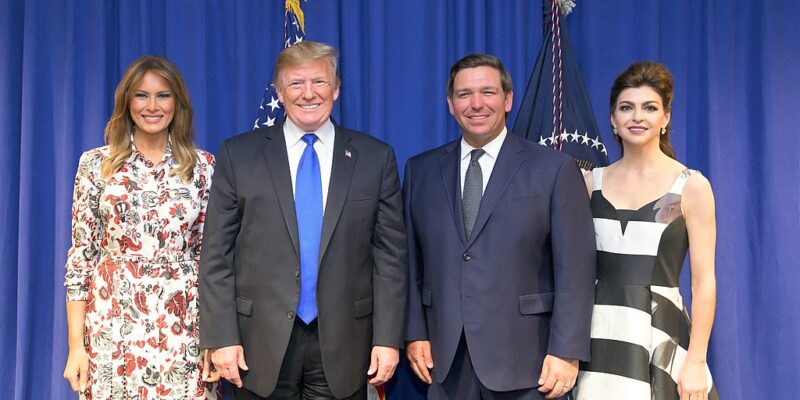 It has not been a good few months for Donald Trump. In November, he was blamed for Republicans drastically underperforming the Midterm Elections after nearly all of his endorsed picks in swing states lost and he launched a "low-energy" presidential campaign. In December, as Biden's approval began to somewhat recover and he looked to launch his reelection campaign, the former president countered by selling trading cards online. 
Just a few weeks ago, some of his staunchest supporters called out Trump for backing Kevin McCarthy for Speaker of the House. Longtime ally Matt Gaetz made fun of the former president's pick, writing: "Sad!" Gaetz said in a statement to Fox, mocking Trump. 
Colorado representative Lauren Boebert, another MAGA favorite, said, "Even having my favorite president call us and tell us we need to knock this off, I think it actually needs to be reversed. The president needs to tell Kevin McCarthy that sir, you do not have the votes, and it's time to withdraw."
Kind of a problem for a presidential candidate.

— Stephen L. Miller (@redsteeze) January 4, 2023
The biggest problem for Donald Trump, however, has been constant, and it comes from the Sunshine State. Many conservatives now see Florida Governor Ron DeSantis as the future of the Republican Party after his massive reelection campaign and resounding victory speech that sounded much less about Florida and much more about the future of our country. 
Although the Florida governor hasn't even announced an intention to run for president, the latest backing for DeSantis over Trump comes from Michigan. Politico reports, "A group of prominent Michigan Republicans are encouraging Florida Gov. Ron DeSantis to jump into the 2024 presidential race — a significant and thinly veiled shot at the only announced Republican candidate: former President Donald Trump.
Last month, Bryan Posthumus, the Republican floor leader in the Michigan state House, flew to Florida and hand-delivered DeSantis a letter encouraging him to run for president. The letter — which was signed by 18 Republican members of the state House, one quarter of party's caucus — called DeSantis "uniquely and exceptionally qualified to provide the leadership and competence that is, unfortunately, missing" in the White House under President Joe Biden, according to excerpts provided by a Posthumus spokesperson. 
The signers also say they "stand ready and willing to help [DeSantis] win Michigan in 2024."
While the letter doesn't explicitly endorse DeSantis over Trump, it illustrates simmering discontent with the former president among Republicans, following a series of elections that saw the party get bludgeoned at the ballot box. While Trump is looking to box out potential rivals for the Republican presidential nomination in 2024, a wide swath of the party is seeking out other prospective candidates — from rank-and-file voters to major donors to, now, Republican officeholders engaging in recruitment efforts."
Earlier in the week, Trump finally addressed the elephant in the room. 
Trump today on Desantis: "I got him elected, pure and simple. And there was no reason to go wild about endorsing him .. So, now I hear he might want to run against me. So, we'll handle that the way I handle things." pic.twitter.com/rBBYyUtnNW

— Ron Filipkowski 🇺🇦 (@RonFilipkowski) January 16, 2023
Rolling Stone got a scoop on how Trump plans to go after his younger challenger. The magazine wrote, "Former President Donald Trump and his allies have already started charting out possible plans of attack against likely 2024 rival and Florida governor Ron DeSantis, according to three people familiar with the matter.

"This is where…Trump kicks him in the nuts," one person close to the ex-president says.

The former president's determination to obliterate his ascendant rival underscores just how unwilling Trump is to pass the torch and surrender his stewardship of the GOP — even if it shreds the party. As Trump and his ideological heir DeSantis vie for control of the Republican Party….everyone on Team Trump expecting DeSantis to challenge the former president in the upcoming GOP presidential primary, Trump and his advisers are plotting a new scorched-earth campaign against DeSantis as soon as he declares his 2024 candidacy.

In the past two months, Trump has talked to political allies about effective ways to pummel DeSantis on both personal issues — recurring concerns about his "likeability" and supposed charisma deficit — and on policy matters such as DeSantis' hawkish foreign policy, trade stances, COVID-19 posturing, closeness to the party's "establishment," and the past votes to slash the social safety net, sources familiar with the matter tell Rolling Stone….Trump has participated in a handful of discussions on this topic so far, but campaign advisers are trying to keep the finer details of their oppo blitz under wraps for now.
Republicans appear ready to move on from Trump. Insider noted, "DeSantis has also become a frontrunner to challenge Trump for the Republican presidential ticket. In a YouGov poll of 413 Republicans three days after the 2022 midterm elections, 42% of the respondents said they would rather have DeSantis as the GOP's 2024 nominee. Only 35% said they preferred Trump."
Trump has not handled well having another Republican rival. In November, The former president melted down at the idea that DeSantis might challenge him. CNN reported, "The former president has repeatedly lashed out at Ron DeSantis in the days following the Florida governor's huge reelection win on Tuesday, a sure sign that Trump is nervous about the prospect of facing DeSantis in a 2024 Republican primary race.
'Ron DeSanctimonious is playing games,' Trump wrote in a long statement released Thursday night that was entirely focused on DeSantis. 'The Fake News asks him if he's going to run if President Trump runs, and he says, 'I'm only focused on the Governor's race, I'm not looking into the future.' Well, in terms of loyalty and class, that's really not the right answer.'
DeSantis, for his part, didn't take Trump's bait. That same day he merely wished his fellow veterans a Happy Veterans Day. 
Happy Veterans Day! Our veterans have made countless sacrifices to protect our freedoms.

In Florida, we are working hard to ensure they have the resources and support they need to be successful and take care of their families. pic.twitter.com/i27J3aOcNw

— Ron DeSantis (@GovRonDeSantis) November 11, 2022
In a recent poll, Trump, a former president and the only candidate who has even announced for 2024, still couldn't crack 50 percent against DeSantis and a handful of other Republicans in a national primary poll. 
Liberals, who have already declared DeSantis "scarier" than Trump, have spun the results as "Trump trounces DeSantis in potential GOP primary match-up," but you have to take a step back and ask a very simple question: Would former President Barack Obama poll under 50 percent in a Democratic primary? Of course not. 
The last former president to poll that low so soon out of office was Jimmy Carter.
The Washington Post recently discussed Trump's biggest problem against DeSantis: the man has already lost to Joe Biden and most Republicans want someone else to take a stab. 
The newspaper writes, "Polls of the 2024 race since then have been piecemeal and mostly focused on the GOP primary, showing DeSantis eroding and perhaps erasing Trump's status as the presumptive favorite. (We've had DeSantis ahead of Trump in our 2024 GOP nomination rankings for a while now.) But the few that have compared Trump and DeSantis in general election matchups appear to confirm the difference in viability.
Most recently came a survey from a GOP pollster for the Club for Growth. It shows Trump trailing President Biden by eight points in a 2024 rematch, but DeSantis with a three-point lead (which is inside the margin of error) — which amounts to a gap of 11 points between their respective margins.
That group has turned away from Trump in recent months and obviously prefers DeSantis. But other, nonpartisan polls bear the gap out too. A USA Today poll from December showed virtually the same gap, with Trump down seven points but DeSantis up four. A Yahoo News/YouGov poll last month showed a smaller difference, but a difference nonetheless: Trump trailed Biden by four, while DeSantis was tied with him.
Then there's a Marquette University poll from shortly after the 2022 midterms. It showed Trump trailing Biden by 10, but DeSantis tied."
Trump may "kick him in the nuts" all he wants, but if he keeps losing to Biden in polling, again, it's hard to think Republicans won't want to try someone new. 
[Read More: Hockey Player Attacked For Not Participating In Woke Event]