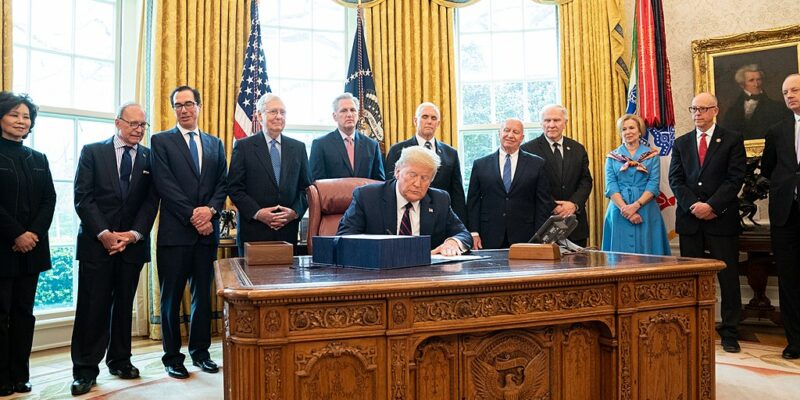 It's safe to say that after the poor showing by the GOP that it's not a great time to be a Republican leader. Donald Trump, Kevin McCarthy, and even Mitch McConnell are facing challenges.
On Tuesday, Trump's endorsement clearly served as an anchor on Republican prospects.
GOP% of House vote:
AZ: 56%
GA: 53%
PA: 53%
Trump endorsed candidates for #AZGov, #AZSen, #GASen, #PASen & #PAGov all underperformed partisan lean of these 3 states. Candidates like Brian Kemp, Brad Raffensperger & Kimberly Yee who Trump did not endorse in primary outperformed.

— RRH Elections (@RRHElections) November 11, 2022
The former president is not taking criticism particularly well. 
CNN reported, "The former president has repeatedly lashed out at Ron DeSantis in the days following the Florida governor's huge reelection win on Tuesday, a sure sign that Trump is nervous about the prospect of facing DeSantis in a 2024 Republican primary race.
'Ron DeSanctimonious is playing games,' Trump wrote in a long statement released Thursday night that was entirely focused on DeSantis. 'The Fake News asks him if he's going to run if President Trump runs, and he says, 'I'm only focused on the Governor's race, I'm not looking into the future.' Well, in terms of loyalty and class, that's really not the right answer.'
In that same statement, Trump says that he effectively made DeSantis' political career when he endorsed the then-congressman for governor in the 2018 election cycle. "Ron came to me in desperate shape in 2017 – he was politically dead, losing in a landslide to a very good Agriculture Commissioner, Adam Putnam, who was loaded up with cash and great poll numbers,' argued Trump, referring to the GOP gubernatorial primary in Florida. 'Ron had low approval, bad polls, and no money, but he said that if I would Endorse him, he could win.'"
Furthermore, on his social media platform Truth Social, the former President bizarrely said "without evidence" that "he sent federal agents to Florida in 2018 to keep the state's gubernatorial election from being "stolen." "Trump said in a Truth Social post that he helped save DeSantis's campaign and sent the FBI and U.S. attorneys to the state to stop voter fraud," according to The Hill. 
The Washington Post wrote, "Vote counting did continue to reduce DeSantis's lead, but there were not enough outstanding votes to potentially alter the outcome. So the call was made, and there was no question whether he would have 'the votes necessary to win,' as Trump put it."
On Tuesday night, Governor DeSantis won a landslide victory, which sparked calls for him, not Trump, to be the nominee for president in 2024, especially after delivering what appeared to be a nationally-focused victory speech. 
On Friday, DeSantis did not take the bait and instead chose to focus on veterans. He tweeted: 
Happy Veterans Day! Our veterans have made countless sacrifices to protect our freedoms.

In Florida, we are working hard to ensure they have the resources and support they need to be successful and take care of their families. pic.twitter.com/i27J3aOcNw

— Ron DeSantis (@GovRonDeSantis) November 11, 2022
DeSantis wasn't the only recent Republican winner to receive the president's ire. Trump also weirdly attacked Glenn Youngkin, Virginia's governor. Again on his social media site, the former president said, "Young Kin (now that's an interesting take. Sounds Chinese, doesn't it?) in Virginia couldn't have won without me," Trump wrote on TruthSocial. "I Endorsed him, did a very big Trump Rally for him telephonically, got MAGA to Vote for him – or he couldn't have come close to winning. But he knows that, and admits it," Trump continued. "Besides, having a hard time with the Dems in Virginia – But he'll get it done!"
Like DeSantis, Youngkin ignored the president's comments. 
Asked about former President Trump saying Gov. Youngkin's name "sounds Chinese" and that he couldn't have won without him, @GovernorVA says he didn't see the comments. He said he does not call people names and he is focused on bringing people together @8NEWS pic.twitter.com/PlZ9aFXTWv

— Jackie DeFusco (@Jackie8News) November 11, 2022
As Trump melted down about not being coronated for the 2024 nomination following his "big announcement" next week, it also appears that Kevin McCarthy and Mitch McConnell will also be facing challenges. 
"Members of the pro-Trump House Freedom Caucus are withholding their support for House GOP leader Kevin McCarthy's speakership bid and have begun to lay out their list of demands, putting the California Republican's path to securing 218 votes in peril if the party ultimately takes the House with a slim majority.
McCarthy and his team are confident he will ultimately get the votes to be Speaker. But the conservative hardliners are emboldened by the likelihood of a narrow House GOP majority and are threatening to withhold their support – something that could imperil his bid or force him to make deals to weaken the speakership, something he has long resisted.
Rep. Chip Roy of Texas told reporters that "no one currently has 218" votes for speaker, which is the magic number McCarthy would need to secure the speaker's gavel on the House floor in January, and said he wants McCarthy to list in greater detail his plans for a wide array of investigations into the Biden administration. And Rep. Andy Biggs of Arizona complained that McCarthy seemed to backpedal on whether he'd be willing to launch impeachment proceedings into President Joe Biden or members of his Cabinet.
'I've heard from multiple of my constituents who question the wisdom of proceeding forward with that leadership,' Biggs said, adding that there needs to be a 'frank conversation' about who they elect for the top job," according to CNN.
In the Senate, it looks like Marco Rubio may be going after Mitch McConnell's job. The Washington Examiner noted, "Coming off the heels of a lackluster GOP midterm performance, Sen. Marco Rubio (R-FL) urged Republicans to postpone next week's Senate leadership vote."
Rubio took to social media to call for the delay:
The Senate GOP leadership vote next week should be postponed

First we need to make sure that those who want to lead us are genuinely committed to fighting for the priorities & values of the working Americans (of every background) who gave us big wins in states like #Florida

— Marco Rubio (@marcorubio) November 11, 2022
The Examiner continued: "Rubio, who cruised to victory in his Florida Senate reelection bid, cautioned that the party needs to reassess its leadership in the upper chamber to ensure its top brass is being a champion for working-class Americans.
Rubio serves alongside Sen. Rick Scott (R-FL), who had been gearing up a challenge against Senate Minority Leader Mitch McConnell (R-KY) and reportedly received former President Donald Trump's blessing. Since his White House departure, Trump has frequently admonished McConnell.
Scott seemingly bowed out of the race when it became unclear whether the GOP would climb back to power in the upper chamber, though he has not publicly ruled it out, according to a Politico report. With several races outstanding and Georgia heading to a runoff, it could take weeks before it's clear which party will rule the Senate."
There's an old saying that if you want a friend in Washington, get a dog. It looks like the three top Republicans may want to soon take a trip to the pet store. 
[Read More: MSNBC Pushed Fetterman For President]