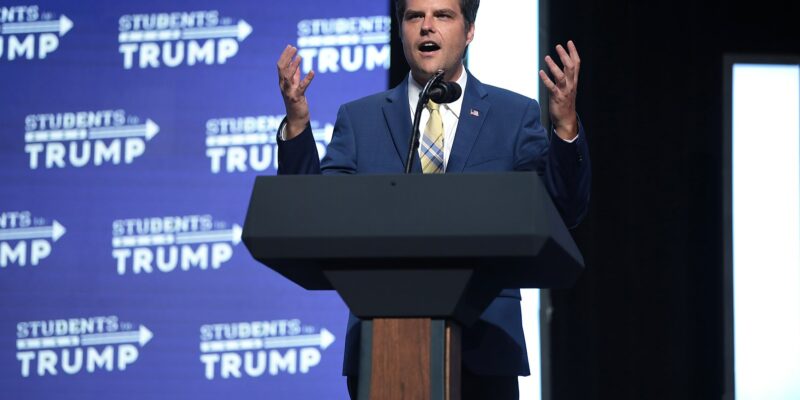 Donald Trump's loosening grip over the Republican Party took another terrible hit earlier in the week. On Tuesday, Trump endorsed yet another loser. This time he backed Kevin McCarthy to be Speaker of the House despite conservative allies begging him to sit it out. 
The Washington Post noted, "Writing mostly in capital letters on Truth Social, his social media site, Trump told House Republicans that "IT'S TIME TO CELEBRATE, YOU DESERVE IT."
"Kevin McCarthy will do a good job, and maybe even a GREAT JOB — JUST WATCH!" Trump wrote.
McCarthy, a California Republican, fell short on three ballots Tuesday for House speaker. Twenty GOP opponents of a McCarthy speakership appeared unswayed by Trump's previous endorsement.
"Some really good conversations took place last night, and it's now time for all of our GREAT Republican House Members to VOTE FOR KEVIN, CLOSE THE DEAL, TAKE THE VICTORY, & WATCH CRAZY NANCY PELOSI FLY BACK HOME TO A VERY BROKEN CALIFORNIA," Trump said."
McCarthy ended up failing to meet the threshold to become the leader of the House of Representatives on three separate votes during the chambers opening session. 
Mediate reported, "The 118th session of Congress was thrown into a chaotic start on Tuesday after three votes in which McCarthy failed to secure the 218 votes he needs to become speaker. His bid was undermined by Gaetz and other hard-right congressional conservatives who have gone rogue on the GOP leader and vowed not to vote for him.

McCarthy's failure marks the first time in a century where the House of Representatives did not elect a speaker on the first vote. Trump seemed to distance himself from McCarthy during these initial developments, saying "we'll see what happens" when asked if he would stand by the aspiring speaker.

Trump wound up taking himself off the fence on Wednesday by offering a much more declarative statement supporting McCarthy.

"Some really good conversations took place last night, and it's now time for all of our GREAT Republican House Members to VOTE FOR KEVIN," Trump wrote. "REPUBLICANS, DO NOT TURN A GREAT TRIUMPH INTO A GIANT & EMBARRASSING DEFEAT,. IT'S TIME TO CELEBRATE, YOU DESERVE IT. Kevin McCarthy will do a good job, and maybe even a GREAT JOB — JUST WATCH!"
Longtime ally Matt Gaetz made fun of the former president's request: "Sad!" Gaetz said in a statement to Fox, mocking Trump. The Florida congressman continued, however, "This changes neither my view of McCarthy nor Trump nor my vote."
"Gaetz has led the House Freedom Caucus charge against the GOP leader's speakership bid, where he and 19 other Republican members have frozen the House in opposition to McCarthy while solidifying their support behind Rep. Jim Jordan of Ohio," Fox continued.
"Jordan, however, has said that he does not want the job and endorsed McCarthy for speaker on the House floor on Tuesday, encouraging holdouts to vote for the GOP leader. Gaetz has pointed to Jordan's hesitance to seek the job as a mark of a good leader. 
Wednesday saw Trump break his silence on the contentious House speaker race that saw three ballots for the first time since 1923."
Gaetz wasn't the only Trump supporter who smacked down the former president. Lauren Boebert also called the former president "for telling her and some of her colleagues to 'knock this off' and support Rep. Kevin McCarthy for House Speaker on Wednesday."
The Colorado representative said, "Even having my favorite president call us and tell us we need to knock this off, I think it actually needs to be reversed. The president needs to tell Kevin McCarthy that sir, you do not have the votes, and it's time to withdraw."
Political commentators had a field day at Trump's expense. 
Kind of a problem for a presidential candidate.

— Stephen L. Miller (@redsteeze) January 4, 2023
Trump is on a mission to prove how little influence he has https://t.co/N8nWvs99TB

— James David Dickson (@downi75) January 4, 2023
Trump said to support McCarthy because he'll do a "good job" or "maybe a great job".

How about I support someone who I know will do a great job and doesn't have a proven track record of failure like Kevin?

— Lavern Spicer 🇺🇸 (@lavern_spicer) January 4, 2023
Kevin McCarthy was too liberal & corrupt for the 2015 GOP.

In 2023, he is counting on Trump to help him secure the Speakership.

The swamp isn't drained, it's flooded. https://t.co/1nxxH7DZLD

— Collin Pruett (@pruett_collin) January 4, 2023
The Daily Caller pointed out that Trump's endorsement of McCarthy might be the most loyal to anyone in politics. 
This is the most loyal we've ever seen Trump be to someone https://t.co/UaKDz8n1k9

— Daily Caller (@DailyCaller) January 4, 2023
Rolling Stone pointed out that the endorsement of "another doomed Republican" reflects how the former president has seemingly lost his political touch. It documented how Trump has "largely been blamed for the party's disastrous midterm performance after hand-picked candidates like Mehmet Oz, Herschel Walker, and Blake Masters bombed in high-profile races. His 2024 presidential announcement, which he delayed because of the midterm debacle, was a dud. He's been holed up in Florida — where Ron DeSantis' presidential prospects continue to grow — trotting out bizarre money-making schemes as his campaign reportedly struggles to raise money.
The Word of Trump is no longer gospel, even to Freedom Caucus members like Matt Gaetz who have burnished their brand worshiping at his feet. The House will vote for speaker again on Wednesday. Trump's all-caps endorsement isn't likely to move the needle. In fact, it wouldn't be surprising if McCarthy loses even more support."
The question remains: If Donald Trump can't even keep hardcore supporters like Matt Gaetz in line on a meaningful vote in the House of Representatives, who exactly does he have in his corner?
[Read More: Major Democratic Figure Hits Biden On Immigration]