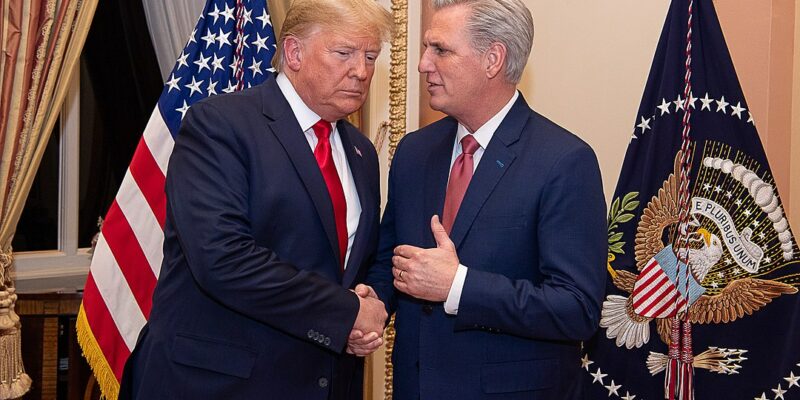 Update 1/3/2023:
Things have gotten "hostile" in the Republican House caucus. Fox News reports, "Rep. Lauren Boebert, R-Colo., muttered "this is bulls—" under her breath during a House GOP Conference meeting Tuesday regarding House Minority Leader Kevin McCarthy's bid for speakership.
The comment, which a Boebert spokesperson told Fox News Digital was not yelled or said into a microphone, came Tuesday morning as McCarthy, R-Calif., delivered a speech aimed to unite his party ahead of the leadership vote. McCarthy faces opposition for speaker from Boebert, Rep. Matt Gaetz, R-Fla., and members of the House Freedom Caucus, who claim he has not proven to be worthy to be speaker of the new Republican majority.
Rep. Bob Good, R-Va., said the House Republican meeting was "hostile," and that McCarthy's attempt to persuade hard-line Republicans to vote for him fell flat.
"The meeting was very hostile and I don't think it did anything to persuade those who are inclined to vote against Kevin McCarthy," Good told Fox News. Good is one of five Republicans who have said they cannot vote for McCarthy."
Original Story
Today is the day for Kevin McCarthy, and from the sounds of it, things may still be up in the air when it comes to the California Republican becoming the next Speaker of the House. As of January 2, McCarthy's vote operation looks to still be short. 
The Daily Caller wrote, "With less than 24 hours before the 118th Congress gavels in, a small group of House Republicans are still pledging to kill a Kevin McCarthy speakership in the cradle.

With 222 Republican representatives, California Rep. Kevin McCarthy can afford only four defections. Five Republicans are maintaining opposition to him, and nine others have signaled that the Californian's rule change promises are insufficient to earn their support. McCarthy's concession, which would allow any five members to present a motion remove the Speaker, has not swayed his opponents, although it has frustrated some of his moderate supporters. Under current rules, only the majority or minority leader can introduce a motion to vacate the Speaker's chair.

"Even after the McCarthy Machine's attempts to whip votes and smear my name for several weeks, McCarthy is still well short of the 218 threshold," Republican Arizona Rep. Andy Biggs, who is challenging McCarthy for the gavel, told the Daily Caller. "Our party still requires new leadership and I will continue to oppose McCarthy on Jan. 3.

Thirty-one members and members-elect voted for Biggs in a November full-conference vote, but McCarthy and his team still have not contacted all of Biggs' supporters. At least two members who cast ballots for Biggs have not been whipped, according to a source with direct knowledge of the effort. Neither member has publicly supported or opposed McCarthy."
McCarthy's team has bent over backward to try and ensure his victory on Tuesday. Politico reported, "Kevin McCarthy has made perhaps his biggest concession so far to the band of conservatives standing in the way of his path to Speaker. Yet it's not clear if it will be enough to clinch his gavel.
In a lengthy conference call on Sunday, McCarthy and his team informed members that he would lower the barriers for rank-and-file members to attempt to depose a sitting speaker, a change that some GOP lawmakers have warned could weaken their leadership team. If adopted, the new rule would allow five members of the House majority to force a vote of no-confidence in their leader — a long-time demand of the party's right flank.
That tweak is part of a broad slate of GOP rule changes that McCarthy's leadership team unveiled Sunday night. Approving new rules will be one of the first acts of the GOP's majority later this week. But first, Republicans have to elect a speaker — and McCarthy's slim margin for error has emboldened many conservatives in their push for reforms.
'The simple fact is that Congress is broken and needs to change," McCarthy wrote in a letter to his members, citing party leaders' increasingly centralized power that has "relegated members of both parties to the sidelines, with mammoth bills being drafted behind closed doors and rushed to the floor at the last minute for an up-or-down, take it or leave it vote.'"
Although very esoteric and procedural, the House rules are a crucial aspect for how Congress passes laws. In the case of McCarthy, the changes to the rules, in the words of one commentator, hands "a knife to his skeptics, allowing for five to call a no-confidence vote to boot him at any time."
The Washington Examiner listed some of the major changes offered by McCarthy: 

Lowering threshold on motion to vacate the chair

McCarthy made a major concession in lowering the threshold on the motion to vacate the chair — a procedural tool used to oust a sitting speaker that was used by members of the House Freedom Caucus to pressure former Speaker John Boehner (R-OH) to step down. Under new rules, just five GOP members could force a vote on ousting the Speaker — a compromise from just one member as hardliners wanted but lower than at least half the GOP conference that the House GOP conference initially adopted in November.

Fiscal changes with bringing back Holman Rule

Cuts to spending and bringing back a mechanism known as the "Holman Rule" to permit members to make targeted cuts to specific bureaucrats' salaries were key components in conservatives' demands in exchange for the support of the next Speaker of the House.

Reopening the Capitol and elimination of pandemic protocols

Pandemic-era changes put in place during the 117th Congress will largely go away, with remote committee work and proxy voting slated to be axed.

Eliminating staff labor unions

Democrats allowed congressional offices to unionize last year, with proponents arguing it was a step in the right direction for workers' rights. But Republicans largely slammed the move, arguing that the change could lead to unintended consequences. With the GOP set to take over, the new rules package vows to eliminate "staff labor unions so that Congressional staff are accountable to the elected officials they serve."
Conservatives in the caucus, however, seem unconvinced.
JUST IN: New letter from conservatives says McCarthy hasn't gone far enough.

Notably, the letter also says that McCarthy has not addressed the leadership "working to defeat conservatives in open primaries."

Speaker election is Tues and 9 Rs are still skeptical. pic.twitter.com/DDgIBjPAkk

— Jake Sherman (@JakeSherman) January 2, 2023
In a letter, the conservative holdouts "objected to Mr McCarthy's bid. Other signatories to the letter include Representatives Dan Bishop of North Carolina, Andrew Clyde of Georgia, Paul Gosar of Arizona and Andy Harris of Maryland, as well as Representatives-elect Anna Paulina Luna of Florida, Eli Crane of Arizona and Andy Ogles of Tennessee, The Hill reported on Sunday.
'The times call for [a] radical departure from the status quo — not a continuation of past and ongoing Republican failures,' the letter said. 'For someone with a 14-year presence in senior House Republican leadership, Mr. McCarthy bears squarely the burden to correct the dysfunction he now explicitly admits across that long tenure.'
The group said Mr. McCarthy addressed previous concerns from conservatives in his 'Restoring the People's House and Ending Business as Usual' plan, but said the promises came too late.
'There continue to be missing specific commitments with respect to virtually every component of our entreaties, and thus, no means to measure whether promises are kept or broken,' the group wrote.
As NCP noted earlier in the month, Representative Bob Good has said he has a plan to stop McCarthy. Politico said that it "learned that Good & Co. are formulating a plan for the Jan. 3 speaker vote. Anti-McCarthy members are currently plotting to back Rep. Andy Biggs (R-Ariz.) on the first ballot, he said, to prove McCarthy can't get the gavel. But once the second ballot is called, they'll begin coalescing around another, unnamed candidate — a GOP lawmaker most have already agreed upon, Good said, but will not name for fear of hurting this person's candidacy."
On Fox, Good recently doubled down on his mystery candidate. 
Rep. Bob Good says unequivocally on Fox & Friends that he won't vote for Kevin McCarthy for speaker, then says of an alternate candidate, "you'll see that name tomorrow on the second ballot" pic.twitter.com/I3ollpJw8A

— Aaron Rupar (@atrupar) January 2, 2023
U.S. News recently published a good explainer of how a Speaker gets elected and what the process will look like on Tuesday. When asked by a reporter what he expects to happen, "I think we'll have a good day tomorrow," McCarthy said.
[Read More: Biden Yawns As Potential Terrorist Attack in NYC Stopped]