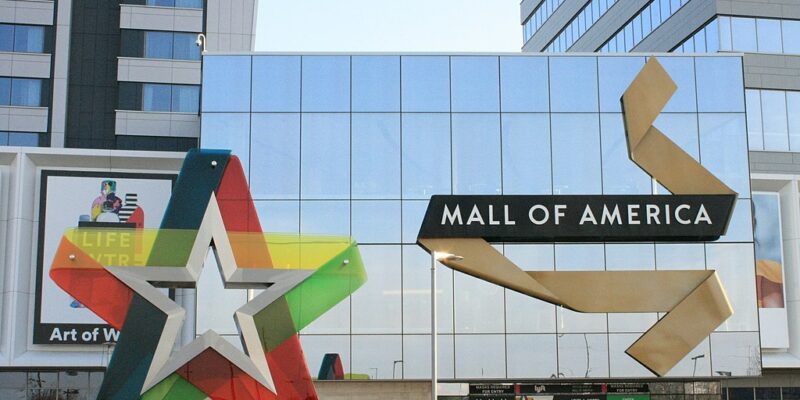 It appears that simply wearing a shirt mentioning Jesus has become too much for some. While visiting the Mall of America, the nation's largest mall, Paul Shoro's shirt saying "Jesus Saves" received a stern warning from mall security. He was told he had to take his shirt off because it was offending people. 
Video of the incident has gone viral after a bystander Kameko Rawls filmed Shoro being accosted by security. 
The Daily Signal writes, "In the video of the incident on Saturday, Jan. 7, a security guard tells Shoro, "I understand that, but Jesus is associated with religion and it's offending people."

"People have been offended," the guard adds. "Like I said, all we're asking you is to take your shirt off, and you can go to Macy's."

"I didn't speak, I didn't say anything," Shoro replies.

"Take the shirt off, and you can go to Macy's and you can do your shopping, or you can leave the mall," the guard responds. "OK? Those are your only options right now."

"The guest referenced in the video was approached by Mall of America security on January 7, 2023," the mall told The Daily Signal in an email statement. "One week prior, he was issued a 24-hour trespass for soliciting guests. After a brief interaction, the guest was not required to change his shirt and was allowed to remain at the Mall."
A spokesperson for the Mall of America, reported The New York Post, said that a week prior to the T-shirt incident, Shoro was "issued a 24-hour trespass for soliciting guests."
Mall policy forbids 'picketing, demonstrating, soliciting, protesting or petitioning' on the premises.
The security guard said the man's religious tee still counted as soliciting even if he was not actively preaching. 'Again, sir, it is religious soliciting,' he told him in the video. 'There is no soliciting allowed on mall property, which is private property.'"
The Mall of America's security rules can be found on its website and state: 
Conduct
Conduct that is disorderly, disruptive or which interferes with or endangers business or guests is prohibited. Such conduct may include but is not limited to:

Running, loud offensive language, spitting, throwing objects, fighting, obscene gestures, gang signs, skating, skateboarding or bicycling

Intimidating behavior by groups or individuals

Loitering, engaging in soliciting, blocking storefronts, hallways, skyways, fire exits or escalators, or walking in groups in such a way as to inconvenience others 

Picketing, demonstrating, soliciting, protesting or petitioning 
Clothing/Attire
Appropriate attire, including shirts and shoes, must be worn. Inappropriate attire may include, but is not limited to:

Apparel that has obscene language, obscene gestures or racial/religious/ethnic slurs that are likely to create a disturbance

Clothing that deliberately obscures the face, such as hooded tops or masks 

Bulletproof vests or simulated bulletproof vests
I automatically assumed this was overseas, but it's right here in America. pic.twitter.com/Q79eUCG7xh

— John Mason (@LivingGodsTruth) January 12, 2023
He should sue them into oblivion. This wouldn't have happened anywhere in the U.S. until very recently, and it certainly wouldn't have happened if he'd had a pride shirt on and even 50 people complained.

— Chase Thompson (@pastorchaset) January 13, 2023
Shoro told The Christian Post, "A couple weeks they find out that I am doing this and they warn me, do not do it again and I was really very angry because, I mean, they allow tens of thousands of people in that mall. You know, it's the biggest mall in America. So I was so mad because they stopped me from preaching the Gospel."
The outlet explained, "During the recently concluded Christmas holiday season, Shoro explained that he was suspended for 24 hours for handing out tracts.
The day the mall security told him he needed to take off his shirt he said he told them, 'I'd rather go to jail or I'd rather die.'
He said the Lord eventually sent an officer to intervene on his behalf. After the officer spoke to the security guards, he was told that he was 'good to go' in the mall with his shirt intact."
The incident comes as the Mall of America reevaluates its security protocols following a deadly incident during the Christmas shopping season. The New York Times reported, "On one of the busiest shopping days of the year, a verbal altercation between two groups of young men quickly escalated to gunfire inside the Mall of America on Friday night, turning the sprawling retail and entertainment complex in Bloomington, Minn., into a chaotic crime scene where a 19-year-old lay dead, the authorities said.
The shooting came at a precarious moment for the mall, the nation's largest, which has been considering new safety measures, including the installation of metal detectors, at a time of rising concern over gun violence.
The chief of the Bloomington Police Department, Booker Hodges, said he could not recall another fatal shooting at the immense mall, which welcomes millions of visitors every year with its hundreds of stores and attractions like the indoor theme park Nickelodeon Universe and the Sea Life Aquarium."
Mall of America is located in Bloomington, Minnesota just outside the Minneapolis–Saint Paul metropolitan area. Opening in 1992, the mall is the largest in the Western Hemisphere and eleventh-largest shopping mall in the world.
[Read More: Beto Goes To College]