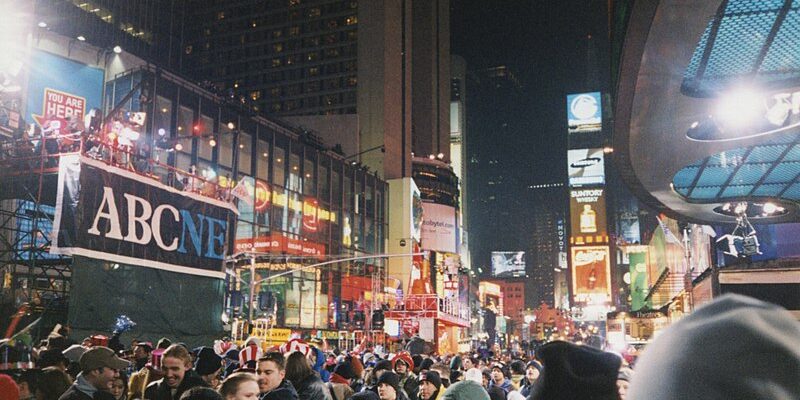 An NYPD officer had the worst possible first day on the job when he was attacked by a terrorist with a machete during the Times Square New Years Eve countdown. "The attack happened just after 10 p.m. about eight blocks from Times Square, just outside of the high-security zone where thousands of revelers were screened for weapons as they prepared to ring in 2023.
Trevor Bickford, suspected of stabbing two NYC police officers near the Times Square ball drop on New Years Eve, was "being watched by the FBI's counterterrorism task force" prior and may have "expressed interest in going to Afghanistan," per FOX News. https://t.co/L0Ci6GOsnX pic.twitter.com/8QVLuYJSKH

— Bird Fish Bell Tree (@BFBT_) January 1, 2023
Trevor Bickford, 19, of Wells, Maine, allegedly approached the officers on 8th Avenue between 51st and 52nd streets armed with a large knife that he used to slash two of them, Commissioner Keechant Sewell said at an overnight press conference, reports The Daily Mail. 
The outlet stated that investigators believe the attack could have been motivated by Islamic extremism. At the time of this writing, the White House had yet not issued a statement on the attack.
The New York Post wrote, "The officer — who graduated Friday and was assigned to a Staten Island precinct but was working the New Year's Eve detail for the night — was stationed at West 52nd Street and 8th Avenue when the machete-wielding madman approached him and two other officers around 9:30 p.m., NYPD sources told The Post.

The post was outside the area attendees were being screened for weapons, Police Commissioner Keechant Sewell said at a press conference early Sunday.

The rookie cop was slashed in the head, prompting another cop to shoot the suspect. The rookie cop, identified by Mayor Eric Adams as Paul, was struck on the head, prompting another cop to shoot the suspect, striking him in the shoulder, the sources said. Paul suffered a large laceration and skull fracture, Sewell said.

One of the other cops, an eight-year veteran, was also struck on the head with the weapon and suffered a laceration."
BREAKING NEWS: Two NYPD officers stabbed, One Officer was stabbed in the head during New Year's Eve celebrations at Times Square. #Manhattan #nypd #stabbing #fdny #TimesSquare #NewYear #balldrop #HappyNewYear #NewYorkCity #nyc #newyork #BreakingNews #Police pic.twitter.com/EMzINArTLp

— NY Actions (@NY_ACTIONS) January 1, 2023
The Biden administration has recently moved away from focusing on terrorism from Islamic radicals, instead focusing on "white supremacy" and "militias."
The White House released a fact sheet on national security and domestic terrorism earlier in the year: "On his first full day in office, President Biden directed his national security team to lead a 100-day comprehensive review of U.S. Government efforts to address domestic terrorism, which has evolved into the most urgent terrorism threat the United States faces today. As a result of that review, the Biden Administration is releasing the first-ever National Strategy for Countering Domestic Terrorism to address this challenge to America's national security and improve the federal government's response.
The review was rooted in an expert assessment of the domestic terrorism threat provided by the intelligence and law enforcement communities. An unclassified summary of that assessment was released in March so the public could see the key findings. It found that the two most lethal elements of today's domestic terrorism threat are (1) racially or ethnically motivated violent extremists who advocate for the superiority of the white race and (2) anti-government or anti-authority violent extremists, such as militia violent extremists.
The work of Federal law enforcement as well as our state, local, tribal, and territorial law enforcement partners is critical to countering domestic terrorism. The U.S. Government will increase support to Federal, state, and local law enforcement in addressing domestic terrorism nationwide. U.S. Attorney's Offices and FBI field offices across the country have formally made domestic terrorism a top priority and are tracking comprehensively domestic terrorism-related cases, reallocating or requesting appropriate funding and resources as needed to target the threat. That includes over $100 million in additional resources for DOJ, FBI, and DHS included in the President's Fiscal Year 2022 Budget to ensure that the Federal Government has the analysts, investigators, prosecutors, and other personnel and resources it needs to thwart domestic terrorism and do justice when the law has been broken. State, local, tribal, and territorial law enforcement will have access to increased intelligence sharing and training on domestic terrorism and associated threats. DOJ is closely examining whether new legislative authorities that balance safety and the protection of civil liberties are necessary and appropriate."
The Biden Administration has used a broad definition of "domestic terrorism" to attack their political opponents. In 2021, Attorney General Merrick Garland labeled parents protesting at school boards as "domestic terrorists." Throughout 2022, the DOJ has gone after pro-lifers under a similar rubric, sending SWAT Teams to kick in their doors and haul them off to jail.
[Read More: Harris 'Insecurities' Causing Dysfunction, Biden Notices]