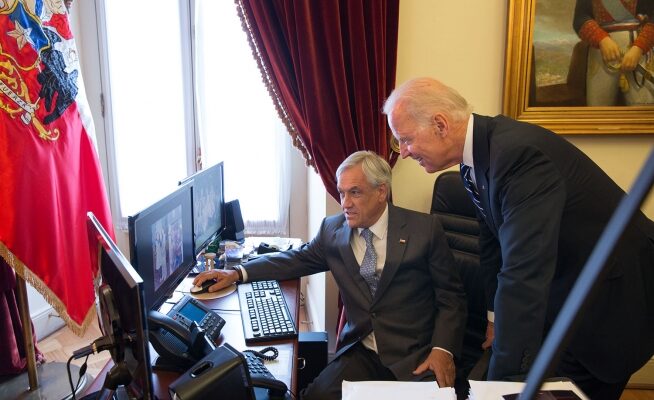 Over Christmas, the White House revealed how the portrayal of Joe Biden as the loving and doting grandfather is an invention based solely on whether or not the grandchildren can be viewed as a political nuisance. NCP reported, "The president's love for family, however, only comes so long as it isn't a political liability, which is why once again, the White House has left the youngest Biden granddaughter out in the cold this Christmas.
While the Biden Family made a huge display of their stockings hanging up in the White House, The New York Post noticed Navy Roberts, Hunter's daughter, was missing. "For the second straight year, the Biden White House's holiday display did not include a stocking for first son Hunter Biden's out-of-wedlock daughter.
First lady Jill Biden unveiled photos of the first family's Christmas decorations on Monday, complete with 77 Christmas trees bearing more than 83,000 lights and stockings hanging over the mantle in the State Dining Room for the Biden grandchildren — with one notable exception.
Hunter and ex-wife Kathleen Buhle's three daughters Naomi, Finnegan and Maisy were represented — along with Naomi's new husband Peter Neal as well as Natalie and Hunter, the two children of the late Beau Biden and his widow Hallie.
Still, another stocking bore the name 'Baby,' an apparent reference to Hunter's two-year-old son Beau with second wife Melissa Cohen, while the last two were set aside for first dog Commander and first cat Willow." 
Despite bearing a "striking resemblance" to her infamous father, Navy is currently being raised alone by her mother, Lunden Alexis Roberts, in Arkansas. The little girl's grandfather has not provided her access to Secret Service protection like the rest of the Bidens clan despite receiving threats to her life from her mother's ex-fiancé, a cage fighter named Princeton Foster. 
It looks as if Lunden may finally be tired of being ignored by the First Family. Breitbart writes, "A child fathered by Hunter Biden may have her last name changed to Biden if a court appeal filed Tuesday by the girl's Arkansas mother succeeds.
The case was reopened in September when the son of President Joe Biden sought child support payment adjustments due to "substantial material change" in his "financial circumstances, including but not limited to his income."
Breitbart News reported, Hunter Biden previously sought to have child support payments for the daughter he conceived with Roberts lowered, citing financial hardships.
According to court documents, Biden claimed 'financial circumstances' made him unable to meet the initially agreed upon child support payments for his now four-year-old daughter, Navy Joan, who he has not yet met."
It may come as no surprise that Hunter Biden is stretching the truth about his financial circumstances in order to game the system for money.
The Hill has noted, "The Secret Service is spending more than $30,000 each month renting out a Malibu mansion in California to protect President Biden's son Hunter Biden, according to a new report by ABC News.
Hunter Biden, who is under federal investigation for his foreign business dealings, has been staying in Malibu throughout his father's presidency, spending $20,000 of his own wealth each month to rent out a mansion, according to the report. The Secret Service, the agency responsible for protecting the president and his family, spends even more money per month on a mansion nearby to protect him." 
Furthermore, Hunter's fledgling art business seems to be taking off, despite him having no experience. The New York Post recently reported that a gallery in New York City is selling a painting by the Crown Prince of the Biden Family for the price of a house, despite the First Son claiming he can't afford child support. The newspaper said, "The most expensive artwork at the first son's new SoHo show is priced at $225,000 — and already has two interested buyers, The Post has learned.
On Saturday, a gallery worker refused to give The Post details on the potential buyers of the untitled, 57×98 inch, mustard-yellow floral painting on Yupo Japanese paper.
President Biden's scandal-scarred son sold two other works a day after his second solo art show opened at the Georges Berges Gallery Friday."
The White House claims that there are safeguards against Hunter Biden's corruption and what some have called "the Big Guy" in the White House.
Navy and her mom may soon get the last laugh, however. 
The local Northwest Arkansas Democrat Gazette stated, "According to the filing submitted Tuesday by attorney Clinton Lancaster, the baby would 'benefit from carrying the Biden family name," and that the "Biden name is now synonymous with being well educated, successful, financially acute, and politically powerful."
The filing cited President Biden, his wife Jill Biden and Hunter's Biden's late brother, Beau, as examples.
It says the Biden family remains 'estranged from the child. To the extent this is misconduct or neglect, it can be rectified by changing her last name to Biden so that she may undeniably be known to the world as the child of the defendant and member of the prestigious Biden family.'
Navy Biden will likely be harder to ignore than Navy Roberts, but only time will tell if Grandpa Joe will continue to ignore his granddaughter or if he will finally stop acting, in the words of one DC newspaper, like "Grandpa Grinch." 
[Read More: Biden Paranoid About Secret Service]