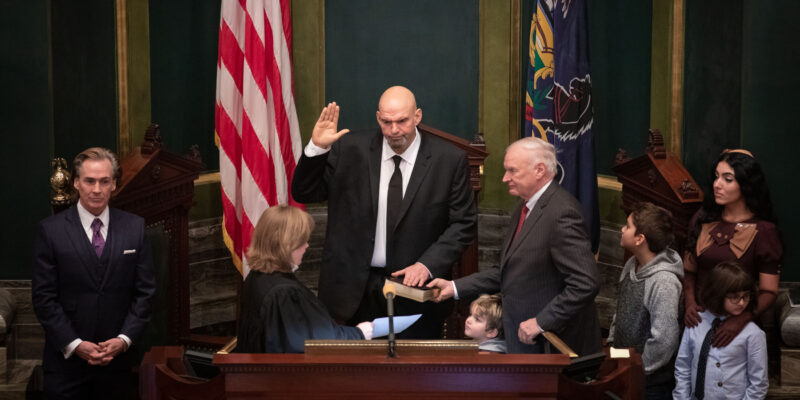 Whenever there's an unexpected political victory after a long campaign, there's always incredible enthusiasm for the winner to immediately try for higher office. Ten years ago, for example, after Scott Brown won a stunning victory in Massachusetts to replace Ted Kennedy in the Senate, online activists and members of the media began to speculate that he should run for president in 2012. 
Glenn Younkin won a surprising victory in Virginia last year and, once again, his name began to be mentioned for president before he had even been inaugurated as governor.    
There's falling for a brief moment of excitement in the afterglow of a winning campaign and then there's a getting high on your own supply. Earlier in the week, MSNBC did the latter. 
Breitbart reports, "During MSNBC's election coverage on Wednesday, host Katy Tur raised the possibility of Pennsylvania Lt. Gov. John Fetterman (D), who just won the state's U.S. Senate election, being a nominee for president at some point in the future, although she acknowledged there are some variables, obviously.
Tur said, "Fetterman, as a nominee, at some point, for president, I know there are some variables, obviously. Just a few. But I just — you know, what he did in the super red, deep red parts of Pennsylvania and the way that he ran ahead of Biden…ran ahead of Trump, I mean, it just makes — it makes you wonder about his future.'"
Fetterman for president?

Katy Tur admits, "I knows there's some variables, obviously … but it makes me wonder about his future."https://t.co/oTBh31p3vO

— The Upper Cut (@georgeupper) November 10, 2022
The "obvious variables" here are the fact that the man, who only ever wears a hoody and looks like a slob, recently had a stroke and can barely comprehend small talk or even debate. To hide this fact, Democrats had to exploit the disabled to make him seem normal. 
Before giving him the keys to the White House, Democrats might want to see if he can give a speech on the Senate floor first. 
Not to be outdone, co-hosts Jose Diaz-Balart and Chris Jansing took things even further. After showing a video montage of Democrats who the media loved who got crushed by Republicans, they asked political analyst Elise Jordan who might be awarded for their loss by receiving a promotion. Diaz-Balart asked, "So, it's kind of tough to put them all in one bucket, but I'm just wondering, so Elise, what happens to some of the candidates that we've been seeing that have had a national voice for so long and now are facing defeat?" 
Chris Jansing: "A top Democrat suggested to me, watch for Tim Ryan years in the future to run for president."

MSNBC panelist: "What about if we pair up Liz Cheney and Stacey Abrams?… That would be exciting." pic.twitter.com/lsrTvPiWw7

— Washington Free Beacon (@FreeBeacon) November 10, 2022
Newsbusters wrote, "Despite the fact that she has now lost twice, Jordan still believed there was a possibility for Stacey Abrams to get a promotion, "Well, Stacey Abrams I think is in a category of her own just because of the operation she built in Georgia that Democrats are relying on to bring home another Senate seat in this runoff and she seems like she would be on a glide path to a really plumb Biden Administration post just because of her visibility and her success in Georgia."

She was less optimistic on Beto O'Rourke, another two-time loser, "I really wonder because now he's had two pretty big losses statewide in Texas and I don't really see where he runs again in Texas where the apparatus would get behind him for another go around."

As for other Democrats who have gone down to defeat, co-host Chris Jansing presented President and CEO of Voto Latino and frequent MSNBC substitute host Maria Teresa Kumar with another set of names, "Let me throw out a couple of other names if I can. So, you got Val Demings right, you've got Liz Cheney, Cheri Beasley, Tim Ryan. A top Democrat suggested to me, watch for Tim Ryan in years in the future to run for president. I mean, I don't know. Do you count these folks out? Is– are many of them maybe the right candidate in the wrong state?"

While it is difficult to imagine a second Ryan presidential campaign being any more successful than the first, Kumar's brain was going wild with other possibilities, "What about if we pair up Liz Cheney and Stacey Abrams and start talking about universal voting and election reform? I could see them doing, kind of, a czar thing with the administration that's completely bipartisan. That would be exciting."
This kind of sentiment shows how much grifting has become part of running for the White House. Too many politicians no longer want to serve and have any intention on actually winning, but instead see running, and wasting millions of dollars doing so, as a way to boost their image and get publicity for whatever they hope to do next. For them, the operative word in the term "public service" is "public" and their friends in the media love nothing more than boosting them when they have a chance to feed the hype machine.
Chances are Stacey Abrams will continue to do what she's already been doing: raking in millions of dollars grifting from donors who can't comprehend why she's now lost two elections to Brian Kemp. 
As for Liz Cheney, it's hard not to see her being given a board seat on some company. She allegedly "has a number of powerful, deep-pocketed allies, including the Koch Network, the LinkedIn founder Reid Hoffman, and Citigroup C.E.O. Jane Fraser." Then again, she could also just follow in her dad's footsteps and just go to Halliburton. 
I wouldn't cry too hard for Liz Cheney. In the least, she might be done in elective politics, but she's going to be just fine being on TV as the standard "Republican who doesn't like Republicans." 
One thing is pretty certain, though: losing is not the way to becoming president for either of them, no matter how much wishcasting the media does. 
[Read More: Conservatives Have Had Enough Trump]