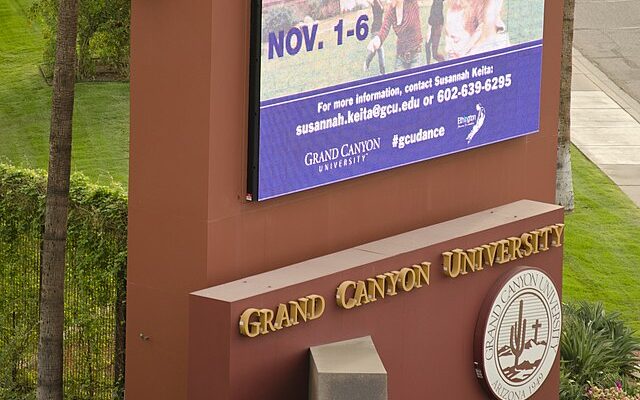 Over the past few years, the Biden Administration has weaponized the government against those it views as enemies. Whether it is sending SWAT teams to arrest pro-lifers and terrify their families or deploying the FBI to investigate Catholics who prefer Latin Mass, the White House has routinely crossed the line when it comes to religious liberty and free speech. 
The latest victim in this onslaught from the hard left pulling the levers of the federal machinery is a private, Christian university in Arizona. 
Inside Higher Ed writes, "Grand Canyon University is alleging that three federal agencies have coordinated their investigations to "unjustly target" the institution for "political or ideological reasons we don't understand." It's the latest development in a years-long dispute between the university and the Education Department over its bid to become a nonprofit.
The university says it is feeling attacked on several fronts, with multiple federal agencies or oversight bodies—including the Education Department, the Federal Trade Commission and a state arm of the Department of Veterans Affairs—questioning its practices.
In a lengthy statement posted on its website Thursday and also sent to media outlets, Grand Canyon officials provided detailed responses to those investigations or findings and outlined their own allegations that the agencies are retaliating against the university for its 2021 lawsuit against the Education Department.
A federal judge ruled late last year that the department acted lawfully. Grand Canyon has appealed that decision. In the wake of the lawsuit, Grand Canyon officials wrote that they received "broad requests for voluminous amounts of information and records about our operations" from federal agencies."
"By intentionally mis-classifying GCU as a for-profit institution for purposes of federal student aid, ED is now able to target the university as part of a coordinated effort … to 'pursue the full range of sanctions' against for-profit institutions that they frequently decry as bad actors due to the disproportionate number of Americans who attended those schools and then defaulted on federal student loans," the university president, Brian Mueller, said in a statement.
The dispute revolves around the Biden administration's obsession with for-profit colleges. Earlier in the week, the Education Department finalized a regulation that cuts off federal student aid to vocational programs whose graduates consistently have high loan payments relative to their income. However, if you went to a traditional university, one that steers students towards Democrats, the White House will try to forgive your student loan. 
The administration's attack against Grand Canyon University goes back to 2018 when the university, then a for-profit school, switched to nonprofit status amid record enrollment. The university has become one of the largest Christian universities in the country.
"The switch, which was made with the IRS, has not been recognized by the Department of Education, which continues to classify the school as a for-profit entity, and included the school on a list of colleges eligible for student loan forgiveness under legal settlement. That settlement was for a case brought by students who attended for-profit colleges and had alleged they had been defrauded when taking out student loans," writes The Washington Examiner.
Grand Canyon University has since sued the department, seeking to be recognized as a nonprofit institution. Without nonprofit status, the school will continue to miss out on a wide swath of benefits, including increased federal funds, that are typically reserved for nonprofit institutions.
The Biden administration has made oversight of for-profit institutions a major focus, decrying such schools as malignant actors that benefit from federal funds but leave graduates saddled in debt and without substantially improved career prospects. The Department of Education recently finalized a regulation called the "Gainful Employment" rule that tightens oversight of such schools.
Grand Canyon University President Brian Mueller told the Washington Examiner in an interview that the school has faced a flurry of investigations from three agencies in the years since it switched its IRS status. The investigations have centered on complaints typically made against for-profit institutions, namely that the school has misrepresented itself to students and has not sufficiently provided graduates with a return on their investment."
"They started these investigations that were basically fishing expeditions," Mueller told the newspaper. "They weren't accusing us of anything specifically, but they were requesting thousands and thousands and thousands of files, documents, etc., and they looked for what they thought they could find."
Newsmax reported that the school president sees the obvious taking happening–the school is being targeted because it is conservative, but like most people in a fight with these agencies, acknowledged there is no way to prove that's what is going on without Congressional oversight. 
"We're well supported locally in our state by both Republicans and Democrats and so people say, 'Why are they doing this? Is it ideological? Is it political? Is it religious?'" he said. "The answer is, We don't know," adding that the usual questions about student complaints are high default rates, high debt amounts, inferior facilities, inferior faculty, and lack of jobs for graduates to the university.
"We have stellar marks in all those areas," Mueller said. "There's just no reasonable explanation for why this is happening."
The Examiner said that they reached out to the Federal Trade Commission and Department of Veterans Affairs for comment, but both decline because of its "ongoing litigation." 
A spokesperson for the Department of Education responded to local outlets by saying, "We take our oversight obligations seriously, follow the facts where they lead, and will not be dissuaded from enforcing the law and protecting students, taxpayers, and the federal student aid program." 
The administration has remained silent on the fact that left-leaning institutions of higher education continue to be the primary driver of student loan debt. 
[Read More: Hillary Goes Full Fascism]