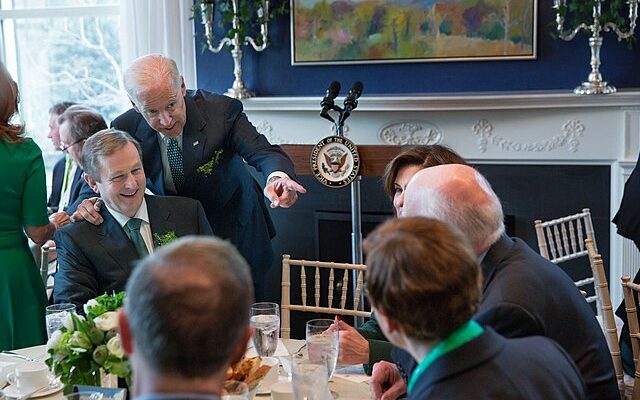 Joe Biden has continuously said he had nothing to do with his son Hunter Biden's shady business dealings. Throughout the campaign in 2020, he repeatedly denied he ever even spoke to his son about what he was doing. 
Then, as more and more evidence came to light showing the he was lying, President Biden doubled down last month. Newsweek wrote that "Pesident Joe Biden…had a brief response when asked by a Fox News reporter if he lied about keeping his distance from the business dealings of his son, Hunter Biden.
The younger Biden has been the subject of GOP ire and conspiracy theories for years, with the current Republican-controlled House Oversight Committee launching an investigation into his business with foreign entities in countries like China and Ukraine.
Conservatives have accused him of using his father's political power to his own benefit in these dealings, with some also accusing President Biden of taking part in said dealings, despite minimal definitive evidence, an accusation which he has consistently denied, stating that he never discussed his son's business matters with him.
As he departed the gathering, he was asked by Fox News White House correspondent Jacqui Heinrich whether or not he lied about not discussing business dealings with his son. Biden cut to the point.
'No,' the president said."
On July 31, one of Hunter's close business associates and a close friend is going to testify under oath that the president of the United States has been lying to the public. At least three previously planned dispositions by Devon Carcher were canceled for personal reasons, but now he'll take the stand.
Hunter Biden would dial in his father, then-Vice President Joe Biden, on speakerphone into meetings with his overseas business partners, according to testimony expected before Congress this week from Devon Archer, the first son's former best friend, reports Miranda Devine of The New York Post.

Archer, 48, who is facing jail for his role in a $60 million bond fraud, is scheduled to testify to the House Oversight Committee about meetings he witnessed that were attended by Joe Biden either in person or via speakerphone when Hunter would call his father and introduce him to foreign business partners or prospective investors.

"We are looking forward very much to hearing from Devon Archer about all the times he has witnessed Joe Biden meeting with Hunter Biden's overseas business partners when he was vice president, including on speakerphone," said Rep. James Comer (R-Ky.), the committee chairman.

One such meeting was in Dubai late in the evening of Friday, Dec. 4, 2015, after a board meeting of the Ukrainian energy company Burisma, which was paying Hunter $83,000 a month as a director.

Archer, who also was a director, is expected to testify that, after dinner with the Burisma board at the Burj Al Arab Hotel, he and Hunter traveled six miles north to the Four Seasons Resort Dubai at Jumeirah Beach to have a drink with one of Hunter's friends.
On Monday, the White House Press Secretary seemed to be changing the official tune from Camp Biden. No longer are they claiming the president "never spoke" to Hunter about his businesses. Instead, now the president is saying he "was never in business with his son."
White House @PressSec says Biden "was never in business with his son" but does not actually say whether he was put on speakerphone when Hunter was conducting business and introduced to partners.

— Peter Baker (@peterbakernyt) July 24, 2023
The House Oversight Committee subpoenaed Archer to speak as House Republicans continue to investigate whether the Bidens used the influence then-Vice President Biden had in the White House to elicit these deals and other alleged Biden family corruption. The committee told Fox News it believes the president communicated in some form with Hunter Biden's business associates. 
Archer's testimony is expected to verify previous reporting that Joe met with Hunter's shady foreign business partners several times.  
"A Fox News Digital review found that Biden personally met with several of Hunter's business associates from the U.S., Mexico, Ukraine, China and Kazakhstan over the course of his vice presidency.
Joe Biden met with two of Hunter's since-dissolved investment fund partners, former Colombia President Andrés Pastrana Arango and Eric Schwerin, at the Naval Observatory — the official residence of the vice president — on March 2, 2012, the New York Post reported.
According to emails reviewed by Fox News Digital, the elder Biden also met with two of Hunter's Mexican business associates, Miguel Aleman Velasco and Miguel Aleman Magnani, when they visited the West Wing on Feb. 26, 2014. Joe and Hunter Biden also gave Velasco and Magnani a tour of the White House Brady Press Briefing room.
Joe, Hunter, and Hunter's business partner Jeff Cooper hosted another meeting at the Naval Observatory, located at Number One Observatory Circle in Washington D.C., for Slim, Velasco and Magnani on Nov. 19, 2015."
Emails show also Hunter arranged a video conference between his father and Carlos Slim, a Mexican billionaire with whom Hunter sought to work with. 
During his defense in a 2018 criminal trial, Archer's lawyer argued that Hunter Biden "was part of this deal," according to former federal prosecutor Andrew McCarthy in The National Review.
McCarthy writes, "It is not clear whether Justice Department prosecutors did much to investigate the younger Biden's involvement — just as DOJ seems to have been remarkably uninterested in Biden's tax case, his gun case, and his complicity in the family business of cashing in on his father's political influence.
Of course, Hunter's business interests were intimately entwined with Archer's. Given how regularly they consulted on their sundry business dealings, it does not seem plausible that Hunter had no idea that Archer was not only invoking Hunter's name but listing him as vice chairman with a lawyer's business promotion role in the venture. Put aside that such a role appears to be completely consistent with how Hunter's involvement in various schemes with Archer could be described, including those involving multimillion-dollar foreign payoffs. It bears repeating that Archer invoked Hunter's name to allay concerns raised by a lawyer for Burnham trustees, any one of whom — given the millions at stake — could have been expected to perform due diligence to ensure that Hunter's involvement was what Archer represented it to be.
It seems more likely that the government did not try very hard to amass evidence of Hunter's knowledge and that, when he wasn't charged in the case, his lawyer contended that the investigators' lack of evidence meant that Hunter lacked knowledge — although these two things are obviously not the same.
In any event, now that Archer's appeal of his conviction has been rejected and he has apparently begun cooperating with the House Oversight Committee, he no longer has any incentive to minimize his role, or anyone else's, in the $60 million scheme. It will be interesting to hear what, if anything, he has to say about Hunter's role in the scheme for which Archer faces imprisonment and hefty financial penalties."
[Read More: Trump Furious At Former Advisor]