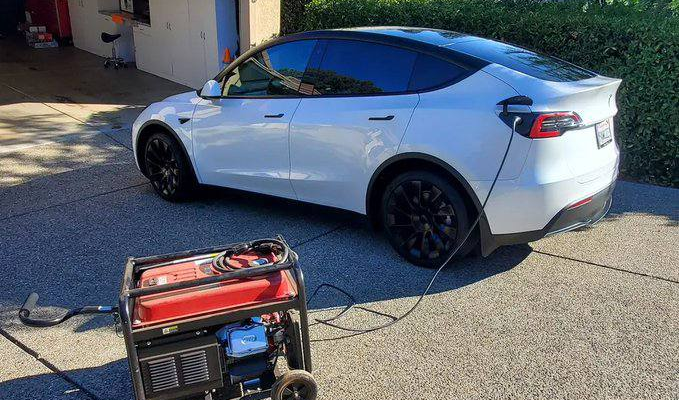 As temperatures have risen during a summer heat wave, California leaders have been begging Californians to turn off their lights. Tuesday evening, California experienced limited power outages across the state as demand for electricity surged to record levels and the power grid approached the highest level of its emergency alert program. According to the California Independent System Operator, power demand reached 52,061 megawatts, smashing a record that had endured since 2006.
Governor Gavin Newsom, fresh off running ads in Florida, where air conditioning runs all the time, asked residents to "join us in California," tweeted, "CALIFORNIA: We're now in a Flex Alert. What does that mean? We all need to conserve as much energy as possible during this record breaking heatwave. Here's what to do until 9pm tonight: – Set thermostats to 78 – Turn off unnecessary lights – Avoid using large appliances."
Rep. Eric Swalwell, famous for allegedly having a romantic relationship with a Chinese spy while serving on the House Intelligence Committee, wrote, "It's time to rally, California! We all need to do our part to help avoid power outages this week. Before 4pm, pre-cool your home. After 4pm, avoid use of major appliances and turn your thermostat to 78 or higher. Let's keep the lights on, California."
Both have been ardent supporters of left's Green Energy push. One commenter noted that over the last California has spent "tens of billions of dollars on 'renewable power so that in the middle of a crisis it can generate about as much power as a nuclear plant that came online in 1985." 
To make matters worse, Newsom recently announced plans to ban sales of new gas vehicles in the state within 15 years, even as city leaders have asked residents not to charge them during heat waves. 
This kind of insanity might be a California problem at present, but if the White House gets its way, we'll all be wondering if we can plug in our car or turn down the air conditioning during a heat wave soon enough. 
Biden's Secretary of Energy Jennifer Granholm "touted California's green energy transition in an interview on Saturday, Sept. 3, only four days before California's electrical grid operator, California Independent Systems Operator (CAISO), issued a level 2 energy emergency alert, warning customers to be prepared for "power outages." Granholm said that California was leading the nation in green energy development and praised its ability to shape national energy policy, according to an interview conducted by Fox 11 Los Angeles.

"I love the fact that California is unabashedly bold about (green) energy policy," Granholm stated, calling the state as a green "leader" for the rest of the country. "California's boldness has … shaped our willingness in the federal government to move further and faster," she said of California's green energy policies.

"California is in the lead and can show the rest of the nation how it is done," Granholm said of California's investment in renewable energy technologies in a separate interview with Fox 11 Los Angeles on Friday.

Granholm praised the Democrats' $369 billion climate spending bill that will invest billions of taxpayer dollars into green energy initiatives, according to an August Department of Energy (DOE) statement. California also approved a plan on Thursday, Sept 1., to spend $54 billion over the next five years to fight climate change and promote green energy development, according to CNN."
Europe is currently experiencing what it's like to follow a relentless Green-New-Deal-style energy program. In 2018, The Washington Post ran the triumphant headline: "Trump accused Germany of becoming 'totally dependent' on Russian energy at the U.N. The Germans just smirked."
"Out of President Trump's speech at the U.N. General Assembly on Tuesday, it probably won't be the script that will be remembered by diplomats but, rather, world leaders' laughter, caught on camera and shared in viral videos," the newspaper noted.
"One of them captured the amused reactions of the German delegation as Trump said: "Germany will become totally dependent on Russian energy if it does not immediately change course. Here in the Western Hemisphere, we are committed to maintaining our independence from the encroachment of expansionist foreign powers."
German Foreign Minister Heiko Maas could be seen smirking alongside his colleagues."
There's less laughing now. CNBC reported, "Europe has been thrown into its biggest energy crisis in decades with natural gas supplies from Russia becoming volatile and unpredictable even before the invasion of Ukraine began. Now, those supplies have come to a complete halt.
Russia claims punitive economic sanctions imposed on it by the West are responsible for the indefinite halt to gas supplies via Europe's main pipeline.
'Problems in pumping arose because of the sanctions imposed against our country and against a number of companies by Western states, including Germany and the U.K.,' Kremlin spokesman Dmitry Peskov told reporters on Monday, according to Russian state news agency Interfax."
European benchmark natural gas prices rose 28% after "the first day of trading after Russian energy giant Gazprom halted flows through the vital Nord Stream 1 pipeline indefinitely, claiming it had found an oil leak in a turbine."
"Last year," CNN remarked, "the pipeline delivered about 35% of Europe's total Russian gas imports. But since June, Gazprom had slashed flows along Nord Stream 1 to just 20% of its capacity, citing maintenance issues and a dispute over a missing turbine caught up in Western export sanctions.
Moscow's decision not to reopen the pipeline on Saturday stoked concerns that the European Union could run short of gas this winter, despite a successful effort to fill storage tanks. Similar fears in the United Kingdom sent wholesale natural gas futures up by more than a third."
Experts have told Fox News that California and Europe should be a warning to the rest of the United States. The policies "designed to rapidly shift the continent away from fossil fuel dependence have contributed to soaring power prices in the region."
"The energy crisis has forced consumers to cut back on power consumption, industrial production declines and energy rationing across the continent. The European Union Council (EU) scheduled an emergency meeting of EU energy ministers slated for next week in response to the market conditions," according to the news channel.
EuroNews reported that the Russian War and energy crisis crippling Europe has revealed the limitations of the electricity market. 
The European Commission President Ursula von der Leyen recently said, "The skyrocketing electricity prices are now exposing, for different reasons, the limitations of our current electricity market design. It was developed under completely different circumstances and for completely different purposes. It is no longer fit for purpose."
Fox noted, "A Reuters analysis published in December concluded that lower-than-expected wind power generation was a major factor sending prices higher and forcing suppliers to turn back to coal and natural gas. Russia was the largest provider of Europe's natural gas and coal imports at the time of the invasion."
The lunacy in Europe has gone so far that they're literally burning down their forests instead of using fossil fuels. 
Like Newsom and Swalwell in California, Europe's leaders have begged its people to use less energy as the energy crisis continues. 
Von der Leyen  stated, "We have to save electricity, but we have to save it in a smart way. If you look at the costs of electricity, there are peak demands. And this is what is expensive, because, in these peak demands, the expensive gas comes into the market. So what we have to do is to flatten the curve and avoid the peak demands. We will propose a mandatory target for reducing electricity use at peak hours. And we will work very closely with the Member States to achieve this."
Although states like Colorado, where the energy company controls your thermostat, and Washington have decided to follow California's path to unaffordable energy that has seen millions unable to pay their bills, red states have begun saying enough is enough. 
Virginia Governor Glenn Youngkin "recently vowed to fight back against a state law that would require Virginia to follow California's implementation of a new plan to ban the sale of new gasoline-powered vehicles by 2035."
"Under a 2021 Virginia law signed by former Governor Ralph Northam, the state must adopt California's emissions regulations," reported the National Review.
Youngkin stated, "In an effort to turn Virginia into California, liberal politicians who previously ran our government sold Virginia out by subjecting Virginia drivers to California vehicle laws. Now, under that pact, Virginians will be forced to adopt the California law that prohibits the sale of gas and diesel-fueled vehicles," Youngkin said in a statement. "I am already at work to prevent this ridiculous edict from being forced on Virginians. California's out-of-touch laws have no place in our Commonwealth."
Hopefully, others will join in and recognize that you can have cleaner energy and a better environment while still keeping the lights on. 
[Read More: America Thinks Biden Trying To Incite Violent Divisions]