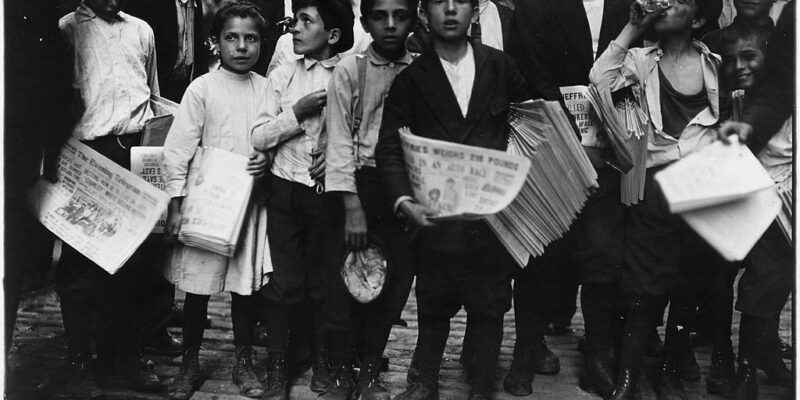 The market has a way of telling you if you're doing things the right way–you either get paid or you don't. For decades now, it's been telling the fossilizing mainstream media that they aren't. Pew Research reported that "the total estimated advertising revenue for the newspaper industry in 2020 was $9.6 billion, based on the Center's analysis of financial statements for publicly traded newspaper companies. This is down 25% from 2019."  
There may be no better indicator of this trend of failure than Gannett Publishing. If you've picked up a newspaper recently, though from looking at the data you probably haven't, you most likely read a Gannett publication. The company owns USA Today and several local news outlets scattered across 45 states, including the Detroit Free Press, The Indianapolis Star, The Cincinnati Enquirer, The Florida Times-Union, and The Arizona Republic, and the Milwaukee Journal Sentinel, among several others. 
Gannett recently announced that it would be undertaking a "significant" cost reduction as Biden's inflation and lack of readership hit the company hard. The circulation revenue fell by almost 12 percent last quarter and the warning lights started going off. 
USA Today shared the details about its parent company. "The media company reported a net loss of $53.7 million in the second quarter, compared with a net income of $15.1 million the same period a year earlier. Adjusted earnings before interest, taxes, depreciation and amortization (EBITDA) totaled $50.9 million, down 56% from the prior-year quarter, with declines driven by a decline in print revenue and inflationary pressures.

"We are not satisfied with our overall performance in the second quarter," Gannett CEO and Chairman Michael Reed said in a release, noting the results reflect "industry-wide headwinds" in digital advertising and tightening across the economy.

"Like many companies across many industries, we experienced a very challenging second quarter resulting from the difficult economic environment and rising pressures on the consumer," Reed said on a company earnings call Thursday morning. "Our weakening consumer demand led to larger-than-expected decline in print subscription revenues, effectively pulling forward expected print revenue losses."

Gannett has dealt with an industry-wide decline in print business as reader preferences have shifted and has focused on growing its digital subscriber base and marketing solutions business, among other strategies.
Bias has caught up with the media, and it's now crashing and burning because of it. The public has caught on to their game, and so have Republican officials. That's causing even more problems for the press. 
Last month, David Freedlander, who recently wrote a book praising AOC, wrote an article titled "Why Republicans Stopped Talking to the Press." In it, he whines that Donald Trump steered in a new generation of Republicans who vigorously court "the media's scorn while avoiding anything that may be viewed as consorting with the enemy."
Journalists are desperate to know: Why won't these Republicans let David Freedlander twist quotes to make them look bad? Yes, it's a mystery. 
One unnamed GOP consultant for a 2024 hopeful tried to explain it to him, telling the writer, "I just don't even see what the point is anymore. We know reporters always disagreed with the Republican Party, but it used to be you thought you could get a fair shake. Now every reporter, and every outlet, is just chasing resistance rage-clicks."
Not that Freedlander cares. Immediately after being told why his industry is dying and why Republicans don't talk to the press, he wrote, "A competing theory of the case is that there is really not much Republicans can say."
It's not David Freedlander and his colleagues who are out of touch. It's the readers.  
Vanity Fair also got in on the act of worrying about being ignored, complaining that the Florida Republican Party limited media outlets allowed to cover their recent Sunshine Summit, which according to The Federalist, is "a conference headlined by one of the most skilled media rejectionists, Republican Gov. Ron DeSantis."
Grasping at its pearls, the magazine wrote, "GOP politicians are increasingly shirking sit-down interviews, barring journalists from 2022 events, and skipping debates—an aversion to media scrutiny that could upend how the next presidential election cycle is covered."
Amidst all the crying, DeSantis spokesman Christina Pushaw twisted the knife, saying, "It has come to my attention that some liberal media activists are mad because they aren't allowed into #SunshineSummit this weekend. My message to them is to try crying about it. Then go to kickboxing and have a margarita. And write the same hit piece you were gonna write anyway."
She was right. That's precisely what Vanity Fair did and will continue to do. 
James Varney at RealClearInvestigations recently revealed how deep the bias goes. Writing about the Communication Workers of America, a union that "includes the New York Times, the Associated Press and the Washington Post as well as many major television networks and affiliates," Varney examines the partisanship rotting the core of the mainstream news. 
He noted, "The CWA – to which an estimated 16,000 editors and reporters belong through its NewsGuild component – is not only one of the nation's largest unions, with about 700,000 members, but one of the most politically active and partisan.
Nearly 99% of the $14.9 million the CWA has funneled to politicians since 2020 has supported Democrats, according to figures at OpenSecrets.com. While the upcoming midterm elections are also expected to reveal a sharply divided America, there is no division within the CWA. Its website lists endorsements for 87 congressional candidates in 22 states – 86 of them are Democrats. Every CWA gubernatorial endorsement is for a Democrat.
Even by traditional lunchbucket union standards, however, the CWA leans left. In 2016, it bucked a more moderate union trend and endorsed socialist Bernie Sanders for president during the primaries, before swinging behind the eventual Democratic nominee, Hillary Clinton."
They seem unable to help themselves from being slanted, but they should. The only way the media will recover is if they stop pretending to be neutral and at least try to control their bias. If they can't do that, they should at least admit their partisanship in their reports and acknowledge that their readers aren't idiots. 
Without those changes, we're likely to see more and more journalists join Mr. Potatohead and his other CNN colleagues standing in the breadlines soon.  
[Read More: Obama Is Right: The Inflation Reduction Act Is A 'BFD']