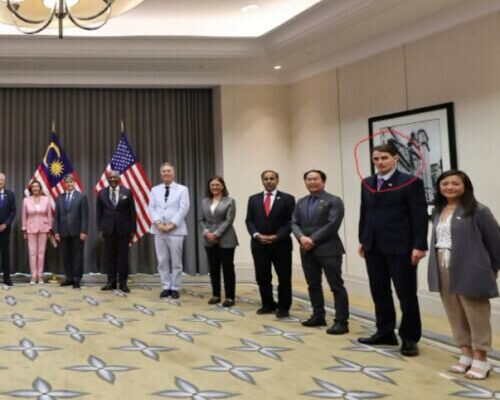 It's always remarkable how the children of our elected leaders always seem to get the big breaks. In December 2020, the Speaker's son joined Altair International Corp, a lithium mining company. In their release, a spokesman said, "As Altair expands the breadth of its operations, from mining to lithium refinement and battery technologies, Mr. Paul Pelosi Jr. will be working directly with our management to further our expansion efforts."
His meteoric rise in lithium mining just couldn't be contained. A month after joining Altair, St-Georges Eco-Mining Corp. named Pelosi, Jr. its "new Director and the President of St-Georges' new subsidiary, EVSX Corp., which is dedicated to electric vehicle battery recycling and future partnerships in the development of lithium mineral resources." 
The company stated, Paul's expertise in green technology, eco-responsible investments, and regulatory governmental environmental legislative framework will play a critical role in developing and deploying St-Georges' lithium mineral processing technology and E.V. battery recycling technology initiative.
St-Georges and its partner, Altair International, have joined forces to develop metallurgical solutions for the recycling of lithium and other metals from E.V. batteries," the statement concluded.
It appears now that Nancy Pelosi was killing three birds with one stone on her recent trip to Taiwan. She got to bop China on its nose, got to throw Joe Biden overboard for 2024, and, it's recently been revealed, her son got to make business connections as an unnamed guest during her tour of Asia and Taiwan. He even got to have his picture taken with Southeast Asian leaders standing with Mommy.   
Fox News host Jesse Watters revealed more details about Pelosi's trip and some of her son's exploits, telling his audience, We told you about Hunter's escapades from being bribed with Chinese diamonds to funding a Russian sex trafficking ring, but we just found out Hunter has some competition. His name? Paul Pelosi, Jr. As far as we can tell, he's never had a real job. The kind you have to punch a clock. So, what does Pauly Jr. do all day? Well, last week, Nancy snuck little Pauly on her plane to Asia. 

His name wasn't listed as part of the official delegation. They didn't want you to know Paul went to Asia with his mom, but if you look closely at the photos, there he is, Pauly P. Jr., about as unqualified as Hunter with all the big dogs there in Asia. He was also caught by foreign photographers in Singapore and Japan.

The U.S. press, who covered every move Nancy made in the Pacific, somehow never noticed that her son Paul was along for the ride. He was even wearing the same purple tie he wore when he went to Ukraine. Oh, you didn't know he went to Ukraine? 

Well, yeah, we didn't either. You won't find any trace of this on the speaker's website because she didn't want you to know about Pauly Jr. What was your son doing there? He's not an elected official. He's not an advisor to Nancy. He doesn't even live in Washington, but he was greeted as royalty by the president of Taiwan.

If you thought Hunter Biden's business deals were shady, just wait. Pauly Jr. Is on the payroll of two lithium mining companies and Asia just happens to be a lithium gold mine and Taiwan just happens to be a world leader in lithium battery production. He's also heavily invested in Singapore's energy sector. Wasn't that another stop on Nancy's trip?
In June, Taiwan's Ministry of Economic Affairs released a press release touting their lithium exports. It wrote, "From January to May 2022, Taiwan's lithium battery exports amounted to US$280 million for an increase of 86.1% compared to the same period last year. The ongoing pandemic has driven long-distance business opportunities, while the energy policies adopted in various countries have increased the demand for information and communication products, electric bicycles and energy storage devices, resulting in the upsurge of procurement of lithium batteries from Taiwan.
During this period, the United States and the Netherlands were the two largest export markets for Taiwan's lithium batteries, accounting for over 30% of Taiwan's total lithium battery exports. The main export products consisted of energy storage systems, electric vehicles, and electric bicycles.
The Taiwan government has recently been actively investing in the energy storage and electric vehicle sectors, and plans to establish supply chains in cooperation with the United States and Europe and other countries through deployments overseas so as to upgrade the important status of Taiwan's supply chains, while increasing business opportunities."
This isn't the first time that Paul Pelosi, Jr has been involved in shady business dealings. In 2007, Pelosi Jr. became the senior vice president of InfoUSA, a database marketing company in Nebraska that was accused of defrauding and then selling consumer data. 
According to The New York Post, "The data was then used to scam sick and gullible elderly people out of money, it was alleged. The investigation was closed and no arrests were made. Pelosi Jr., who was paid a salary of $180,000 per year, joined the firm after the probe ended.
In October 2013, Nancy Pelosi's son, who must just have a knack for being at the wrong place at the wrong time, joined "Atlanta based FogFuels as Vice Chairman and a speaker on environmental policies that encourage individuals and local governments to take a more active role in conserving natural resources and reducing carbon footprints."
He joined FogFuels, coincidently, I'm sure, right after its founder was "accused in the civil proceeding of misusing at least $2 million in investor cash, according to a complaint filed Wednesday in U.S. District Court in Atlanta by the Securities and Exchange Commission….Marshall allegedly used funds from his clients, some of whom are elderly, to finance personal expenses and provided investors with 'fraudulent account statements'f with purported investments and returns that didn't exist, the complaint said." 
The company collapsed in 2015, and Marshall was eventually found guilty and sentenced to federal prison in 2018. 
Junior Pelosi's string of bad luck joining corrupt companies being investigated by authorities continued in 2014 when he joined the board of Targeted Medical Pharma, a California-based medical firm. The Daily Mail wrote that "a year after Pelosi Jr. left the firm, was accused by the Food and Drug Administration (FDA) of testing drugs on people without authorization."
The son of the Speaker of the House also joined a fake United Nations charity in 2015. The Daily Mail continued, "SEC filings say CGI is 'a non-profit group' focused on 'transparency, capitalism and building sustainable organization[s]' and that Pelosi was promoted to Executive Director of the organization in December 2015.
Ironically, it was through this ethics-focused job that he developed close ties with an alleged scammer accused by the DoJ of running a fake charity." 
The charity's leader used the fake charity to launch a cryptocurrency scheme. He was convicted in March 2022. U.S. Attorney Damian Williams said: "As a jury has now found, Asa Saint Clair used lies to defraud everyday people out of their hard-earned money by promising them guaranteed returns if they invested in a IGObit, a digital currency he claimed the World Sports Alliance was developing. Saint Clair touted the WSA as working closely with the U.N. to promote the values of sports and peace for a better world, while in reality promoting only the balance of his bank accounts."  
The defendant was charged and convicted in one count with committing wire fraud, in violation of Title 18, United States Code, Section 1343, from in or around November 2017, through in or around September 2019. SAINT CLAIR solicited investors for the launch of IGObit through promised investment returns, representations that the World Sports Alliance, a purported intergovernmental organization, was a close affiliate and partner with the United Nations, and representations about the World Sport Alliance's development projects around the world. World Sports Alliance did not in fact have any relationship with the United Nations and did not, and had not, participated in any international development projects. 
The Post reported, "Pelosi Jr. endorsed the fake cryptocurrency on its website in January 2018, according to DailyMail.com, writing: 'IGOBit is the absolute best offering I have ever seen.' He has never been charged in connection with IGOBit or Saint Clair."
Paul Pelosi, Jr's hot streak didn't end there, however. In 2016 he joined his first lithium mining company as a senior advisor to Oroplata Resources Inc., a company focused "on becoming a substantial profitable Lithium producer by the rapid development of valuable production-grade Lithium Brine deposits in Nevada and throughout the southwest U.S."
In their announcement, they were excited to have bought such a D.C. insider. The company led with his connections: "Mr. Paul Pelosi Jr. is the son of the former U.S. Speaker of the House Nancy Pelosi." 
Right before coming joining the company, Oroplata executives allegedly issued $26 million worth of fraudulent shares, whcih they then doled out to themselves and friends, including Pelosi, Jr. The Daily Mail revealed that he received over $2.5 million from the scheme. A source told the newspaper that he "bought the shares for $2,800, when their market value was between $4,228,000 and $5,152,000."
He was not named in the civil lawsuit. It's remarkable how someone so unlucky to be connected to so many companies that got in trouble can be so lucky as to never get into any trouble for it. 
[Read More: Jeffrey Epstein's Former Lawyer Signed Warrant For Mar-A-Lago Raid]