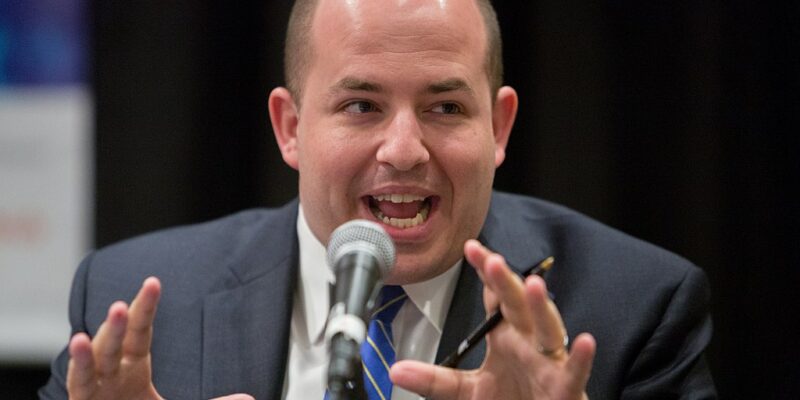 Some Democrats have pointed to Biden's age as a reason he shouldn't run, but now it looks like the president's intraparty opponents are turning up the heat, deploying some of their friends in the media to talk about Hunter Biden. 
On his show Reliable Sources Brian Stelter asked questioned former Jill Biden advisor Michael LaRosa about Hunter's taxes, foreign business dealings and the multiple leaks that have revealed how corrupt the crown prince of the Biden family truly is. 
"LaRosa began serving as Biden's spokesperson in 2019 during the presidential campaign and was appointed press secretary in January 2021. In September, he was given the additional title of special assistant to the President," according to CNN.
Mediaite summarized the show. Stelter spoke to Michael LaRosa on Sunday, about two weeks after LaRosa left his job as press secretary for First Lady Jill Biden. Part of the conversation on Reliable Sources wound up revolving around the increasingly vocal calls from those who say Biden shouldn't seek a second term in the Oval Office.

"I hope he runs. I know he's going to run, he's planning to run," LaRosa said. He described concerns about Biden as "Democratic bed-wetting time," and he heaped praise on the president even as Stelter noted that Biden's age could be a factor.

"What about his son?" Stelter pivoted. "What about Hunter? Hunter under federal investigation, charges could be coming at any time. This is not just a right-wing media story. This is a real problem for the Bidens. Could he decide not to run for re-election, given his son?"

"They make decisions as a family, and they will make that decision when it's time," LaRosa answered.
LaRosa was one of the many people who have fled the White House en masse over the past months. He left his post serving the First Lady in July. 
When Stelter asked if the Bidens have discussed 2024, LaRosa said, "No." The president is doing his job and he's doing his work. He's not focused on that. It's 19 months! Why would he do that?"
Hunter is in the news again because FBI Director Christopher Wray will be heading to the Senate this week to face Chuck Grassley and the Republicans. 
The Washington Examiner offered some details, "Wray, who has led the FBI since 2017, is appearing before the Senate Judiciary Committee, where he will face criticism about the handling of the investigation into President Joe Biden's son, likely along with a host of questions about how the FBI is handling the Capitol riot investigation, rising crime, national security threats, and more."
The ranking member of the Senate Judiciary, Senator Chuck Grassley of Iowa, previously sent letters to Attorney General Merrick Garland and FBI Director Christopher Wray claiming that whistleblowers had revealed corruption at the FBI by "credible" whistleblowers. The senator argued that the Department of Justice and the FBI intentionally underplayed damaging information about Joe Biden's son and his brother James to help swing the 2020 election.
In a recent video posted on Twitter, the Iowa Senator said, "I expect him to answer on how he's going to stop political bias at the FBI." 
"In interviews, dozens of frustrated Democratic officials, members of Congress and voters expressed doubts about the president's ability to rescue his reeling party and take the fight to Republicans," The New York Times wrote in June.  
Tara Palmeri, a Washington writer, argues that Biden's decision to run will hinge on whether his son gets indicted for his alleged criminal activity. On  The Powers That Be: Daily, she broke down the scenario in which Biden becomes the first president not to seek reelection in over 50 years. 
She started, "Let's be honest. It's not just what our Democratic, you know, powers that be in Washington think the national polling shows that 70% of Democrats don't want Biden to run again. I think that Joe Biden will wait for as long as possible." 
"If the Democrats lose the Senate and the House, that'll be really bad … And I could see that there would be a lot of pressure on Biden to announce that he's not gonna run for reelection," she continued. "Plus, you're gonna have all these investigations into Hunter Biden. There's, you know, reports that the Justice Department is looking at indicting him."
She ended by arguing that the decision would ultimately come down to what the First Lady Thinks. The said, "It's just gonna be a dark time," Palmeri said frankly. "It's not gonna be good for his family. You know, Jill Biden will be the one who ultimately decides I think — and for all my sources say, he's really unlike a lot of candidates. He truly is a family guy." 
The chances of Hunter Biden being indicted will rise significantly if the Republicans gain control of the Senate in November. The political prognosticator Nate Silver recently said that the Senate is close but that right now he'd expect the Democrats to hold on to the chamber.
"The Senate race is close, and in a few key races, Republicans have selected weak candidates, hurting their chances of taking the chamber in November," he wrote, "But Republicans still have plenty of potential opportunities for pick-ups. The party's best chance is currently in Georgia."
[Read More: Starbucks Leaves Blue Cities Because of Rampant Crime]