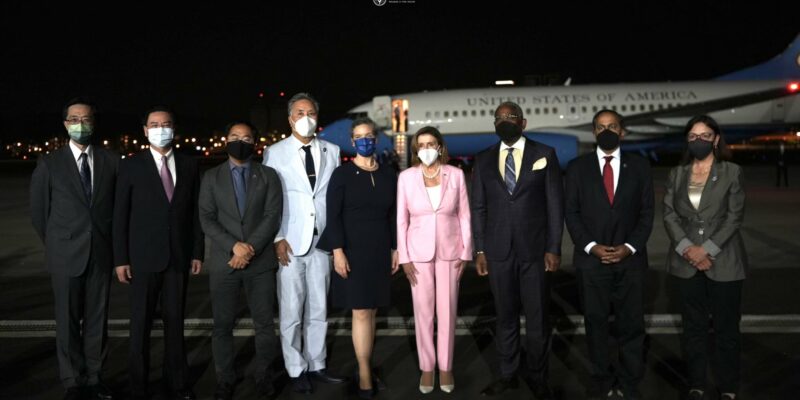 Aphorisms often get overused, and they sometimes reek of triteness, but Speaker of the House Nancy Pelosi has fulfilled two in the past 24 hours or so: "Even a blind squirrel finds a nut sometimes" and "politics often makes strange bedfellows."  
Over the past week or so, Pelosi has caused a stir both in Washington and East Asia with her plan to visit Taiwan. President Biden begged the Speaker not to visit the island after Chinese Communists threatened to shoot down her plane. Rather than speaking to the Speaker directly, we wrote, President Biden went to reporters last week to say that "the military thinks [her trip] is not a good idea right now." 
That feebleness from the White House trickled down to the liberal media establishment earlier last week. New York Times columnist Tom Friedman whined that "if she does go ahead with a visit to Taiwan this week, against President Biden's wishes, she will be doing something that is utterly reckless, dangerous and irresponsible."
The liberal Washington Post Editorial Board made a weak-kneed plea for Speaker Pelosi to delay her trip as if that could be some kind of compromise. They wrote that she should wait "for the optimal moment" to visit Taiwan. "That probably won't be soon," they explained, "but it should be eventually, when her presence will do the most to support Taiwan's legitimate aspirations and the least to reinforce China's illegitimate bullying."
Salon writer Normon Solomon may have shown the most willingness to lick the boots of tyrants, though. He asked, "Even the foreign policy mainstream thinks Pelosi's Taiwan trip is a dangerous gamble. Why won't Biden stop her?" He said that going to Taiwan was a "decision that could get us all killed."
The Speaker of the House answered Solomon's question. A weak president won't dare to challenge her. She also sent Biden's soft-handed media allies and communist China a clear message: get bent. The leader of the People's House can go wherever the hell she wants. 
Sure enough, she did.
USA Today reported, "Pelosi, wearing a face mask, stepped off the plane around 10:50 p.m. local time and posed for photos with a contingent of Taiwanese officials who greeted her on the tarmac.
'Our congressional delegation's visit to Taiwan honors America's unwavering commitment to supporting Taiwan's vibrant democracy," Pelosi said. "America's solidarity with the 23 million people of Taiwan is more important today than ever, as the world faces a choice between autocracy and democracy.'"
As bullies do, China has responded to the trip by conducting "large-scale military drills and missile tests around Taiwan in a defiant show of force," according to Bloomberg. They have also vowed "targeted military action." 
Pelosi's trip to Taipei is the first time that a US House speaker has gone to Taiwan in 25 years.
She also took on the cowardice of her liberal allies in their own newspaper, explaining, "Why I'm leading a congressional delegation to Taiwan." 
She wrote, "In recent years, Beijing has dramatically intensified tensions with Taiwan. The People's Republic of China (PRC) has ramped up patrols of bombers, fighter jets and surveillance aircraft near and even over Taiwan's air defense zone, leading the U.S. Defense Department to conclude that China's army is "likely preparing for a contingency to unify Taiwan with the PRC by force."

In the face of the Chinese Communist Party's (CCP) accelerating aggression, our congressional delegation's visit should be seen as an unequivocal statement that America stands with Taiwan, our democratic partner, as it defends itself and its freedom.

Indeed, we take this trip at a time when the world faces a choice between autocracy and democracy. As Russia wages its premeditated, illegal war against Ukraine, killing thousands of innocents — even children — it is essential that America and our allies make clear that we never give in to autocrats.

By traveling to Taiwan, we honor our commitment to democracy: reaffirming that the freedoms of Taiwan — and all democracies — must be respected.
Blind squirrels, indeed. 
As for strange bedfellows, Pelosi's visit to Taiwan has caused Republicans to show her strong support, contrasting her with Biden's tepid foreign policy in the phase of strong language from China. A large group of 26 GOP senators released a statement supporting the Speaker's trip as the House delegation's plane landed in Taiwan. 
The group wrote, "We support Speaker of the House of Representatives Nancy Pelosi's trip to Taiwan. For decades, members of the United States Congress, including previous Speakers of the House, have traveled to Taiwan. This travel is consistent with the United States' One China policy to which we are committed. We are also committed now, more than ever, to all elements of the Taiwan Relations Act."
Politico captured some other statements of support from the top Democrat's typical opponents. "From the floor, McConnell knocked the administration for urging Pelosi not to make the trip. 'I believe she has every right to go. and it's been unseemly and counterproductive for President Biden and his aides to have publicly sought to deter her from doing so,' he said.
At an unrelated presser, Sen. Dan Sullivan (R-Alaska), who led the statement, said: 'At the end of the day, you do not want the Chinese Communist Party dictating the senior American leaders where they can and cannot travel. … She's there, we're supporting the trip, and we're closing ranks behind it.'"
This temporary melding of the minds may come from not only the support of freedom abroad but the mutual domestic goal of Republicans and the Speaker to ensure that Biden only has one term. 
Pelosi is certainly aware that Biden's disastrous presidency has completely broken her party's coalition. A recent poll, for example, showed Biden at 19 Percent approval among Hispanics. Democrats have worried about the historic unpopularity of Joe Biden for some time now and have been discussing ways to throw him overboard for months. This trip may very well be the final nail in the coffin of Biden's leadership over the Democratic Party, with the Speaker wielding the hammer.
While Twitter and many in the media fret that the Speaker of the House traveling abroad might spark World War III, a fear no doubt bolstered by Biden's frailty as he sits on the sidelines with some sniffles after being COVID positive for the second time in a week, what they don't want to acknowledge is that Pelosi has essentially ended the Biden Administration and taken the reins. By completely ignoring the White House's request that she not visit Taiwan, she has shown that few people with power actually care what the current president thinks, opening the door for a challenger in 2024. 
Viewed in that light, the longtime congressional leader is merely doing the dirty work others in her party don't want, or have the guts, to do. 
The Republicans? Maybe they're following a third aphorism: "Never interfere with an enemy in the process of destroying themselves."
[Read More: Trump Readies For Battle On All Fronts]