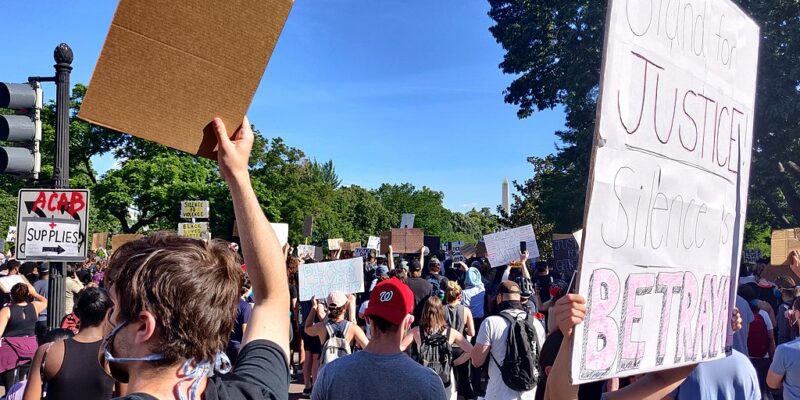 Following what was likely the worst night of her night, a Minneapolis mom named Arabella Foss-Yarbrough was recorded chastising Black Lives Matter protestors who were outside of her apartment to protest the police shooting the man who tried to kill her.  
Deevon Rahming, a Minneapolis reporter, posted the video on Twitter. He wrote, "Things boiled over during Saturday's rally and march for Tekle Sundberg, when the 24-year-old woman who says he was shooting into her apt. showed up voicing her frustration with those gathering in front of her building on Sundberg's behalf. @kare11 *video contains profanity*"
The National Review offered context to the video. Arabella Foss-Yarbrough called police last Wednesday night after neighbor Andrew "Tekle" Sundberg allegedly fired his gun into her home as she cooked her kids dinner, leaving bullet holes in her front door, walls and above her bathroom sink, photos show.

Two Minneapolis police snipers shot him dead Thursday morning after a long standoff. A pistol with an extended magazine and several bullet casings was found in his apartment, the New York Post reported.

"This is not a George Floyd situation. George Floyd was unarmed. This is not OK," Foss-Yarbrough launched at the protesters who gathered for a march and rally for the man on Saturday, according to the video. "He tried to kill me in front of my kids."

"I can't get my items because you guys are celebrated his life," the mom screamed through tears. "This is not ok. My kids have to deal with this and probably have a mental illness now. Because they almost lost their lives. There's bullet holes in my kitchen because he sat in the f–king hallway watching me move."

She continued: "I have Black children; I am a woman of color!," she declared. "If I would have lost my life, would you guys do this for me?" "Yes, ma'am," Crews said.
The video showed that not all of the protestors held the same view as Crews. They told the mother to shut up, said she was a liar, and called her derogatory names. The crowd epitomized what it's like to blame the victim because listening to her doesn't fit the ideological narrative they desire.
"I literally had five minutes to live while he had six hours to choose life or death. The police stated they did not want to kill him," Yarbrough told Fox 9. The video shows BLM protestors not responding like Crews
A 911 transcript released by the city of Minneapolis Monday afternoon documented the incident. During the 911 call, Foss-Yarbrough told dispatchers "that at least two bullets had been fired through her apartment at 904 21st Avenue South, and went straight through the wall. She said one of the bullets may have grazed her, although she told the dispatcher she wasn't bleeding," according to the Sahan Journal, a nonprofit digital newsroom dedicated to reporting for immigrants and communities of color in Minnesota.
Foss-Yarbrough continued: "I don't know if the bullet hit me or if it was like, glass, that hit me cause it went through my wall and it hit a glass vase on my table." 
After informing the dispatcher that she had two children with her, she was heard telling one of them, "Just stay on the ground, baby, stay over here." 
Foss-Yarbrough's sister, Ashley Foss, created a GoFundMe to help her nephews and sister recover from the shooting. She wrote, "Hi everyone, I'm raising money for my younger sister Arabella Foss-Yarbrough and her two young boys, ages 4 & 2 after learning her job terminated her today. She spent hours the prior night behind police holding her small children tightly after narrowly escaping her apartment as her neighbor who lived across the hall stalked her movement through the wall and opened gunfire into her apartment. He had been harassing her and stalking her for months. The 6 hour stand off with the man and the MPD ultimately ended in his death on July 14th 2022. 
Her apartment is a crime scene. She is not allowed to retrieve anything even with police escort. She now has no job, no identification, wallet, clothes for her self or children. My little sister is strong but she is breaking and needs more help than our family can provide at this time so I'm reaching out to the community. Anything would help so she can at least cover her standing bills while she gains new employment and focuses on her and the boys mental and emotional health."
The initial goal for the fund was $10,000. Over 1,800 donors answered her message and the fund currently sits at over $70,000. 
Ashley offered a note of gratitude to the supporters. She said, "Thank you all. You have really given my sister and nephews a chance at a new life. I have so much I want to say but no words really express the gratitude we feel towards the community and our renewed faith in humanity. To see so many people rise up and help her voice carry is heartwarming to say the least. And to all the fellow survivors of gun violence and violence in general that have spoke out, our heart goes out to you. Thank you for your bravery in sharing your stories. You have given a young mother a chance to re-write the course of two beautiful children's lives. So once again, thank you."
[Read More: Lebron James Once Again Silent In The Face Of China]