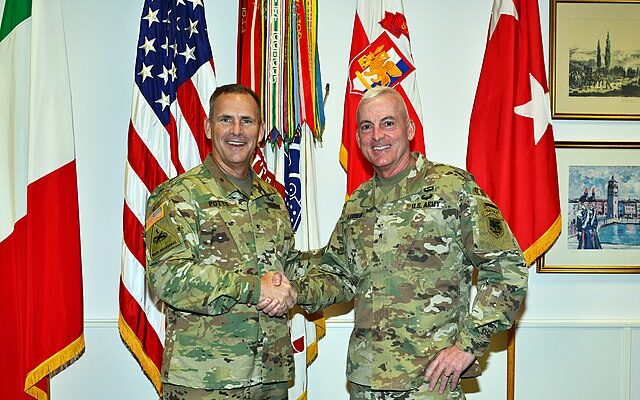 Major General Anthony Potts, a longtime Army acquisitions officer and aviator died while flying a single engine airplane on Friday. The Piper PA-28 he was piloting crashed in a field near Harve de Grace, Maryland. Potts was pronounced dead at the scene.
He was 59 years old.
The Daily Caller has collected more details: "Defense News reported, citing the Harford County Sheriff's Office and local media reports. Potts, who boasted nearly four decades of service and most recently led the Army's Program Executive Office Command, Control and Communications-Tactical, or PEO C3T, had planned to retire soon, according to the outlet.
The National Transportation Security Bureau said it is investigating the matter in a statement on July 25.
Dozens of first responders rushed to the field just off 3600 Old Level Road in Havre de Grace, Maryland, the Level Volunteer Fire Company said, according to Defense News. No one else was hurt."
Pott played an essential role in protecting American troops in battle, along with modernizing tactics in the Army. He was currently tasked with overseeing all battlefield communications gear, from development to deployment and maintenance. 
Local news reported that "before taking the helm of PEO C3T, he served as the Program Executive Officer Soldier (PEO Soldier) from January 2018. In this role, he spearheaded the development, integration, and delivery of body armor, helmets, sensors, and weapon systems. According to the U.S. Army, his leadership was instrumental in ensuring rapid force delivery, providing U.S. soldiers with a lethal advantage over present and future threats.
Beyond his administrative prowess, Potts was a rated AH-64 Apache Instructor Pilot who flew a combat tour during Operations Desert Shield and Desert Storm. His service didn't stop there, as he made numerous deployments to the Balkans, Operation Enduring Freedom, and Operation Iraqi Freedom.
Potts held multiple high-ranking positions throughout his career, including Deputy Director for Acquisition and System Management, Office of the Assistant Secretary of the Army for Acquisition, Logistics, and Technology (OASA(ALT)). Additionally, he served as the Director of Resource Integration for the same department."
Major General Anthony Potts was a patriot and American warrior who will be mourned and missed by the American armed forces.  
[Read More: Jill's Ex Says Joe Sent Feds After Him]