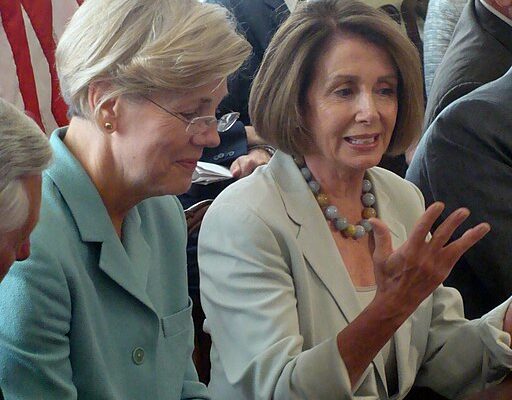 The stock market has seen some legendary traders through the years. Jesse Livermore took five bucks in the 1890s and became one of the richest people in the country after taking short positions before both the 1906 San Francisco earthquake and the 1929 Wall Street Crash. Steve Cohen, the current owner of the New York Mets, was so good at stock picking that he was making $100,000 a day. And, of course, everyone knows Warren Buffett's incredible success.  
One of the legendary stock pickers ever often goes unnoticed for some reason: Speaker of the House Nancy Pelosi and her husband Paul. In January, The New York Post reported that the Pelosis "have raked in as much as $30 million from bets on the Big Tech firms Pelosi is responsible for regulating. Late last month, the House Speaker disclosed that the Pelosis scooped up millions in bullish call options for stocks including Google, Salesforce, Micron Technology and Roblox." 
Now she's done it again! This time she's revealed her secret. Is it technical analysis? Nope. How about being a great reader of financial reports? Nope. Is she good at reading the tape? Nope.
No, Nancy's incredible run from the stock market comes from alleged old-fashioned grift and corruption. 
Paul Pelosi recently placed millions of dollars on stock for semiconductor companies, and what-do-know, Nancy pushed a bill that provides billions to the same companies. Back in January she wrote, "The #AmericaCOMPETES Act will supercharge our investment in CHIPS, advance manufacturing at home, strengthen our supply chain, transform our research capacity and advance our competitiveness and leadership abroad, plus many other key provisions." 
Last week we learned that the Senate, which had stalled on the bill, will be voting on it soon. 
The Daily Caller has the details. House Speaker Nancy Pelosi's husband Paul bought up to $5 million in stock of a computer chip company ahead of a vote on a bill next week that would hand billions in subsidies to boost chip manufacturing, a financial disclosure shows.

Paul Pelosi purchased 20,000 shares of Nvidia, one of the world's largest semiconductor companies, on June 17, according to the speaker's disclosure report released Thursday. Now, senators will convene as early as Tuesday to vote on a bipartisan competition bill, which allocates $52 billion to boost domestic semiconductor manufacturing and gives tax credits for production, Reuters reported Thursday.

"It certainly raises the specter that Paul Pelosi could have access to some insider legislative information," Craig Holman, a government affairs lobbyist for the left-wing think tank Public Citizen, told the Daily Caller News Foundation. "This is the reason why there is a stock trading app that exclusively monitors Paul's trading activity and then its followers do likewise."

Nvidia is a multinational corporation that designs and manufactures graphics processors and other technology, and is heavily reliant on semiconductors. The House passed a bill in February that included $52 billion in domestic subsidies for the semiconductor industry, and chip companies, including Nvidia, demanded Congress in June move forward on finalizing semiconductor subsidies for domestic manufacturing.
Last spring, Jaime Rogozinski, "the founder of the WallStreetBets Reddit board that helped spark the meme-stock phenomenon," which saw the price of GameStop stock reach hundreds of dollars, launched a fund to try and profit from Pelosi's trading habits. 
The Post labeled it "the If you can't beat 'em, join 'em fund. Called the 'Insider Portfolio,' the product mimics the stock trades of House Speaker Nancy Pelosi and her husband, Paul."
In May, authorities arrested Paul Pelosi in Napa County, California. He allegedly drove his sports car drunk and crashed it, likely leaving the vineyard he and his powerful wife own. California Highway Patrol stated that Paul Pelosi "was booked into the Napa County Detention Center on two DUI-related counts."
Back in December 2021, when Paul was making his first big bets, Pelosi scuttled an attempt to rein in stock trading by members of Congress and their families. CNBC wrote, "House Speaker Nancy Pelosi scoffed Wednesday at the idea of banning congressional lawmakers and their spouses from owning shares of individual companies, despite the possibilities for conflicts of interest between their legislative duties and personal finances.
"'No,' Pelosi, D-Calif., told reporters at a news conference where she was asked whether she would support such a prohibition."
"'We're a free market economy," she said. "They should be able to participate in that.'"
The Pelosis amazing investment gains have come during the stock market's worst first half of a year in over five decades. Axios stated, "The S&P 500 dropped 20.6% in the first half of 2022, as the Fed launched a tough rate-hiking campaign to counter inflation. That's the ugliest first half for stocks since 1970, as a recession was getting underway. The carnage in the S&P wasn't as bad as in the tech-heavy Nasdaq, which has fallen 29.5% so far in 2022."
How long can her "luck" continue? 
[Read More: One of America's Enemies Just Got Captured In Mexico]